Event 43 - $2,000 Limit Holdem
Day 1 Completed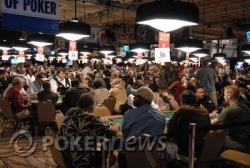 Day 1 action from Event 43 is officially complete. 61 players will return tomorrow for Day 2 at 2:00 p.m. PDT.

A complete list of players returning tomorrow afternoon will be available momentarily.

Good night from the Amazon Room!
The tournament director just announced that there are approximately 10 minutes remaining in the current level, after which we're done for the evening.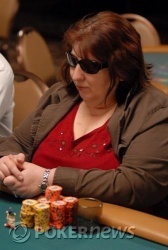 Sabyl Cohen, who has gone deep in many a tournament during this 2007 WSOP, has just been eliminated.
Players have returned from break -- 73 of them to be exact. The average chip stack is 25,863.

Play will continue for the next half hour until 2:00 a.m. PDT, at which time players will bag up their chips for the evening.
Level:

11
Blinds:

500/1,500
Ante:

0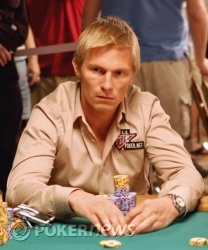 Just before the break, Thomas Wahlroos committed the last of his chips to the pot with pocket Jacks and found himself up against an opponent's A-K.

The flop came 2-K-10, leaving Wahlroos hoping for a Jack or running straight cards, but neither came and Thomas was eliminated from the tournament.
Dealers are currently coloring up the $100 black chips. Once the color up is complete, players will be sent on a 15-minute break.

Upon their return, play will continue for another 30 minutes before we are finished for the evening.
There are currently 90 players remaining on 10 tables. The average chip stack is currently 20,977.
Juha Helppi, Chris "Jesus" Ferguson, and Ellix Powers have all been eliminated from the tournament.