Event 46 - $1,000 Seven Card Stud Hi Lo
Day 1 Completed
Players are exiting the Players Pavilion after turning in their chip stacks to the tournament staff. Play has officially ended and will resume tomorrow at 3 p.m. PDT. Make sure to check back for then for full coverage of the event as we narrow down to a final table of eight players.
The last few minutes here have been rather slow. Players knew the night was coming to a close so a lot of the action died out as players tried to stay alive for Day 2. The tournament staff announced a color up before calling it a night and players pretty much retired their play for the evening in wait for the color up.
Calling down against his opponent, who was showing aces, Mel Judah mucked on 7th after his opponent showed fives full. Judah didn't show, but we assume he missed the low as his board had the
and
.
In a matchup against Chad Brown, Theo Jorgensen came out the victor as he scooped a pot with kings up versus Brown's tens up. After the hand, Brown was left with 5,200 and Jorgensen is up to 11,800.
Players have been falling quickly since the blind change. They were at 240 players prior to the level change and now we're down to almost 200. "Seat Open" can be heard every few minutes.
With the
showing, Scotty Nguyen called a bet from a player who was showing the
. Scotty caught the
when the player paired his 5, and Scotty raised him when he bet.
Scotty:
Opponent:
Scotty called down to 7th, and won the high with a pair of 10s, while his opponent showed a 8-7-6 low.
Level:

7
Blinds:

200/400
Ante:

50
Trying to stay alive, Chris "The Armenian Express" Grigorian continues to chop pots. Chris caught two hands, back to back, that priced him in and survived them both. He's accumulating chips slowly, but he's not eliminated yet.

In the first hand he won, Chris had two nines showing and chopped the pot with the low. In the second hand, Chris had a pair of kings showing on 4th street, and also chopped the pot with the low.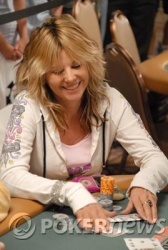 After announcing earlier that she went a whole level without winning a single hand, Cyndy Violette chopped a pot thirty minutes into this level. She started with rolled up queens, but her opponent managed a low draw on 7th.