Event 55 - $10,000 World Championship No Limit Holdem
Day 5 Completed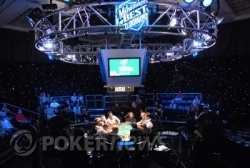 Day 5 play has officially come to an end. 36 players will return tomorrow afternoon at 12:00 p.m. PDT to compete for one of nine spots at the 2007 WSOP Main Event final table.

1998 Main Event winner Scotty Nguyen is still in the hunt, along with consummate pros Bill Edler, Daniel Alaei and Lee Watkinson. Poker News' own Mikkel Madsen is also alive and well, retiring for the evening with just over two million in chips.

Tune in to PokerNews.com tomorrow at noon for move live updates, chip counts, videos and photos, straight from the tournament floor here in the Amazon Room.

Until then, good night and good luck!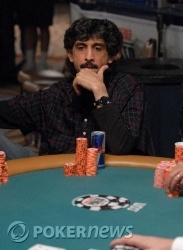 The last elimination of the evening came courtesy of Mikkel Madsen, who eliminated Ayaz Mahmood in 37th place.
All the money went in preflop and when the cards were turned over, Mahmood and Madsen prepared themselves for a classic coinflip:
vs.
.
"All in and call!" was the announcement made by the dealer that drew several players from other tables and a flock of reporters and tournament staff to the table; Ayaz held A-K, while Madsen owned the queens.
The board filled out
and Madsen's queens held up, sending Ayaz home in 37th place, with an extra $237,865 in his pocket.
After the hand, Madsen stacked up just over two million in chips.
There's one more bust-out to go before play ends for the night at 36 players. Here are the bottom five chip counts as blinds move to 30,000/60,000 with a 10,000 ante. That's about 160,000 per rotation as the tables are all short players, giving the short stacks an "M" of about seven -- meaning they're all in trouble.

Roy Winston 1175000
Ayaz Mahmood 1150000
Allan W. King 1125000
Kevin Kim 700000
Robin Bergren 450000
The players return from break to increased blinds of 30,000-60,000, with a 10,000 ante. Shuffle up and deal!
Level:

25
Blinds:

30,000/60,000
Ante:

10,000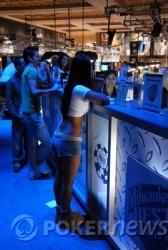 When Maria Ho busted, needless to say she was disappointed. To add insult to injury, Kevin Farry's supporters are two-deep on the rail and are extremely intoxicated. When the river card fell, they screamed *very* loudly and leant all the way over the ropes to high-five Farry.

The rail is very close to the table and Farry is in the 5 seat, however Maria is in the 4 seat and was unable to stand up due to the arms hanging over her head, holding her captive.

Scenes of joyous celebration are nothing new in poker, however what we just witnessed showed a total disregard for the player whose tournament life has just come to an end, and a complete lack of respect for the great game we all love.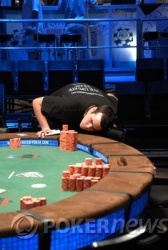 Our reporters must count chips without touching them in any way, and this often presents a challenge. On a break, the reporters can get pretty close to the chips in order to distinguish the similar colors from each other, and often a strategic head rotation and lean is called for. This is one such instance.
Right before the break, Kevin Farry doubled through Bill Edler when they got it all in on a flop of
. Edler had
and Farry held
. Edler got no help on fourth or fifth street, and sent a good portion of his chips in Farry's direction. After the hand, Farry's stack is in the realm of 7,800,000 while Edler's dipped to 2,500,000.
The remaining 37 players take a 20-minute break. After that, play will continue tonight until one more player is eliminated.

The average chip count is about 3,437,000.