Event 12 - $10,000 World Championship Mixed Event
Day: 3
Event 12 - $10,000 World Championship Mixed Event
Day 3 Completed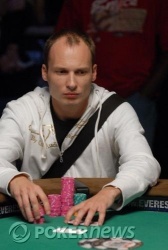 These days, it's rare to see some genuine emotion at the tables. So often our game is marred by the excessive celebrations and fist-pumping that make so many of us cringe and roll our eyes, but moments after Ville Wahlbeck won his first WSOP bracelet, he shed more than a few tears of joy and had to take a moment in the corner of the final table area to collect himself and let his accomplishment sink in.

Wahlbeck already made it to one final table this week, finishing third in the $10,000 World Championship Seven-Card Stud event for a nearly $153,000 payday. He can now add $492,375 and a gold bracelet to his 2009 WSOP winnings.

A soft-spoken young man from Helsinki, Finland, 33-year old Wahlbeck is a regular on the European Poker Tour, but this is his first stateside tournament victory. His win tonight also marks the first WSOP bracelet for a Finnish player. Recently, he posted in his blog that he was thinking about quitting poker, but we have a feeling that after his win tonight, he'll be a force on the felt for a long time to come.

Congratulations to Ville Wahlbeck on a very well-deserved win.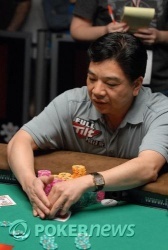 Omaha-8:

David Chiu was all-in again preflop with
against Wahlbeck's


The flop came down
which looked good for Wahlbeck but the turn
put Chiu in the lead, the river was the
though, giving the Finn the straight to win the bracelet.
Limit Hold'em:

David Chiu raised, Ville Wahlbeck three-bet and Chiu called. Wahlbeck bet in the dark before the flop came down
. Chiu called and they went to the turn, which fell the
. Walhbeck bet, Chiu raised and Wahlbeck called. The river was the
and Wahlbeck check-called one more bet.

Chiu turned up
but it was no match for Walhbeck's
. Wahlbeck has now re-assumed his more than 5-1 chip lead.
Limit Hold'em:

On a flop of
, David Chiu checked, Ville Walhbeck bet and Chiu called. The turn fell the
and Chiu bet out. Wahlbeck raised and after a bit of a think, Chiu called. The river was the
and Chiu check-called Wahlbeck's bet.

Chiu showed
and Walhbeck mucked.
Ville Wahlbeck 5,250,000
David Chiu 750,000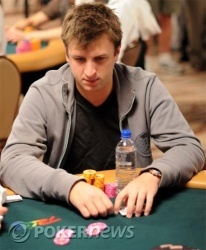 2-7 Triple Draw:

Scott Dorin raised from the button, Ville Wahlbeck three-bet, Dorin bet the last of his chips and Wahlbeck called.

On the first draw, Wahlbeck took two while Dorin drew one. They drew one apiece on the second draw and both rapped pat on the third.

Wahlbeck turned up 7-6-4-3-2. Dorin couldn't beat it with his 9-low and exited in third place. He'll take home $199,940 for a hard-fought battle.
Level: 28
Blinds: 0/0
Ante: 0
Scott Dorin -- 250,000
Ville Wahlbeck -- 5,000,000
David Chiu -- 750,000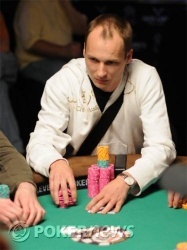 PLO:

The board is reading
and Ville Wahlbeck is facing a 550,000 chip bet from Scott Dorin. It's the most substantial pot we've seen in a while, and Wahlbeck tanks for a few minutes before calling. Dorin mucks when Wahlbeck shows
for the straight.

Dorin is down to about 1 million chips and the Finn is the chip leader by some distance now.