Event Info
| | |
| --- | --- |
| Prize Pool | $593,400 |
| Players | 257 |
Level Info
| | |
| --- | --- |
| Level | 24 |
| Blinds | 13,000 / 25,000 |
| Ante | 0 |
Event 55 - $2,500 Limit Deuce to Seven Triple Draw
Day 3 Completed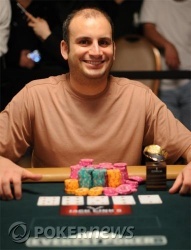 There were 1,927,500 chips in play for Event #55, and after 24 levels of draw poker, those chips are all piled in front of one man. Abe Mosseri has just completed his run through the field, outlasting everyone who came against him to win this tournament. Mosseri has one earlier cash in this WSOP, and his second payday turns out to be the one he's been waiting for as it comes alongside his first-ever gold bracelet.

Our event began three days ago with 257 runners trying to outdraw each other to the worst hands in this Deuce to Seven Lowball funfest. As the only Triple Draw event this year, Event #55 attracted a pro-heavy field full of gamblers and math wizards. Seventy-three of them would survive the first day, while some big names like Greg Raymer, Mike Sexton, Erick Lindgren, Barry Greenstein, and Robert Williamson III were left by the wayside early on.

Those 73 runners were back on Tuesday to make their run toward the final table. The money bubble hit at 24, and it came quickly and without much drama. There was another huge contingent of notable faces who would fall just short of the money, including Jimmy Fricke, Victor Ramdin, Shawn Sheikhan, Greg Mueller, Steve Sung, Allen Kessler, and John Phan. Justin "Boosted J" Smith squeaked into the payouts, and Hasan Habib and Daniel Negreanu were in there as small cashers as well.

Fast forward twelve hours to the dawn of Day 3. Nine players returned, and it was clear from the start that Abe Mosseri was going to be hard to beat. Despite having Nam Le, John Juanda, and Blair Rodman to get through, there was no doubt that he could pull out the win. Within a one-hour span early in the day, Mosseri showed down Number One and Number Two twice each, along with a whole slew of good eights. Although a few players would find themselves in the top spot on the board, nobody could hold the lead for any length of time with Mosseri breathing down their necks. Eventually, after about six hours of poker, Mosseri triumphed over Masayoshi Tanaka in a quick and decisive heads-up battle to take the title.

That wraps it up for Event #55. There are just two more tournaments to finish up before the Main Event arrives in all its glory on July 3rd. You can bet Abe Mosseri will be there, possibly even sporting his shiny new gold bracelet.

One more time, Congratulations to Abe Mosseri, Event #55 Champion!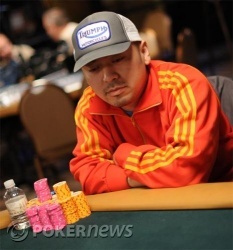 On what would be the final hand of this event, Masayoshi Tanaka opened with a button raise, and Abe Mosseri three-bet it from the big blind.

After Tanaka called, he drew two cards. Mosseri drew one and made a bet which his opponent called. On the second round of draws, Mosseri patted, and Tanaka pulled one card. Mosseri bet, Tanaka raised, Mosseri three-bet it, and Tanaka four-bet all in for his tournament life.

Both men stood pat on the last draw. "Number Three," said Mosseri, turning over 7-6-5-3-2. Tanaka could only lower his head in acknowledgement, unable to show down anything better. He's been sent home in second place, and Abe Mosseri has won the bracelet for Event #55!

With Mosseri catching cards the way he was, Tanaka (and the rest of the final table) truthfully had little chance in this contest. Our runner-up performed admirably though, spurred on by a supportive and vocal cheering section. In the end, he falls just one spot shy of a bracelet. He'll earn six figures instead, stopping to pick up a check for $102,313 on his way out the door.
Tanaka raised from the button, and Mosseri called the extra bet from the big blind. Tanaka drew two-two-one and Mosseri drew two-one-one. Each step of the way, Tanaka called single bets from Mosseri.

After the final bet-call, Abe Mosseri tabled 9-6-5-3-2, and his ninety-six was the winner to extend his chip lead.

Mosseri - 1,650,000
Tanaka - 285,000
Tanaka lost one more pot with a ten-nine against Mosseri's ninety-eight just a moment ago, dropping him down to 255,000.

On the next hand, he limped in from the button, and Mosseri raised it up. Tanaka called the extra bet and drew three cards. Mosseri would be pat the whole way, and he bet and was called on the first round.

On the second draw, Tanaka pulled one card before raising Mosseri's bet. After both men had put in two bets, they both stood pat and Mosseri check-called one final bet.

Tanaka tabled 8-6-5-4-2, and he finally earns himself a decent pot here heads up.
Level:

24
Blinds:

13,000/25,000
Ante:

0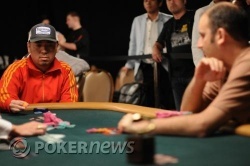 Abe Mosseri raised on the button, and Masayoshi Tanaka put in the call. Both players would trade two cards before Tanaka check-called a bet.

On the second draw, both players took one card before check-checking the action.

On the final round of betting, both men took one more card, and Tanaka check-folded to a bet.

Mosseri - 1,550,000
Tanaka - 385,000
Masayoshi Tanaka raised from the button/small blind, and Abe Mosseri three-bet from the big blind. Tanaka called and drew just one card. Mosseri took two cards before check-calling a bet.

On the second round, each player took one card, and Mosseri check-called another bet from Tanaka. Tanaka stood pat on the end, and Mosseri took one card and bet again. Tanaka called the last bet, and Mosseri turned over 7-6-4-3-2, having once again drawn to Number Two!

Mosseri - 1,270,000
Tanaka - 655,000
Though the heads-up duel is still in its infancy, Abe Mosseri is starting to assert himself. After trading a few jabs, Mosseri has managed to turn the tables and take a reasonably significant lead.

Mosseri - 1,200,000
Tanaka - 720,000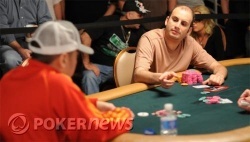 Just about 100,000 chips separate our two finalists as heads-up play begins.

Masayoshi Tanaka - 1,019,000
Abe Mosseri - 916,000