Event 55 - $2,500 Limit Deuce to Seven Triple Draw
Day 2 Completed
That's a wrap.

We've finished today with just nine players remaining, led by Abe Mosseri who aggressively built up his stack this evening.

Also still in are John Juanda, Nam Le and Julie Schneider, wife of former POY Tom Schneider. Play will restart tomorrow at 2pm and the remaining ten will play down until one of them wins the bracelet.

Join us then...
Masayoshi Tanaka raised first in from the cutoff, Brad Libson re-raised from the button, and Jacobo Fernandez made it four bets from the small blind. Tanaka drew one and the others drew two.

After the draw, Fernandez bet all in for his last 6,000, and both opponents called. The players drew the same number of cards and checked it down, and they both drew one and checked it down on the last round as well.

Libson made a pair, so he mucked, and Fernandez said, "Jack." It was no good as Tanaka tabled the winning 9-5-4-3-2. Just as the night comes to a close, Jacobo Fernandez has been cut down in 10th place.
We've hit the ten-minute mark on the clock, and it's time to draw a card. The floor person pulled a 4, and we'll play that many hands before calling it a night.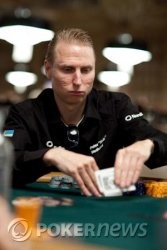 Peter Hedlund was under the gun with 8,000 chips, and he folded that hand. On the next hand, he had 6,000 of those chips committed to the big blind, but he had to fold that hand as well, leaving just 2,000 funny money to play with.

All in from the small blind then, John Juanda put in a raise and isolated himself against the at-risk Hedlund. Hedlund would draw one time before standing pat while Juanda traded one card on all three rounds. In the end, Hedlund showed down a decent 8-7-5-4-3. Juanda turned over his first four cards, showing 6-4-3-2 with one card to sweat. Unfortunately for Hedlund, J.J. squeezed out a seven to make the winning seventy-six and send him out in 11th place.
Hertzel Zwalweski is up to 110,000 after making an
against Nam Le.
Zwalweski had drawn two, then one, then one and bet the whole way before checking on the end. Le drew two, then two, then one, before mucking to his opponent's eighty-six.
The floor staff has just told us that we'll play out the remaining 32 minutes of this level before bagging up the chips and shutting it down for the night. That should get us out of here just after 2:30am.
Miguel Rodriguez raised before the draw, and John Juanda reraised in position. Rodriguez called, and he would draw one the whole way. Juanda was pat for the rest of the hand, and he bet out after the first draw getting a call from Rodriguez.

After the second draw, Juanda bet again, and Rodriguez called all in for his last 3,000. He'd draw one more time as Juanda tabled his pat 9-7-6-4-3. Rodriguez mucked his cards, shook hands with the table, and made his exit in 12th place.
Abe Mosseri raised once again in middle position and Miguel Rodriguez reraised in the small blind. Both drew one before Mosseri bet and Rodriguez called.

Mosseri then stood pat and and Rodriguez drew one again. Both players checked and Mosseri again stood pat and Rodriguez drew one, Mosseri bet and Rodriguez folded.

Simple as that...
Level:

18
Blinds:

3,000/6,000
Ante:

0