Event 55 - $2,500 Limit Deuce to Seven Triple Draw
Day 1 Completed
That's all she wrote for Day 1 of the $2,500 Deuce to Seven Triple Draw Lowball fun. The day began with 257 runners trying to outdraw each other to the worst hand, and somewhere around 75 of them have survived long enough to try it again tomorrow.

The list of players who didn't survive the day is long and full of big names like Robert Williamson III, Greg Raymer, Mike Sexton, Todd Brunson, Erick Lindgren, Marcel Luske, Bill Chen, Barry Greenstein, and on and on it goes.

On the flip side of the coin, Tuan Le held the chip lead for much of the day, and he's finished up near the top as play concludes. From the counts, it appears that he has just been edged out by Adam Ewenstein who sealed his 71,800 chips into the plastic bag for the overnight soak. Michael Peltekci, Blair Rodman and Ryan Fisher are also up there near the top of the pack.

The remaining players will be back at 2:00pm to pick up with Day 2. We'll be there too, and we hope you'll join us then. Until tomorrow, goodnight from the Rio!
The clock has ticked down to the 10-minute mark, and that means it's time to play the lottery. The floor person had a player pick a card; it was a four, and we'll play that many hands before bagging up for the night.
Here are the four men leading the way as Day 1 nears its end:

Mike Peltekci - 60,000
Ryan Fisher - 59,000
Blair Rodman - 57,000
Tuan Le - 55,000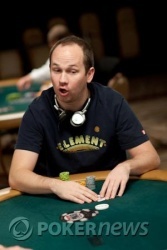 John Monnette was all in before the draw, heads up against Nam Le.

Monette drew two-one-one while Le drew two cards twice before standing pat on the final round. He showed a J-7-5-4-2, and Monnette couldn't beat it, spelling the end of his day.

Le, on the other hand, is plenty healthy. That pot chipped him back up to average finally, sitting with 24,500. That's up from the 500 puny chips that he had a few short hours ago.
We join the action just after the first draw in a heads-up pot. With his opponent checking to him, Greg Mueller put out a bet and was called.

On the next draw, both men took one card, and the unknown player led out with a bet this time. Mueller called and stood pat. His opponent stood pat as well, and he fired one more bet. Mueller called again, turning over 8-6-5-3-2. His eighty-six wasn't bad, but his opponent had drawn an eighty-five: 8-5-4-3-2. After that little hit, Mueller has slipped back to 15,200.
Daniel Negreanu was involved in a fairly unexciting heads-up pot. His opponent had raised before the draw, and Negreanu called out of the big blind.

Negreanu and his opponent drew two cards on the first two draws, with the action check-checking. On the last draw, Negreanu stood pat while his opponent still needed two cards. A check from Negreanu after patting drew a long curious look from the other player. He checked behind, and Negreanu tabled a queen-ten low. It was the winner, and Negreanu explained, "I'm not going to draw to a ten." He's up to 31,000 after that small pot.
We're fairly certain that Tuan Le is the big stack in the room, and he's just increased his chip lead after a four-way pot.

Le was in the cutoff, and he cold-called three bets before the draw. He drew two cards and bet out, getting three callers. On the second draw, he took one card and fired again, this time getting two callers. Le stood pat for the last draw and bet once more. Only one opponent called him this time, and Le showed 9-8-6-5-4 for the winning ninety-eight.
John Phan raised first in from the cutoff, and Victor Ramdin called out of the blind. He would draw two cards to Phan's one. As the dealer was passing out the cards, Ramdin checked dark, and Phan bet dark as well. Ramdin called once he received his cards.

On the second draw, Ramdin drew two once again, and he showed Phan the 2-2 that he was discarding. Phan stood pat and fired out a bet. Ramdin raised though, and Phan elected to lay it down.

Ramdin - 17,700
Phan - 12,200
Level:

8
Blinds:

300/600
Ante:

0