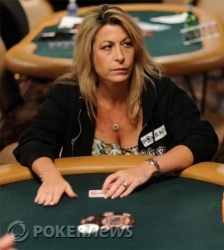 From the button, Julie Schneider put her last 20,000 chips into the pot, just good enough for a call. Tanaka called in the small blind, then called again when Mosseri raised from the big blind.

Tanaka took two cards and checked, Mosseri stood pat and bet, Schneider drew one card, and Tanaka made the call.

On the second round, the players exchanged (or didn't, in Mosseri's case) the same number of cards as on the first round. And once again, Tanaka check-called a bet from Mosseri.

On the final betting round, both of Schneider's opponents stood pat while she prayed for one more good card. The two live players checked it down, and Mosseri was first to show his 9-5-4-3-2. Tanaka couldn't beat the smooth nine, and it turned out that Schneider couldn't either.

Julie Schneider played a remarkably clean tournament right from the start of play on Day 1. She quickly proved to her male competitors that she was more than just a pretty face at the table, picking off one opponent after another with her well-timed bets (and a few favorable draws). Her deep run comes to an end in third place, good for $66,285 and a big hug from husband Tom.