| | | | | | |
| --- | --- | --- | --- | --- | --- |
| Robert Mizrachi | | | | 3,125,000 | |
| David "Bakes" Baker | | | | 3,095,000 | |
| John Juanda | | | | 2,620,000 | |
| Mikael Thuritz | | | | 2,300,000 | |
| Michael Mizrachi | | | | 2,175,000 | |
| Vladimir Schmelev | | | | 1,925,000 | |
| Daniel Alaei | | | | 1,705,000 | |
| David Oppenheim | | | | 460,000 | |
Event #2: $50,000 Poker Player's Championship
Day 4 Completed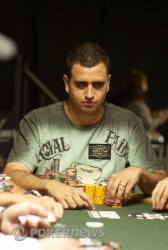 That brings an end to Day 4 of the $50,000 Poker Player's Championship. We've whittled the field down from 21 to our final 8 who will return tomorrow under the bright lights and ESPN cameras to play it out for the Chip Reese Memorial Trophy and $1.55 million in prize money.
For only the second time in World Series of Poker history, a pair of brothers has made the final table together. Ross and Barny Boatman were the first, finishing seventh and ninth in a 2002 pot-limit Omaha event, and now Robert and Michael Mizrachi will go toe-to-toe tomorrow to see who wins family bragging rights. While Robert already has a WSOP bracelet, earned in the 2007 $10,000 World Championship Pot-Limit Omaha event, Michael is looking for his first one.
Also gunning for their first bracelet are David Baker, Mikael Thuritz, David Oppenheim and Vladmir Schmelev. Daniel Alaei picked up his second bracelet last summer in the $10,000 Omaha Hi-Lo World Championship, while John Juanda is the veteran of this group with four WSOP wins including the 2008 WSOP-Europe Main Event.
Here's a look at the official final table seating assignments and chip counts:
Seat 1: David Baker - 3,095,000
Seat 2: Mikael Thuritz - 2,300,000
Seat 3: Vladimir Schmelev - 1,925,000
Seat 4: John Juanda - 2,620,000
Seat 5: Daniel Alaei - 1,705,000
Seat 6: Michael Mizrachi - 2,620,000
Seat 7: David Oppenheim - 460,000
Seat 8: Robert Mizrachi - 3,125,000
Join us from 3pm tomorrow live from the Rio as we bring this baby home.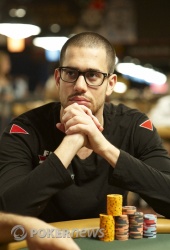 Stud 8/b
Ladies and gentlemen, we have a final table.
John Juanda (
)(
) /
/ (
)
Nick Schulman (
)(
) /
/ (?)
Vladimir Schmelev had the bring-in with the
, Juanda completed, Schulman called and Schmelev folded. Schulman led out on fourth street and Juanda called. On fifth, Schulman bet the last of his chips and Juanda looked him up.
Juanda made an eight-high straight on sixth street while Schulman caught the
to leave him drawing dead. He exited the table to a hearty round of applause and handshakes from several of his opponents.
Our final eight are bagging, tagging, and filling out bio sheets for ESPN. Stay tuned for official seating assignments and chip counts.
Stud 8/b
John Juanda completed with Robert Mizrachi and Mikael Thuritz coming along for the ride. On fourth, it was checked to Juanda who fired a bet. Both opponents made the call. On fifth, Thuritz gave it up before Mizrachi took the lead on sixth. Again on the river, Mizrachi led the betting and Juanda gave it up, as Mizrachi takes down another big Stud pot on the river without showdown.
Juanda: (X-X)
(X)
Mizrachi: (X-X)
(X)
Thuritz: (X-X)
Stud
Vladimir Schmelev completed with the
with Robert Mizrachi and David Baker making the call. Schmelev led the betting on fourth and fifth streets, with Baker laying down his hand on fifth. Mizrachi took control on sixth and forced a fold from Schmelev on the river.
Schmelev: (X-X)
(X)
Mizrachi: (X-X)
(X)
Baker: (X-X)
Mizrachi is up to 2.4 million with Schmelev back to 2.14 million.
Stud
Robert Mizrachi completed the bet with the
after Nick Schulman was the bring-in for the second consecutive hand with the
. Play folded around to him and he thought for a few moments before committing the last of his sub-100k stack.
Mizrachi: (
)
(
)
Schulman: (
)
(
)
Mizrachi bricked out as Schulman made two pairs to double up. He's still desperately short with around 250,000, but has one eye on David Oppenheim's stack (which is at around 400,000) to try and grab a spot on this televised final table tomorrow.
Razz
David Baker (X)(X) /

Nick Schulman (X)(X) /
Baker completed on third street and Nick Schulman called. Schulman led fourth street when Baker paired his six, but nevertheless he made the call. Schulman led again on fifth street and Baker raised. Schulman thought for quite a while before deciding to save his last few chips and mucked his hand.
Schulman is down to 230,000--less than two big bets-- while Baker is the chip leader with 3.4 million.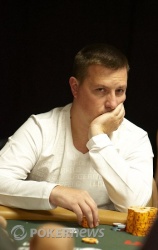 Razz
Mikael Thuritz (X)(X) /
/ (X)
Vladimir Schmelev (X)(X) /
/ (X)
John Juanda (X)(X) /
Thuritz completed on third street and both Schmelev and Juanda called. Schmelev made the low board on fourth and bet, Juanda and Thuritz coming along. Thuritz caught a 4 on fifth street and led, Schmelev called and Juanda folded. When Thuritz hit a king on sixth, Schmelev bet out and Thuritz gave up his hand.
Schmelev is up to 2.4 million.