Sorel Mizzi

435,000

Darren Shebell

320,000

Richard Ashby

276,000

Dan Heimiller

241,000

Pat Pezzin

PokerStars Team Pro Canada

211,000

Christine Pietsch

193,000
-1,000

Jon Turner

83,000

Owais Ahmed

78,000
Event #21: $1,500 Seven Card Stud
Day 2 Completed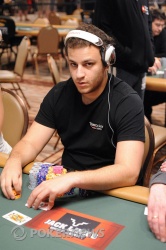 That brings an end to a long day of Seven Card Stud action as our field has been whittled down to just eight. For one of the more affordable buy-in tournaments on the schedule, it has certainly produced a world-class final table lineup.
They will be led by online sensation Sorel Mizzi, who despite having limited Stud experience, has proven that he has the instincts to match it with anyone in the world at any poker discipline.
Interestingly, Dan Heimiller and Sorel Mizzi started this tournament two days ago on the very same table, and now, they're going to finish it right where they started.
Here's how they will lineup tomorrow:
Seat 1: Christine Pietsch - 194,000
Seat 2: Richard Ashby - 276,000
Seat 3: Pat Pezzen - 211,000
Seat 4: Dan Heimiller - 241,000
Seat 5: Jon Turner - 83,000
Seat 6: Sorel Mizzi - 435,000
Seat 7: Darren Shebell - 320,000
Seat 8: Owais Ahmed - 78,000
Join us from 3pm tomorrow afternoon as we bring this one home and crown a new WSOP bracelet winner! Good night from the Rio!
Wow. Wow wow wow. These folks saved the biggest pot of the tournament until the very last minute.
Alex Kravchenko:
/

Darren Shebell:
/

Christine Pietsch: (XX) /
- fold
Dan Heimiller:
(X) /
Christine Pietsch brought in and Dan Heimiller called; Alex Kravchenko completed. Darren Shebell raised ("Raise!!!") and all three called.
On fourth street Shebell bet out and Pietsch and Heimiller both called. Kravchenko raised, and Shebell now reraised ("Raise!!!"). Pietsch and Heimiller called, and it was back to Kravchenko, who three-bet. Shebell capped ("Raise!!!"), and everyone called.
Shebell bet out again on fifth street and this time Pietsch folded. Heimiller called though, and Kravchenko called all in. The floor was briefly called over because Shebell had said something which could be interpreted as revealing his hand. It was deemed OK though, and they continued.
Shebell also bet on sixth street. Heimiller called. This was by now by far the biggest pot of the tournament.
So come seventh street, Shebell announced, "I'll check my... cards," to some chuckling around the table. Heimiller checked behind.
Duly the cards were revealed and to no-one's surprise Shebell showed the table a full house, aces full of eights. It proved a dead man's hand indeed for Kravchenko, who could only manage two pair. Heimiller turned over rolled-up sevens which may even have turned into a full house although we regret that it all went rather fast and we couldn't catch the last card.
Either way, Kravchenko thus became our official final table bubbler in the last few seconds of the level, and we will be coming back tomorrow eight-handed.
By the by, Richard Ashby was keen to start the final table early so he could play the Omaha hi/lo too, but that will not be happening and everyone should be getting a decent night's sleep.
As expected it looks like the final nine have shut up shop and are happy to come back and duke this one out tomorrow. There's been little action to report, other than we are currently the one and only poker table that is currently active throughout the entire Amazon Room. Quite a bizarre feeling and rather anti-climactic situation for these nine players who are battling for a WSOP bracelet here.
Sorel Mizzi: "At the start of this tournament I didn't have a clue about Stud....I've learnt a lot in the past two days!"
The players are now redrawing for our final table of nine. Of course, we require one more elimination before our official WSOP final table of eight is reached and we can bag up for the night.
Here's how they lineup:
Seat 1: Christine Pietsch - 183,000
Seat 2: Richard Ashby - 200,000
Seat 3: Pat Pezzen - 250,000
Seat 4: Dan Heimiller - 285,000
Seat 5: Jon Turner - 85,000
Seat 6: Alex Kravchenko - 55,000
Seat 7: Sorel Mizzi - 465,000
Seat 8: Darren Shebell - 200,000
Seat 9: Owais Ahmed - 85,000
There's twenty minutes left on the clock in this level.
Raymond Walter:

Richard Ashby:
Raymond Walter was all in on fourth street and the rest of the cards were dealt.
Ashby took a moment to turn over his last down card - and once Walter had seen that it brought in the flush he stood up to leave without even looking at his last down card. Someone pointed out that he already had two pair and maybe he should take a peek and suddenly there was some excitement at the table. Unfortunately for Walter, though, the final card didn't make him a full house, and he became our 10th place finisher.
The remaining nine players have now squashed on to a single table to play out the rest of the level, or just until one of them busts.
Dan Heimiller completed the betting before Vorakboth Eam put in a raise. Heimiller made the call, and again on fourth before Eam was all in on fifth street. Here's how the boards ran out:
Heimiller: (
) /
/ (
)
Eam: (
) /
/ (
)
Three pair for Heimiller with tens and sixes counting as Eam couldn't improve on his kings. Eam is out in 11th place for $7,942 in prize money.