Event #8: $1,000 No-Limit Hold'em
Day: 1a
Event #8: $1,000 No-Limit Hold'em
Day 1a Completed

Official Day 1A Chip Counts
Player
Chips
Progress

Albert Kim

74,675

65,975

61,650

61,200

60,425

Ana Marquez Esteban

59,375

Robert Tanniru

59,325

51,000

18,000

49,850

Jeremiah Degreef

49,600

48,975

48,550

47,750

46,500

-3,500

46,100

Jonathan Duhamel

45,525

43,500

43,250

Thomas Koral

42,575

Shane Schleger

41,300

Team Pro (Online)

41,175

41,075

40,500

40,475

40,000
Level 9 : 300/600, 75 ante
Day 1a has officially come to an end. This is the first event this year with multiple starting days, and registration numbers are likely beat the total of players who entered this event last year (4,345).
Play was suspended with 312 players remaining. A total number of 2,116 players took to the felt today and as of this post over 1,200 have already pre-registered for day 1b tomorrow bringing the total number of players registered to more than 3,300.
Albert Kim appears to be our current chipleader with 74,675. Kim is no stranger to the WSOP as he finished in 19th place in the Main Event in 2008.
Other notable big stacks include last year's Main Event Champion Jonathan Duhamel with 45,525, Ana Marquez with around 60,000, Shane Schleger with 41,000, Dan Shak with 39,125, and David "The Maven" Chicotsky with 38,725..
Still hanging on are some other well known players including Eric Mizrachi (21,550), Chad Brown (14,275), and Vitali Lunkin (13,125).
Tomorrow Day 1b will commence at noon and the remaining players from days 1a and 1b will converge at 2:30pm on Monday for day two.
That's it for us here in the Pavillion room tonight. We'll be back again tomorrow for Day 1b so until then, goodnight!
Level 9 : 300/600, 75 ante
The tournament director just announced that each table will deal one more hand and then the players will be done for the evening. It's been an exciting day and we'll have a wrap-up post for you shortly!
Level 9 : 300/600, 75 ante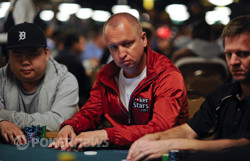 On the first hand back from break, we saw Alexander Kravchenko raking in the chips with
on a
board. We stuck around his table for one more hand as UTG raised it up to 1,400. Kravchenko was next to act and made it 3,500 to go. It was folded back around to UTG who shoved all in and Kravchenko made the quick call. UTG turned up
and amazingly, Kravchenko showed
. The flop was a rainbow and the players chopped up the blinds. Kravchenko was up to 32,000 after the hand.
Level: 9
Blinds: 300/600
Ante: 75
Level 8 : 200/400, 50 ante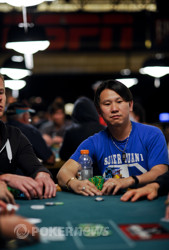 We haven't seen much of Kenny "Supertuan1' Nguyen's play today but we just saw him with a monster stack and took a count. The 2010/11 WSOP Circuit Harrah's Chester Main Event Champion has around 50,000 and he's definitely up there as one of our chip leaders.
Level 8 : 200/400, 50 ante
Players are now on their final 20 minute break of the night.
Level 8 : 200/400, 50 ante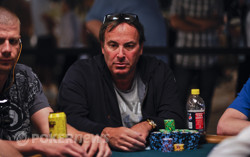 Dan Shak's good day seems to be continuing.
The player in the cutoff raised all in for 3,100 and Shak called from the button.
Shak:

Cutoff:
The board ran out
and Shak's boat sent the other player to the rail. Shak had 43,000 after the hand.
Level 8 : 200/400, 50 ante
The tournament clock currently shows 400 players remain in today's tournament. As we previously mentioned, play today will cease either after 10 levels or once we reach 315 players. Considering we still have more than two levels of play to reach the end of level 10, we're speculating that we'll reach 315 players first.