| | | | | | |
| --- | --- | --- | --- | --- | --- |
| Manuel Bevand | | | | 961,000 | |
| Steve Landfish | | | | 599,000 | |
| Ryan Julius | | | | 503,000 | |
| Hoyt Corkins | | | | 416,000 | |
| Shaun Deeb | | | | 396,000 | |
| Patrick Cronin | | | | 373,000 | |
| Alexander Venovski | | | | 364,000 | |
| Antonio Esfandiari | | | | 303,000 | |
| Jeff Tims | | | | 233,000 | |
| Ali Eslami | | | | 228,000 | |
| Phil Ivey | | | | 180,000 | |
| Daniel Weinman | | | | 167,000 | |
| Andy Frankenberger | | | | 166,000 | |
| Matt Marafioti | | | | 154,000 | |
| Chris Klodnicki | | | | 145,000 | |
| David Benyamine | | | | 117,000 | |
| Cary Katz | | | | 65,000 | |
Event 17: $10,000 Pot-Limit Hold'em
Day 2 Completed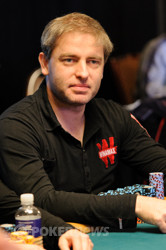 Today was Day 2 of the $10,000 Pot-Limit Hold'em event, numbered 17 on the WSOP schedule. From the starting field of 179, the surviving 69 returned to the felt to play another ten levels. The money bubble was burst very late in the night, and it's Manuel Bevand who'll lead the remaining 17 players into tomorrow's finale. His massive stack of 961,000 chips puts him miles ahead of his nearest challenger.
The field that returned for Day 2 was absolutely packed with notables. November Niner Matt Giannetti was one of the first to drop out, and he was followed out the door by Gavin Smith, Erick Lindgren, Shannon Shorr, John Juanda, and Kevin MacPhee. Defending champion Amir Lehavot bagged up after Day 1, but the early stages of the second day was his downfall this time around. Also exiting fairly early on were Erik Seidel, Jon Aguiar, Steve O'Dwyer, Tom Marchese, and Robert Mizrachi. A bit later fell Olivier Busquet, Andrew Lichtenberger, Humberto Brenes, Noah Schwartz, Liv Boeree, and another former November Niner, Jason Senti.
Steve Landfish came into the day with the big stack, but his early trend was downward. He seemed to be struggling through the opening levels a bit, but he managed to find his groove once again. Matt Stout was nice enough to help him re-find it. Stout found what he thought was a favorable spot when Landfish five-bet shoved on him. Stout quickly called all in with ace-king, but Landfish had been dealt two aces. The ensuing knockout allowed him to chip back up into the lead, and he'd hover around that spot for the rest of the night.
He couldn't go wire-to-wire, though, mostly because of the heater Shaun Deeb was on during the middle stages of play. A fast start saw him win a few key pots to put his name among the big stacks. Deeb's first big bite came at the expense of Leonid Bilokur and his pocket queens. Deeb put him at risk with
, and the board ran
to earn Deeb the knockout. A short while later, he won a big flip with pocket jacks against Chris Moore's
, and just like that, he was one of the leaders.
He was already accumulating a formidable stack when a cooler of a pot arrived between he and Nabih Zaczac. The latter got heaps of chips in with
on a
flop. It's hard to fault him for that, but Deeb's
had him drawing more slender than Zaczac had hoped. When the turn and river bricked off, one of the biggest pots of the tournament was pushed to Deeb, and with it came a commanding chip lead.
Deeb cooled off after the dinner break, though, and his slip allowed Ryan Julius to sit in the top spot briefly. Landfish retook that spot as the night wore on, but it was Bevand who got the last laugh.
Jeff Tims took the first bite out of Mike McDonald's stack with 20 players remaining when he turned Broadway against McDonald's ace-queen. The very next hand, McDonald got the rest of his chips in against Bevand on a nine-high flop. McDonald was working with a respectable
, but he was in bad shape. The Frenchman rolled over two red queens, and the
sent McDonald off to the rail with a big frown.
That brought the field to the bubble, and it took just a few hands to find the unlucky 19th-place finisher. It was WSOP stalwart Farzad Bonyadi who fell with pocket fives against
. An ace on the river ended Bonyadi's day as the bubble boy.
The 18 who survived that bubble are all guaranteed a payday this weekend, and there is some serious talent (and quite a few bracelets) left in the field. Only Bertrand Grospellier cashed but failed to make it through Day 2. He exited in 18th place right at night's end. Some of the notables who will return for the final day are Julius, Antonio Esfandiari, Hoyt Corkins, Ali Eslami, Andy Frankenberger, Matt Marafioti, David Benyamine, Chris Klodnicki, and Cary Katz.
Sheesh.
Oh, hey. Let's not forget about Phil Ivey. The man himself is back at the WSOP for 2012, and he's doing some serious bracelet hunting once again. Ivey's played just about everything this summer, and he's already made one final table. He's in contention for another here tomorrow. After a relatively quiet day on the felt, Ivey bagged up 180,000 chips to put himself in 11th place for Day 3.
Speaking of Day 3... the conclusion of this event is another can't-miss here at the WSOP. We'll be back at 1:00 PM to play on down to a winner, and we hope you'll join us back here. Can Ivey grab number nine? Will Deeb finally break through at the WSOP? Or maybe one of the two remaining French players can snag their first bracelet of this young summer.
Until tomorrow, all that's left is goodnight!
| Table | Seat | Player | Chips |
| --- | --- | --- | --- |
| 445 | 1 | Antonio Esfandiari | 303,000 |
| 445 | 2 | Ryan Julius | 503,000 |
| 445 | 3 | Chris Klodnicki | 145,000 |
| 445 | 4 | Cary Katz | 65,000 |
| 445 | 5 | Steve Landfish | 599,000 |
| 445 | 6 | Andy Frankenberger | 166,000 |
| 445 | 7 | Manuel Bevand | 961,000 |
| 445 | 8 | Shaun Deeb | 396,000 |
| 445 | 9 | Hoyt Corkins | 416,000 |
| | | | |
| 451 | 1 | Phil Ivey | 180,000 |
| 451 | 2 | Matt Marafioti | 154,000 |
| 451 | 3 | Patrick Cronin | 373,000 |
| 451 | 4 | --empty-- | -- |
| 451 | 5 | Alex Venovski | 364,000 |
| 451 | 6 | Daniel Weinman | 167,000 |
| 451 | 7 | Ali Eslami | 228,000 |
| 451 | 8 | Jeff Tims | 233,000 |
| 451 | 9 | David Benyamine | 117,000 |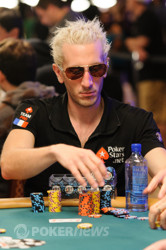 Bertrand "ElkY" Grospellier raised to 40,000 in first position, committing close to half his stack. Alexander Venovski was next to act and he moved all-in for 108,000. A few folds later and the action stopped dead in its tracks at the seat of Jeff Tims.
"I am all-in," said Tims.
The action folded around to ElkY and he didn't like it one little bit.
"You can fold ElkY," said Venovski.
ElkY made the call and we had a three-way all-in with Tims covering both stacks.
Tims was the clear favorite to triple up but it would all change on the flop.
Flop:
Both Venovski and ElkY had flopped sets meaning Tims needed an ace to catch up! The turn
and river
completed the board and ElkY was out, Tims was reduced to 233,000 and Venovski moved up to 364,000.
Table #447

| | |
| --- | --- |
| Seat 1 | Antonio Esfandiari |
| Seat 2 | Ryan Julius |
| Seat 3 | Chris Klodnicki |
| Seat 4 | Cary Katz |
| Seat 5 | Steve Landfish |
| Seat 6 | Andy Frankenberger |
| Seat 7 | Manuel Bevand |
| Seat 8 | Shaun Deeb |
| Seat 9 | Hoyt Corkins |

Table #448

| | |
| --- | --- |
| Seat 1 | Phil Ivey |
| Seat 2 | Matt Marafioti |
| Seat 3 | Patrick Cronin |
| Seat 4 | Bertrand 'ElkY' Grospellier |
| Seat 5 | Alexander Venovski |
| Seat 6 | Daniel Weinman |
| Seat 7 | Ali Eslami |
| Seat 8 | Jeff Tims |
| Seat 9 | David Benyamine |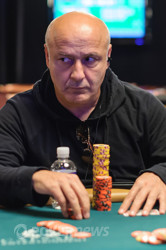 The three-time World Series of Poker (WSOP) bracelet holder, Farzad Bonyadi, has been eliminated on the bubble. It was a blind on blind encounter with the chip leader Manuel Bevand and after a series of raises and re-raises both players decided to just get it all-in. The cards were turned over and it was another flip with Bonyadi slightly ahead.
The players engulfed the table and each and every one of them was baying for an ace or a queen. It eventually arrived on the river on a board of
and Bonyadi was out. The remaining eighteen players are now guaranteed at least $23,876 for their troubles.
The three tables are now hand for hand as we play out the bubble.
The players are grouped together, chatting, whilst the play finishes.
"Any hand would look like aces right now," says David Benyamine.
"Any ace would look like aces," said ElkY.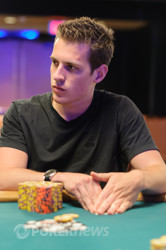 Manuel Bevand has just taken the chip lead with 30-minutes left to play in the last level of the day. The unfortunate recipient of the Bevand blow was Mike McDonald, who leaves us just two places shy of the money.
The action folded around to Manuel Bevand in the small blind and he raised to 36,000. McDonald was seated in the big and he made the call. The flop was
, Bevand bet 51,000, McDonald raised pot, Bevand re-raised pot (which put McDonald all-in) and McDonald called.
The turn was
and river
and incredibly Timex was out. We say incredibly because he just a few short hands ago he was third in chips behind Steve Landfish and Ryan Julius who Bevand now leapfrogs over.
Mike McDonald raised to 24,000 in the cutoff and Jeff Tims called in the big blind. The flop was
and Tims check-called a 24,000 McDonald bet. Onto the turn and the
and this time Tims check-raised all-in, after McDonald bet 42,000, and McDonald called. Tims turned over
for the nuts and McDonald turned over
for top pair. The river was the
and the pot went the way of Tims.