Event 6: $5,000 No-Limit Hold'em Mixed-Max
Day: 1
Event 6: $5,000 No-Limit Hold'em Mixed-Max
Day 1 Completed
Level 10 : 400/800, 100 ante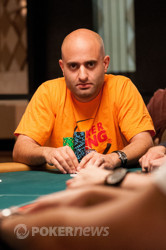 Event #6 $5,000 No-Limit Hold'em Mixed-Max Day 1 has been a fantastic day of poker. We have had a plethora of former WSOP Main Event finalists, a quite amazing table of death, the most hung-over poker player ever to take a seat in the game in Phil Collins and a multi-tabling Daniel Negreanu. What more could a poker fan ask for?
Joe Tehan has 21 WSOP cashes to his name, including two final tables. He has won over $3.7 million in live tournament earnings and has the chip lead going into Day 2 with 219,200 chips. Significantly, $300,000 of that $3.7 million was won when he came third in a mixed-max event. There is no substitute for experience as they say.
Tehan built his huge stack courtesy of two vital hands. The first one came when he eliminated Mohsin Charania with kings over queens and then he eliminated both Andy Frankenberger and Ryan Schmidt when he flopped a flush. Both hands gave him the momentum to grow and grow as the day progressed.
But before we crowned Tehan as the chip leader all the talk was about the table of death. It began with Yevgeniy Timoshenko, Jason Mercier, JC Tran, Chris Moorman and Erik Seidel seated at Table #5 in the Gold section of the Brasilia room. As the day ebbed and flowed, top players left to be replaced by even more top players. But despite the line up of luminaries it was a young Russian called Kirill Kruglov who was building his chip stack quicker than Donald Trump can build a tower. Amongst Kruglov's early victims was Chris Moorman. The man from the UK left and the great man Phil Ivey joined the table instead.
Ivey had a frustrating day and we only caught him playing one significant pot before his eventual demise which you can read about here. His final act came when he got it all-in pre flop holding
against the
of his opponent and an ace appeared on the flop sending Ivey to the rail.
Phil Hellmuth was another global superstar who had a very quiet and frustrating day. The 11-time WSOP bracelet winner going out in the worse way after finding pocket aces against the pocket jacks of Hiren 'Sunny' Patel. Sunny finding a jack on the flop and Hellmuth was left standing in the rain without an umbrella.
The third global superstar who played today was Daniel Negreanu, although to say he played is a bit strong. Negreanu was multi-tabling between this event and Event #5 $1,500 Pot-Limit Hold-em where he is in with an excellent shout for a bracelet. Negreanu returned in between the 20-minute breaks to play a few hands before darting back to the Amazon room. He didn't do that badly either because he made it through to Day 2 with 8,400 chips. Somehow we don't think he will be participating because he has made the final table of Event #5 sixth in chips.
Other notables through to Day 2 are Marvin Rettenmaier (166,000), Gavin Smith (138,600), John Duthie (99,800), Victor Ramdin (93,700), Will Failla (91,200) and Eugene Katchalov (87,300).
Last but not least a small round of applause for former November Niner Phil Collins. Yesterday Collins was on the rail to watch Brent Hanks win his first ever WSOP bracelet and he was the drunkest man in the room. Despite having the hangover from hell, Collins managed to stay awake long enough to finish the day with 14,600.
"I have had a bad day," said Collins who looked a little bit like a vampire.
112 players will return to the Amazon room at 13:00 to play Day 2, where the format will be six-max action. Please make sure you join Pokernews for all the action.

Player
Chips
Progress

Joe Tehan

219,200

Aaron Jones

167,100

Marvin Rettenmaier

166,500

500

Raja Kattamuri

149,100

Gavin Smith

138,600

Warwick Mirzikinian

126,000

Jared Jaffee

121,800

Bryce Yockey

110,500

John Duthie

99,800

Ben Tollerene

98,000

Ryan Leng

95,700

Randy Haddox

95,700

Gregory Gokey

95,100

Chris Klodnicki

95,000

-5,000

Victor Ramdin

93,700

Adam Geyer

93,600

Jordan Smith

92,400

Thomas Miller

92,200

Christopher Hunichen

91,500

Will Failla

91,200

Brian Rast

89,700

45,700

Eugene Katchalov

87,300

Stephen Coleman

86,300

Mathew Frankland

84,900

900

Olivier Busquet

82,900
Play seems to be slowing down around the room, with people trying to hold on and make day 2. A recent hand at table #3 showed no sign of slowing down. Eugene Katchalov made it 1,600 under the gun and received a caller from an early position player and a caller from Sorel Mizzi in middle position. A player in late position then raised it up to 5,200. Katchalov folded, but Mizzi and the early position player completed and made the call.
A
flop was spread for the players to see. The early position player checked along with Sorel. Action was then on the preflop raiser who bet out 7,500. A fold was made by the early position player, and action rested on Mizzi. After taking a minute or two Mizzi announced "all in" and his opponent quickly folded.
Yevgeniy Timoshenko and Jared Jaffee have just got it all-in pre flop and Timoshenko was in great shape for a double up that would have put him in a great position in this tournament.
Both players stared at the board intently as the dealer laid them out one by one.
. The queen on the turn seemingly unnoticed by both players who did not flinch one bit. The river card was the
, Timoshenko congratulated his opponent and left the table.
Jaffee was up to 145,000.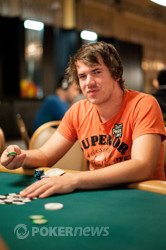 When we arrived at the table there were chips everywhere. Former November Niner Jason Senti was walking out of the door and just in front of his empty table space lay
, Marvin Rettenmaier had a cheeky "it wasn't me" grin on his face and
in front of him, the board was showing
and the man passing the German the majority of his chips was Owen Crowe.
"I had pocket aces," said Crowe.
After a chinwag with some of the players we understand that Senti open shoved with the fours, Rettenmaier three-bet with the ace-king, Crowe four-bet with the aces, Rettenmaier moved all-in and Crowe called.
Crowe was left with a sour looking face and just a few thousand chips while Rettenmaier had moved up to 168,000.
Then in the very next hand Crowe picked up pocket aces once again. He moved all-in and was called by a player holding pocket tens and yes you've guessed it, the pocket tens hit a straight to eliminate the unfortunate Crowe.
Level: 10
Blinds: 400/800
Ante: 100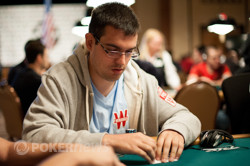 In 2010, Marc Inizan made the final table of the WSOPE Main Event in London where he finished in 9th place for $107,609. He is a very aggressive player from France and highly respected amongst his peers. He has had one of the largest stacks in the room, all-day, but Eric Froehlich has just taken a substantial amount of them as we approach the business end of the day.
Inizan raised to 1,200 in early position, Eric Froehlich three-bet to 3,425 in the hijack, Inizan four-bet to 6,800, Froehlich moved all-in for around 25,000 and Inizan made the call.
Board:
Froehlich moved up to 56,000 and Inizan was pegged back to 63,000.
Andrew Pantling went about his business in fine fashion in the early levels of this tournament. He amassed a stack that could have done plenty of damage, but he has just been reduced to one of the smallest stacks in the room.
We caught him in all-in action, and favourite to increase his stack, when he held
against his opponents
. He was almost home and dry on a board of
and then the cruel
hit the river to reduce him to around 5,000 in chips.
Player
Chips
Progress

John Duthie

88,000

Mathew Frankland

84,000

-11,000

Kyle Julius

71,000

26,000

Byron Kaverman

60,000

-25,000

Will Failla

56,000

32,000

Shannon Shorr

46,000

6,500

Nicolas Levi

45,000

Tristan Clemencon

42,000

1,000

Peter Jetten

42,000

26,000

Bryn Kenney

39,000

10,300

Joseph Cheong

38,000

-27,000

John Racener

34,000

18,000

Toby Lewis

33,000

Hiren Patel

28,000

-28,000

Craig McCorkell

26,000

16,000

Phil Collins

16,000

-8,000