Event #19: $1,500 No-Limit Hold'em
Day: 1
Event #19: $1,500 No-Limit Hold'em
Day 1 Completed

Level 11 : 500/1,000, 100 ante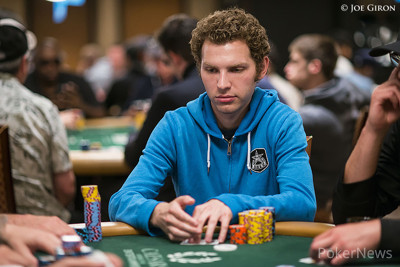 Day 1 of Event #19: $1,500 No-Limit Hold'em started at noon today and, by the time registration closed during dinner break eight and a half hours later, 2,086 players had passed through registration to join the field.
All survivors made it through 11 levels. As players bagged and tagged their stacks for Day 2, it was Justin Filtz putting away the most chips with 135,800.
We saw plenty of big names come and go today. Among those who didn't make it through were Tony Dunst, Jason Duval, Antonio Esfandiari, Jackie Glazier, Jeff Gross, Maurice Hawkins, Phil Ivey, Mike Leah, Kevin MacPhee, Greg Mueller, Luca Pagano, Mickey Petersen, Dwyte Pilgrim, Greg Raymer, Matt Salsberg, Vanessa Selbst, Joe Serock, Mike Sowers, Jennifer Shahade, and JC Tran.
The big names still holding onto some chips include Matt Affleck, Darryll Fish, Bart Hanson, Loni Harwood, Allen Kessler, Scott Montgomery, David Peters, and Jason Somerville.
The prize pool has been set at $2,816,100, and everyone has their eye on the top prize of $514,027. From the field, 216 players will get paid in this event, and when action completed on Day 1, the bubble was not far off. It should burst very early on Sunday's Day 2 when play reconvenes at 1 p.m.
Make sure to follow along with the PokerNews Live Reporting blog to keep up with all the action on Day 2. Until then, goodnight from Las Vegas.

Level 11 : 500/1,000, 100 ante
Player
Chips
Progress

Justin Filtz

135,800

135,800

Jameson Painter

116,900

21,600

Victor Chapnik

116,300

77,450

Andy Spears

112,400

12,400

Fernando Diaz

110,700

Mihails Morozovs

107,000

Jaime Kaplan

105,600

Mitch Garshofsky

104,300

-1,700

Pierre Milan

103,000

Daniel Eichhorn

101,400

Edison Shields

98,400

Shaun Tobin

98,300

Joseph Mattingly

94,100

Frank Blanco

93,700

Jan Sjavik

90,100

Jon Lane

89,100

54,100

Michael Levine

88,900

-100

Thomas Legacki

87,400

Jason Nablo

87,200

Mustapha Kanit

85,500

Team Pro

Alexander Barlow

84,600

John Hennigan

82,100

Walter Treccarichi

82,100

Keanu Tabali

79,600

Scott Montgomery

79,500

36,500
Level 11 : 500/1,000, 100 ante
David Peters raised to 2,100 from late position and Chris Furbert and Andy Spears called in the blinds. The flop was
and all three players checked. The turn was the
and Furbert checked. Spears bet 3,200, Peters folded and Furbert made the call.
The river was the
and Furbert check-called a bet of 8,500 from Spears. Spears showed
for the flush and Furbert disgustingly mucked what he said was a straight.

Level 11 : 500/1,000, 100 ante
Jonas Mackoff three-bet all in from middle position after the player to his right raised preflop. The initial raiser called and Mackoff showed
to his opponent's
. The board was dealt
and Mackoff doubled up to gain a fresh life in the tournament.
Level: 11
Blinds: 500/1,000
Ante: 100
Level 10 : 400/800, 100 ante
David Peters raised to 1,700 from late position and Byron Kaverman moved all in for his last 7,000 or so. Peters made the call and tabled
, while Kaverman had
. The flop fell
and Kaverman was looking good to double.
The board completed
however and Peters back-doored the flush. Kaverman had been masterfully nursing the short stack most of the evening, but was unable to fade the run-good of Peters.

Level 10 : 400/800, 100 ante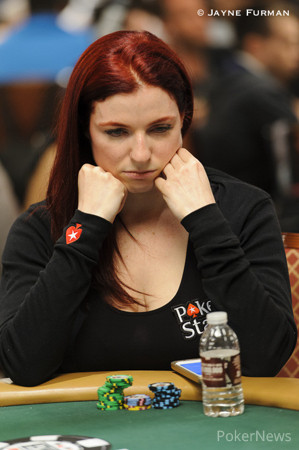 Chess champion Jennifer Shahade was just crippled in an all-in-preflop pot, and then finished off in the very next hand.
Shahade opened to 1,800 in middle position and the player in the cutoff pushed his small stack all in. Shahade called and flipped over
, a big underdog to her opponent's
. The board ran out
and Shahade was left with just 3,300 to try to run up.
In the next hand, she elected to raise to 2,500 from middle position, leaving just a few hundred behind. The player to her left called and everyone else folded. The flop came
and Shahade check-called her opponent's all-in bet. She showed
and still had a few outs in the deck, but her opponent had
for top pair and Shahade had no luck improving on the turn or river.
Level 10 : 400/800, 100 ante
We walked up to a board of
and a bet of 4,500 from Darryl Fish. His heads-up opponent announced "all in" and it was an additional 12,300 for Fish to make the call.
After a few minutes in the tank, Fish made the call, but mucked when his opponent tabled
for the straight.

Level 10 : 400/800, 100 ante
Allen 'The Chainsaw' Kessler was sitting in the hijack smacking his head with an open palm, trying to figure out what he should do with action folded to him. He eventually elected to push his 11,800 chips in the middle. The rest of the table folded and he won the blinds and antes, but he's still sitting at half the tournament average and needs to win some pots soon.