Event #54: $3,000 Pot-Limit Omaha Hi-Low
Day: 1
Event #54: $3,000 Pot-Limit Omaha Hi-Low
Day 1 Completed
Level 8 : 300/600, 0 ante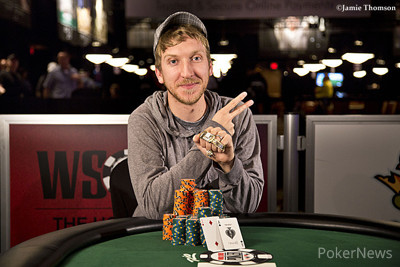 Day 1 of Event #54: $3,000 Pot-Limit Omaha Hi-Low is in the books, and leading the remaining 152 players is Brett Shaffer. Shaffer bagged 97,900 chips, and is two weeks removed from winning his second career bracelet and $418,435 in Event #31. The Kansas native has over $1.3 million in career live tournament earnings and will be eying a return visit to the final table on Day 2.
Florian Langmann also bagged over 90,000 chips, finishing Day 1 with 94,000. He won a massive pot during the final level of the evening, getting it all in with an opponent holding two pair and the nut low draw on the flop. His opponent had an identical low draw to go along with a flush draw, but neither the turn nor the river completed the player's flush, and he was eliminated.
Fellow German and two-time 2014 WSOP bracelet winner George Danzer also survived the day, bagging 75,400, and joining those three on Day 2 will be Robert Mizrachi, David Bach, Paul Volpe, Scott Abrams, and Melissa Burr.
Not everyone was fortunate enough to survive the day, and there were a host of notable eliminations, including Sergey Rybachenko, Barry Greenstein, Chris Bell, James Obst, Frank Kassela, Todd Brunson, and Calen "Wheel" McNeil.
Event #54 attracted a total of 474 players - 40 more than 2013 - and the top 54 players will earn a minimum of $5,007 from the $1,294,020 prize pool. Each member of the final table is guaranteed $23,641, and the winner will walk away with $297,650.
Be sure to check back on Saturday at 2 p.m. for continuing coverage of this event, as we bring you coverage of every bracelet event at the 2014 World Series of Poker!
Level 8 : 300/600, 0 ante
Player
Chips
Progress

Brett Shaffer

97,900

97,900

Florian Langmann

94,000

11,000

Richard Gryko

75,800

75,800

George Danzer

75,400

28,400

Andy Bloch

72,600

55,600

Ruben Vera

62,500

62,500

Leonard Talerico

60,300

Robert Mizrachi

60,100

47,000

Benjamin Miner

60,000

60,000

Iddo Feinberg

58,100

58,100

Dylan Wilkerson

57,900

-3,100

Colin York

57,800

57,800

Brandon Del Nano

57,200

57,200

Lee Markholt

54,400

28,400

Amnon Filippi

54,000

20,000

Stuart Rutter

53,700

700

Shiva Dudani

53,300

53,300

Marc Perlman

52,100

10,100

Scott Abrams

51,500

15,500

Alex Miningham

50,900

50,900

John Kabbaj

49,500

15,800

Aleksey Filatov

48,500

48,500

Toby Hausen

46,800

46,800

Randen Honigman

46,700

46,700

Bart Hanson

44,600

3,600
Level 8 : 300/600, 0 ante
There will be three more hands before play concludes on Day 1.
Level 8 : 300/600, 0 ante
After a series of bets and raises on a flop of
, an opponent was all in and at risk for around 30,000 against Florian Langmann.
Langmann:

Opponent:
Both players had identical low draws, Langmann had two pair, and his opponent had a flush draw. The turn was black, but the
changed nothing. The
completed the board, giving Langmann a full house and the entire pot.
He now has what looks like 80,000 chips, while his opponent was cussing and kicking as he exited the Amazon Room.
Level 8 : 300/600, 0 ante
George Danzer raised to 1,500 in early position, Morten Eriksen called on the button, and the flop fell
. Danzer checked, Eriksen bet 2,700, and Danzer raised the pot. Eriksen moved all in for 11,150, and Danzer called.
Eriksen:

Danzer:
The turn and river came
,
respectively, and Eriksen doubled through.
Level 8 : 300/600, 0 ante
Lenny Talerico checked to Anthony Zinno on a flop of
, and the recent WPT winner fired out 1,500. Talerico called.
The turn was the
, Talerico checked again, and Zinno bet 8,000. Talerico check-raised the pot, Zinno moved all in, and Talerico called.
Talerico:

Zinno:
The suicide king (
) completed the board, and Talerico made a straight.
"That's me!" he said. "Ship it!"
Talerico, who made a deep run in the eight-game, is now up to 64,500 chips.
Level 8 : 300/600, 0 ante
Dylan Linde checked to a player on his left on a flop of
, and he fired out a bet. Eddy Blumenthal moved all in, Linde called all in, and the player called as well.
Linde:

Blumenthal:

Opponent:
Linde held a wrap and a flush draw - a royal flush draw at that - but the turn and river bricked out
,
respectively.
"I get the low???" Blumenthal shouted.
Indeed he won the low for both the main with an eight five, and the third players' aces were good enough for the high.
Player
Chips
Progress

Eddy Blumenthal

19,000

-12,000

Dylan Linde

13,800

-2,000
Level: 8
Blinds: 300/600
Ante: 0
Level 7 : 250/500, 0 ante
Player
Chips
Progress

Dylan Wilkerson

61,000

13,000

Stuart Rutter

53,000

Florian Langmann

50,000

32,500

George Danzer

48,000

19,600

Marc Perlman

42,000

2,000

Scott Abrams

36,000

17,300

Larry Wright

32,000

3,000

Daniel Idema

32,000

11,600

Tony Cousineau

32,000

18,000

Rep Porter

31,000

Cuu Hoang

24,000

4,000

Philip Sternheimer

21,000

9,200

Kevin MacPhee

19,000

Andy Bloch

17,000

12,200

David Bach

16,000

1,000

Melissa Burr

11,000

300