Event #16: $10,000 Heads-Up No-Limit Hold'em Championship
Day 2 Completed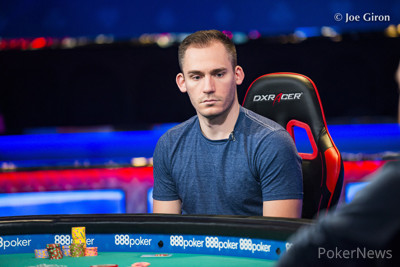 The penultimate day of the 2018 World Series of Poker Event #16: $10,000 Heads-Up No-Limit Championship saw 16 hopefuls out of a 114 entries return to the tables and the goal was rather simple: Win one match and secure a payday of $31,086, win the second heads-up duel also and secure a spot in the semi-finals for a shot at the elusive gold bracelet and first-place payout of $185,965 that comes along with it.
After his incredible results in the current year so far, all eyes were set on Justin Bonomo and he won both matches, defeating Niall Farrell and Mark McGovern, to advance to the final day. While Bonomo has mainly been earning his big paydays in higher stakes, there was one particular moment right at the start of this event that sparked the motivation to do well.
When asked about going from an event like the Super High Roller Bowl ($300K) to a $10K, Bonomo had the following to say in the interview right after his second victory:
"Sometimes it can be hard for me to focus. The one thing that really helped was that in the first round I was paired against David Peters, so it felt like I was playing a High Roller because he's an incredibly tough opponent that I play against all the time in High Rollers. The $10,000 Heads Up is still a big tournament. There's something about heads-up that gets the adrenaline flowing and it feels like there's a lot more pressure on the line so that helps me maintain focus."
Bonomo will face Dutchman Martijn Gerrits in the first semi-final while Spanish online grinder Juan "Malakastyle" Pardo Dominguez takes on British heads-up specialist Jason McConnon in the second semi-final. Pardo has already had quite a year himself with three High Roller scores for a combined total of nearly $1 million in Barcelona and Monte-Carlo.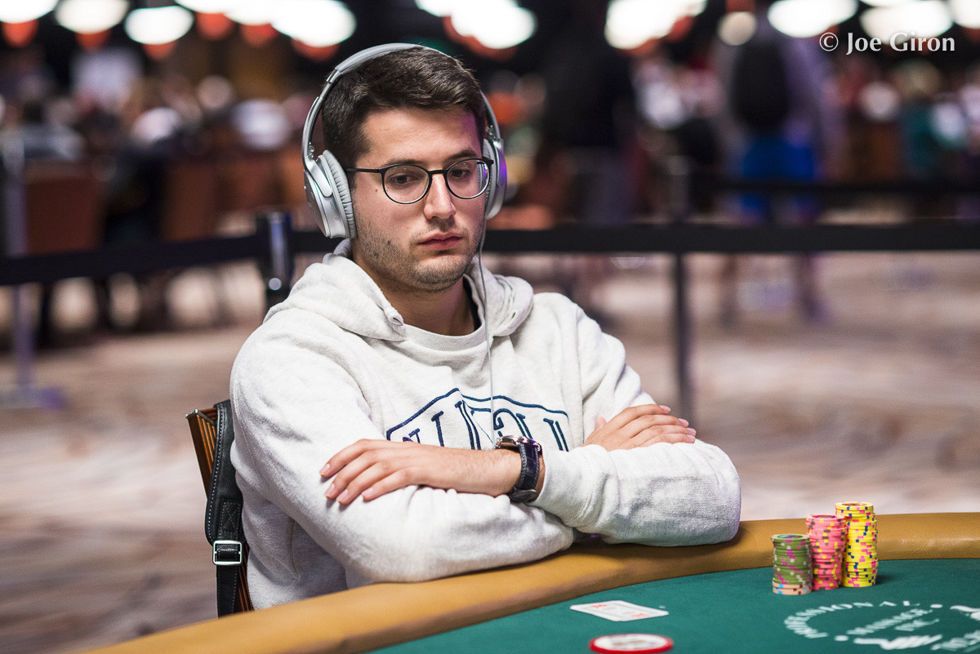 The final four players will return to the PokerGo feature table as follows:
Martijn Gerrits vs Justin Bonomo @ noon local time
Jason McConnon vs Juan Pardo Dominguez @ 1.30 p.m. local time
If the first match is not finished yet, the second semi-final will be pushed back accordingly, and the starting time of the final duel for the gold bracelet will depend on the duration of the previous two matches.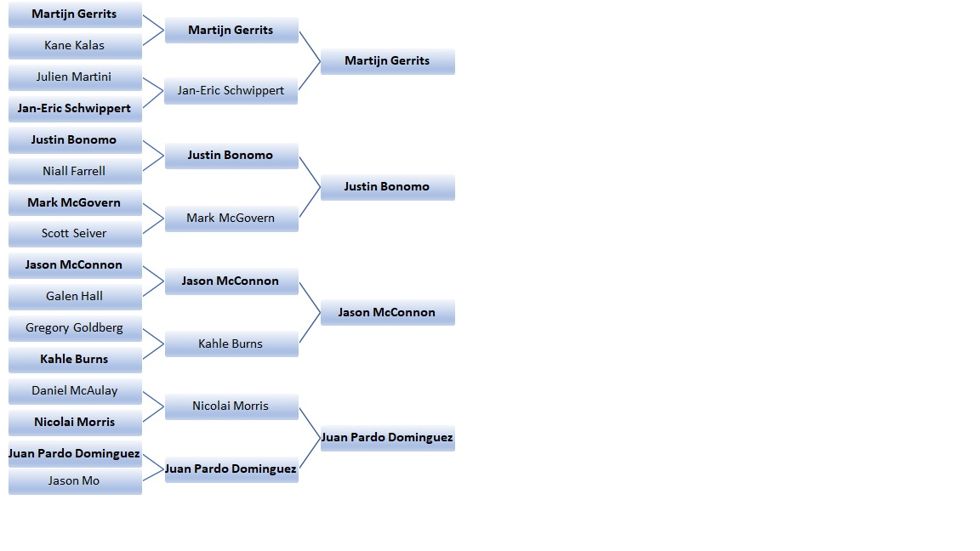 Bonomo was the first player to book his seat for the round of 8 after defeating Niall Farrell in a very aggressive match. Farrell four-bet jammed pocket treys into the pocket kings and there was no upset on an ace-high board. Mark McGovern awaited next, and while the first half of the duel saw Bonomo pull away and McGovern get back to even in chips, the late stages were dominated by Bonomo. Down to fewer than nine big blinds, McGovern called a jam with ace-six suited and failed to hold up versus ten-seven despite flopping the nut flush draw.
Frenchman Julien Martini, who won his first gold bracelet in Event #4 Omaha Hi-Lo 8 or Better, endured a roller coaster heads-up against Jan-Eric Schwippert in which both players were down to just a few big blinds before doubling up several times. Martini's aces were eventually cracked by Schwippert's jack-ten suited, but the run good of the German ended right there. After defeating Kane Kalas in the first match, Martijn Gerrits took on Schwippert and grinded his opponent down before getting there with an open-ended straight draw against the top two pair of Schwippert to advance to Day 3.
James McConnon ended up victorious against Galen Hall with top pair against the busted straight and flush draw and he was the first player to advance to the semi-finals after defeating Aussie Kahle Burns. It was a flip for the short-stacked Burns, who failed to hold up with pocket eights versus jack-ten and had to settle for the min- cash of $31,086.
Daniel McAulay and Jason Mo were the other two players that ended up losing their first match and bust before the money. McAulay ended up short against Nicolai Morris, who was then defeated by Pardo Dominguez, while Mo stood no chance against the Spaniard in his first match of the day.
That wraps up the penultimate day of the event and the PokerNews live reporting team will be back tomorrow to provide hand-for-hand coverage until a champion is crowned.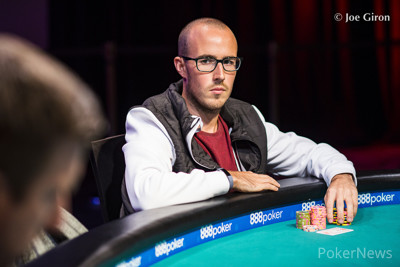 (Blinds 6,000/12,000)
Martijn Gerrits opened to 30,000 and Jan-Eric Schwippert made the call.
The flop was
and after Schwippert checked, Gerrits made it 20,000. The action didn't stop there, because Schwippert decided to raise it to 80,000, only to see Gerrits three-bet all in for effectively 460,000. Schwippert made the call.
Jan-Eric Schwippert:

Martijn Gerrits:
The dealer opened up the
turn and the
river to complete Gerrits' straight and to eliminate Schwippert from the tournament.
| | | | | | |
| --- | --- | --- | --- | --- | --- |
| Martijn Gerrits | | | | 1,600,000 | 450,000 |
| Jan-Eric Schwippert | | | | Busted | |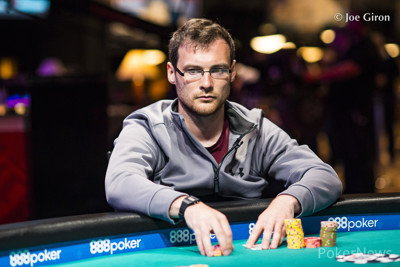 Justin Bonomo moved all in the first hand of the new level and Mark McGovern called for his last 173,000 to create the following showdown.
Mark McGovern:

Justin Bonomo:
The
flop kept McGovern in the lead and he even had the nut flush draw, but Bonomo's run good of 2018 continued after improving on the
turn right away. A blank
river ended McGovern's run in the round of 8 and he takes home $31,086 for his efforts.
| | | | | | |
| --- | --- | --- | --- | --- | --- |
| Justin Bonomo | | | | 1,600,000 | 173,000 |
| Mark McGovern | | | | Busted | |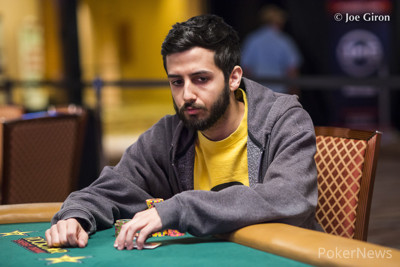 Nicolai Morris raised all in for 183,000 from the button and Juan Pardo Dominguez called from the big blind with
, leading Morris'
.
The flop came down
, pairing Pardo Dominguez's ace but giving Morris a flush draw. The
turn gave Morris a few extra outs to two pair, but the river was the
and ended Morris' tournament in the Round of 8.
Juan Pardo Dominguez will face Jason McConnon in the semifinals tomorrow.
| | | | | | |
| --- | --- | --- | --- | --- | --- |
| Juan Pardo Dominguez | | | | 1,600,000 | 183,000 |
| Nicolai Morris | | | | Busted | |
(Blinds 8,000/16,000)
Justin Bonomo min-raised to 32,000 and Mark McGovern three-bet to 90,000, Bonomo called. The flop came
and McGovern bet 50,000. Bonomo pulled the trigger again and moved all in to force a fold, sending McGovern down to a mere 19 big blinds.
McGovern made it 37,000 to go and Bonomo called. The flop of
was checked and Bonomo also checked the
turn, McGovern checked behind. Once the
river completed the board, Bonomo bet 100,000 and McGovern called.
Bonomo turned over
for jacks and treys, and that won the pot to reduce McGovern. Right after the hand the blinds went up.
| | | | | | |
| --- | --- | --- | --- | --- | --- |
| Justin Bonomo | | | | 1,427,000 | 277,000 |
| Mark McGovern | | | | 173,000 | -277,000 |
Nicolai Morris limped the button and Juan Pardo Dominguez checked his option.
They checked to the turn of a
board where Morris bet 30,000. Pardo Dominguez check-called and both players checked the
river.
Pardo Dominguez tabled
for nines and eights and Morris mucked.
| | | | | | |
| --- | --- | --- | --- | --- | --- |
| Juan Pardo Dominguez | | | | 1,417,000 | 62,000 |
| Nicolai Morris | | | | 183,000 | -62,000 |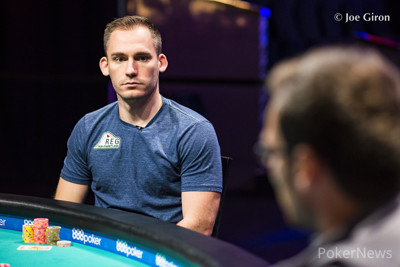 (Blinds 8,000/16,000)
Mark McGovern raised to 40,000 and Justin Bonomo called. On the
flop Bonomo check-raised McGovern's bet of 25,000 to 75,000. McGovern called and the
on the turn triggered a bet of 80,000 by Bonomo. That's all it took to break the resistance of his opponent.
One hand later, McGovern raised to 35,000 and Bonomo moved all in to force yet another fold, once again establishing a decent lead.
| | | | | | |
| --- | --- | --- | --- | --- | --- |
| Justin Bonomo | | | | 1,150,000 | 142,000 |
| Mark McGovern | | | | 450,000 | -142,000 |
Level:

42
Blinds:

10,000/20,000
Ante:

0
(Blinds 5,000/10,000)
Jan-Eric Schwippert raised to 35,000 after Martijn Gerrits limped his small blind. Gerrits decided on calling and the two players saw a flop.
The flop was
and both players checked this time.
On the
turn Schwippert bet 50,000 and Gerrits called the bet.
The bet of 80,000 on the
river was too much for Gerrits who folded his hand.
| | | | | | |
| --- | --- | --- | --- | --- | --- |
| Martijn Gerrits | | | | 1,055,000 | -85,000 |
| Jan-Eric Schwippert | | | | 545,000 | 85,000 |