Event #34: $1,000 Double Stack No-Limit Hold'em
Day: 1a
Event #34: $1,000 Double Stack No-Limit Hold'em
Day 1a Completed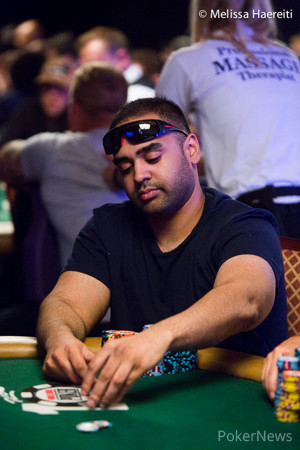 Day 1 of Event #34: $1000 Double Stack No-Limit Hold'em has come to an end. All of the entries started with a total of 40,000 chips and this event attracted 2,944 players with 1,100 progressing to Day 2.
Sunny Chattha bagged an impressive 478,000 along with Arianna Son (424,500). A few other big stacks moving onto Day 2 include Diogo Veiga (297,700), Jaspal Brar (247,000), Chenxu Zhang (173,200), and Richard Dubini (170,000).
Arianna Son had a very healthy stack throughout the tournament and with about 30-minutes remaining in the day she managed to win another big pot when she flopped a set of twos. Her opponent bet into her for 3,800 and she raised to 10,000. The opponent called, and on the turn, Son's opponent check-raised her to 30,000 and Son instantly called. Son's set was good and she added to her stack.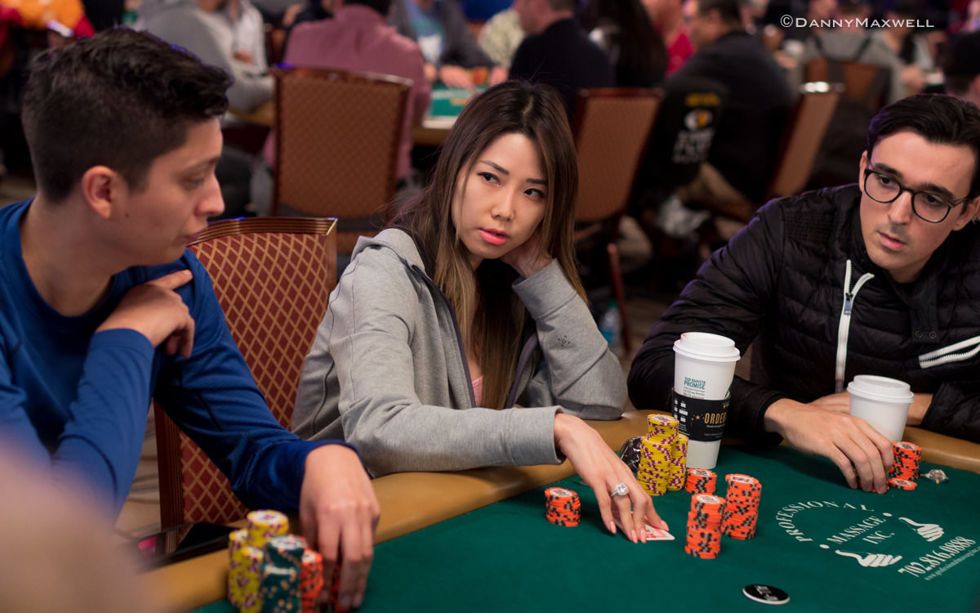 Some other notables moving into Day 2 include Ben Yu (119,700), Dan Shak (112,200), Phil Laak (68,400), and Phil Hellmuth (33,000). Many other stellar names also played today's event but fell short including Vanessa Kade, and Chris Moorman who busted right before the end of the day.
Day 2 will resume on Sunday, June 16 at 12 p.m with 10 levels being played, with a 15-minute break every two levels and a 60-minute dinner break after 6 levels (approximately 6:30 p.m. PokerNews's live reporting team will be here to bring you all the coverage throughout the event.
Player
Chips
Progress

Juan M. Esirviez

530,000

Sunny Chattha

478,000

478,000

Imran Mukati

432,300

Arianna Son

424,500

-20,500

Andrew Rubin

422,200

Gabriel Sack

416,000

26,000

Ari Engel

399,800

300,800

Joseph Walters

390,700

Brendan Shiller

363,100

John Hayes

344,500

Dan Martin

339,900

Antal Mezei

326,800

Simon Philip

316,600

Justin Fawcett

310,100

27,600

Michael Jutte

309,600

Elia Brigante

307,200

Jesse Mull

306,700

Anthony Harb

305,100

35,100

Vinod Megalmani

304,300

Steve Enriquez

301,000

Ido Ashkenazi

300,800

Diogo Veiga

297,700

52,700

Ignas Jasinevicius

296,000

Lester Edoc

295,000

-15,000

George Alberto

292,500
On a flop
, the player in the cutoff checked and Elio Fox bet on the button for 8,500. His opponent called and a
fell on the turn. After one more check, Fox bet 12,500 and the cutoff folded, showing
.
Player
Chips
Progress

Elio Fox

95,000

55,000
The tournament director announced six more hands will be played tonight before the players bag their chips.
A player opened to 3,500 and Arianna Son made the call in the cutoff.
The flop came
and the initial player bet 3,800 before Son raised it to 10,000. Her opponent called.
A
fell on the turn and Son's opponent check-raised to 30,000. Son snap-called, showing
for a set of deuces while her opponent had
. The river bricked and Son added more chips to her massive stack.
Player
Chips
Progress

Gabriel Sack

390,000

390,000

Pat Lyons

200,000

35,000

Alexandre Reard

122,000

35,000

Joseph Cheong

121,000

69,000

Tara Cain

110,000

110,000

Ari Engel

99,000

73,000

Jessica Dawley

60,000

60,000

Ian Steinman

57,000

57,000

Corentin Ropert

40,000

40,000

Phil Hellmuth

40,000
Katie Lindsay opened under the gun to 3,500 and Benjamin Ane three-bet to 9,800 one seat over. It folded to the big blind player who made the call, followed by Lindsay.
The three players checked on a flop
and the turn fell a
. The big blind led for 16,500 and after a fold from Lindsay, Ane announced all in for 28,500. After some thought, the big blind called to create the following showdown:
Benjamin Ane:

His opponent:
Ane was in very good shape for a double up, which he did after a
completed the river.
Level: 11
Blinds: 800/1,600
Ante: 1,600