Event #34: $1,000 Double Stack No-Limit Hold'em
Day: 1b
Event #34: $1,000 Double Stack No-Limit Hold'em
Day 1b Completed
Level 11 : 800/1,600, 1,600 ante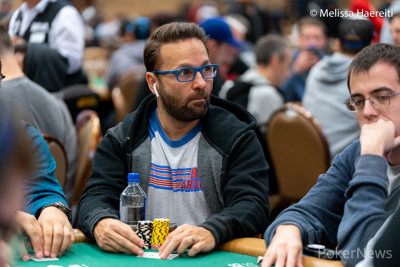 With 1,227 players surviving Day 1b of Event #34: $1,000 Double Stack No-Limit, there are some huge stacks in front of big names. While Yasheel Doddanavar is one of the biggest with a stack of 415,000, Doddanavar is joined by many highly-established luminaries of the game in the chipcounts, who, along with the other 1,226 players that also bagged on Day 1b, will be joined by the 1,100 players returning from Day 1a, for a total of 2,327 returning to play on Day 2.
The top 933 players will get paid on Day 2, with a min-cash worth $1,499, but everyone is chasing the top spot, which comes with $687,782 cash and highly-coveted WSOP gold bracelet. Day 1b started with under 1,500 entries, but by the time registration had closed that number had reached 3,201 entries, about 200 more than Day 1a, for a combined total of 6,145 for both starting flights.
As expected, a number of notables took their seats today, with many deciding to take full advantage of late registration. Some, such asDavid Paredes, Men "The Master" Nguyen, Ebony Kenney, Anthony Zinno and gold medal-winning boxer Audley Harrison failed to find a bag by the end of play. But others, including T.J. Cloutier (150,800), Daniel Negreanu (251,200), retired businessman and high-stakes tournament player Bill Klein (63,700), the newest bracelet winner, Thomas Cazayous (125,200), and the reigning champion of this event, Robert Peacock (45,400), will all be returning on Day 2.
Also, worth noting is that in addition to Phil Hellmuth, who bagged on Day 1a, three other Main Event champions, Jamie Gold (54,600), Scotty Nguyen (31,900) and Chris Ferguson (16,300) will also be in the field on Day 2.
Day 2 is set to resume play on Sunday, June 16th at 12 p.m. local time, with blinds at 1,000/2,000 and a big blind ante of 2,000 too. There are 10 levels scheduled to be played, with a 15-minute break after every two levels and a 60-minute dinner break after 6 levels of play at approximately 6:30 p.m. The Pokernews team will be there from when the first card is dealt until the last card hits the felt.
Player
Chips
Progress

Yasheel Doddanavar

415,000

415,000

Eduards Kudrjavcevs

380,600

65,600

Terry Fan

372,600

12,600

Denny Lee

364,700

364,700

Thomas Hofmann

361,800

361,800

Anson Tsang

350,000

350,000

Bruno Severino

326,600

101,600

Brett Bader

323,400

323,400

David Moses

315,100

46,100

Giulio Mascolo

312,800

312,800

Michael Farrow

311,500

311,500

Rachel Hopper

310,000

310,000

Scott Clements

305,000

195,000

Jonathan Abdellatif

301,900

301,900

Antoine Saout

299,900

223,900

Maksym Lavrov

291,600

291,600

Justin Liberto

291,400

238,400

Pedro Padilha

291,400

291,400

Barry Seidman

291,200

291,200

Julien Martini

285,200

140,200

Matt Affleck

282,500

183,500

Rory Lucero

277,700

-121,300

Baoqiang Ho

277,100

277,100

Brian Wood

272,900

272,900

Soumitra Nagar

271,400

271,400
Level 11 : 800/1,600, 1,600 ante
The clock has been paused at the 10-minute mark, and it has just been announced that the players will play six more hands, and those remaining players will then bag and tag for the day.
Level 11 : 800/1,600, 1,600 ante
David Moses raised to 3,500 from early position. The player in middle position flatted the raise, but when Takao Shimizu three-bet to 11,000, things escalated quickly. After Moses four-bet to 38,000, the middle position player then five-bet shoved, Shimizu called all in for less and Moses made the call, having both players covered.
The players tabled their hands and several smartphones came out to take pictures.
Takao Shimizu:

Middle-position Player:

David Moses:
The board ran out
, which eliminated the middle-position player. Shimizu and Moses chopped the main pot and Moses won the additional side pot that had been created.
Among the biggest stacks of the tournament, Andrea Buonocore three-bet from the big blind an open from the button and the latter moved all in for 39,000 total. Buonocore opted to call to create the following showdown:
Adrian Buonocore:

His opponent:
Buonocore found no help on a board
and his opponent doubled his stack.
Manig Loser sat down in the event right before the end of the late registration and bet 1,600 on a flop
after his opponent checked. The latter called and the turn fell a
. This time Loser bet 1,000 after another check and his opponent quickly folded.
Level: 11
Blinds: 800/1,600
Ante: 1,600
The remaining players are now on their last 20-minute break of day and the action will restart at blinds 800/1,600 ante 1,600. Late registration stays open until the end of the break.