Event #61: COLOSSUS - $400 No-Limit Hold'em
Days: 1a
Event #61: COLOSSUS - $400 No-Limit Hold'em
Day 1a Completed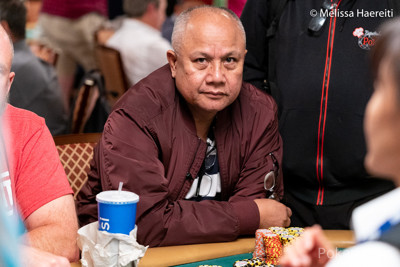 The first of two starting flights of the fifth edition of the Colossus attracted 5,238 entrants and were initially scheduled to play 16 levels. However, tournament officials decided that the tournament would play to the money instead, and after 18 levels the money was reached.
A little over 13 hours after they started, a maximum of 786 players bagged up for Day 2 all safely assured a min-cash of $600. That's a maximum because players were given the opportunity to surrender the stacks should they want to play Day 1b tomorrow.
The chip leader is not confirmed, but several players bagged close to or in excess of a million. Amador Trinidad (1,012,000), Marc Korner (937,000) and William Blais (930,000) were among the big stacks left at the end of play.
Popular Indian poker player Kunal Patni (849,000), former WSOP Main Event champion Greg Raymer (850,000) and bracelet winners Ylon Schwartz (475,000) and Loni Harwood (101,000) are also safely through to Day 2.
Day 1a Recap
With a 10 a.m. start time, it took a few levels for some of the bigger names to make their way into the Colossus field, but there were still plenty of famous faces around.
Maurice Hawkins, Gaelle Baumann, Maria Konnikova, Chris Moneymaker, Dan Heimiller and Men Nguyen all played and busted and will have to make it through to Day 1b if they want to make it to Day 2.
The eliminations continued with former WSOP bracelet winner Ryan Laplante, Scott Davies and Belgian player Pierre Neuville all missing out on a min-cash before the bubble burst to end the evening.
Tomorrow's Day 1b kicks off at 10 a.m. giving players a second chance to make it through to Day 2. Stay tuned to PokerNews as we bring you all the live updates from the 2019 WSOP.
Player
Chips
Progress

Amador Trinidad

1,012,000

1,012,000

Joseph Torres

992,000

Marc Korner

937,000

937,000

William Blais

934,000

294,000

Haoxiang Wang

901,000

791,000

Arturs Daugis

860,000

Carolyn Grad

852,000

Greg Raymer

850,000

80,000

Kunal Patni

849,000

334,000

Matthew Beisner

828,000

Marc Robinson

791,000

Ken Yamamoto

758,000

Mark Seif

756,000

Brian Rushton

750,000

Vasken Ken Demlakian

750,000

Daniel Gabriel

745,000

David Nutini

739,000

David Towson

737,000

Rolands Norietis

737,000

Michael Sarrasin

726,000

Tayfun Akbasli

725,000

David Song

715,000

295,000

Najar Karbalaeiali

714,000

Jean Guillette

710,000

160,000

Martin Verdegaal

708,000

-192,000
The tournament director has asked if there are any players that would like to forfeit their chips and take a min-cash of $600 and try to achieve more chips in tomorrows flight.
A player from early position open-jammed for 22,000 and action folded around to Jorge Rodriguez who called from the big blind.
Jorge Rodriguez:

Opponent:
Rodriguez was behind until the
flop gave him top-two.
Rodriguez sealed the deal with the
on the turn and
on the river as he eliminated the bubble boy.
Vinny Frigeria opened from middle position and got four callers including both blinds.
The blinds checked a
flop to Frigeria who bet 25,000. One player called before the button raised. Frigeria moved all in, the second player called and the button called.
Vinny Frigeria:

Opponent:
Both players had flopped straights, with Frigeria holding the nuts. However, the turn
improved his opponent to a straight flush.
But better yet was still to come. The river
improved Frigeria to a royal flush as he hit his one outer to double up.
Player
Chips
Progress

Vinny Frigeria

450,000

450,000
A player from middle position open-jammed for 73,000 and he was called by Thomas Chinn from late position.
Thomas Chinn:

Opponent:
Chinn had his opponent crushed but the
flop gave him some hope.
The
fell on the turn and Chinn just needed to dodge a three or four to win the hand.
The dealer peeled the
on the river and Chinn eliminated his opponent.
2004 WSOP Main Event winner Greg Raymer is having a storming finish to Day 1a. He's sitting on around 770,000 in chips with under 20 eliminations away from the money.
The under-the-gun player opened for 18,000, sitting directly to his left was David Song who called with along Martin Pineiro from the big blind.
The
flop was checked the UTG player who bet 27,000. Both Song and Pineiro called.
Pineiro check-folded the
turn after the UTG player fired out 69,000 while Song called.
The river brought the
and Song fired out 145,000 after his opponent checked his option.
Song's opponent gave him a death stare for minutes and then made the call only to see Song
rivered two-pair for the winner.
Level: 18
Blinds: 4,000/8,000
Ante: 8,000