Event #77: $3,000 Limit Hold'em 6-Handed
Day 1 Completed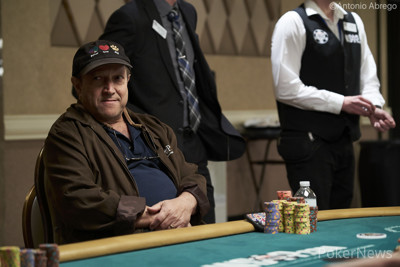 Day 1 of the Event #77: $3,000 Limit Hold'em 6-Handed has come to a conclusion with Ron Carmona bagging the chip lead over the remaining 57 players with 142,500.
Carmona recently finished at the 17th place of Event #66: $1,500 Limit Hold'em for $5,258. Among the top stacks are also Joshua Turner (139,000),Jason Bawadi (129,000) and two-time bracelet winner Mark Rodoja close behind with 117,000. Also heading into Day 2 with a decent stack are many notables players such as Daniel Zack (82,000), Christopher Vitch (80,500), Calvin Anderson (60,500), Kevin Song (56,000) and four-time WSOP champion Max Pescatori (44,000).
The defending champion Yaser Al-Keliddar took a seat on the first level of the day to defend his title and also found a bag tonight with 38,000.
With the Main Event taking a lot of the attention at the Rio, the final Limit Holdem game tournament was being played out in the Miranda Room where 193 players took to the felt to create a $521,100 prize pool that would see the final 29 players in-the-money while the $133,189 first prize would await whoever could climb to the top.
Due to the late scheduling of this event, numbers were expected to be down, but a nice field was set with many familiar faces all looking to make this tournament a great opportunity for a bracelet. WSOP winners Andre Akkari, Daniel Negreanu, Benny Glaser, David Bach, Phil Hui, James Obst, Matt Grapenthien, Michael Moore and 2017 Player of the Year Chris Ferguson all took a seat, but failed in their bid to survive into Day 2.
Anthony Zinno, Ismael Bojang, three-time bracelets winners Greg Mueller and John Monette and recent winner of the $5,000 No-Limit Hold'em 6-Handed Joao Vieira were all part of the late arrival crew, and although they flirted with getting something going, Bojang, Monette, and Zinno all ended up on the rail as well. For Zinno, his end would come at the hands of the French player David Phima when his pocket threes found a set on the board while Zinno held ace-king.
Mueller, despite a bad start, managed to found a bag with 63,000 while Vieira is coming back tomorrow with 50,000.
Day 2 is set to be played at 2 pm (PDT) on Tuesday, July 9, with the PokerNews Live Reporting Team providing continuous live updates of all the action.
Ron Carmona

142,500
7,500

Joshua Turner

139,000
29,000

Zachary Gruneberg

137,000

Stuart Rutter

130,500
93,500

Jason Bawadi

129,000
-5,000

Oleg Chebotarev

118,500

Mark Radoja

117,000
45,000

Patrick Leonard

partypoker Ambassador

114,000
-1,000

Alex Torry

109,000
-30,000

Xiaofei Wen

107,000
-33,000

Alain Alinat

106,000

Rehan Alwani

102,000

Chad Eveslage

94,000

Christopher Dandrea

92,500
22,500

Robert Albrecht

91,500
32,500

Tu Dao

87,500
24,500

Kevin Erickson

84,500
59,500

Jeffrey Neeman

83,000

Daniel Zack

82,000
27,500

Jeff Shulman

81,500
6,000

Pakinai Lisawad

81,000

Ian Johns

79,500

Joseph Souza

77,500
29,000

Charles Tucker

75,000
43,000

Joshua Griffith

74,000
32,000
The tournament director has announced three more hands are left to play at each table before all remaining players will bag their chips for the evening.
James Little raised under the gun and the big blind player called.
The big blind check-called Little on the three streets throughout the board
and Little turned over
to win the hand while his opponent mucked.
| | | | | | |
| --- | --- | --- | --- | --- | --- |
| James Little | | | | 92,000 | 47,000 |
The flop showed
when Jason Bawadi check-called from the big blind a bet from Joao Vieira situated on the button.
A
appeared on the turn and Bawadi bet. Vieira tanked before opting to call. The same action happened when the
completed the board but Vieira mucked his cards when Bawadi tabled
for a pair of tens.
Jason Bawadi

134,000
43,000

Joao Vieira

Winamax Team Pro

43,000
23,000
Xiaofei Wen

140,000
-2,000

Alex Torry

139,000
64,000

Ron Carmona

135,000

Patrick Leonard

partypoker Ambassador

115,000

Joshua Turner

110,000
38,000
Jason Badawi raised under the gun and Kyle Ray three-bet on the button. Badawin called.
The flop was
and Badawi first checked before raising a bet from Ray. The latter quickly let it go.
| | | | | | |
| --- | --- | --- | --- | --- | --- |
| Jason Bawadi | | | | 91,000 | 52,000 |
| Kyle Ray | | | | 76,000 | -26,000 |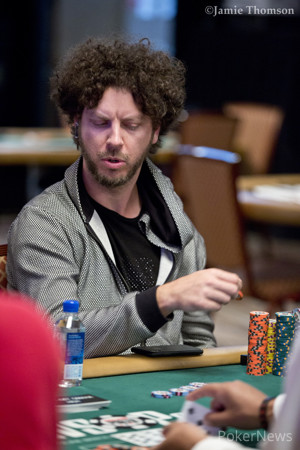 The flop read
when Yaser Al-Keliddar check-called a bet from Christopher situated on the button.
The turn fell a
and brought no betting action. The
fell to complete the board and Al-Keliddar led out with a bet. Vitch tanked for a minute and mucked his hand.
| | | | | | |
| --- | --- | --- | --- | --- | --- |
| Christopher Vitch | | | | 61,000 | 23,000 |
| Yaser Al-Keliddar | | | | 4,400 | -23,900 |
Level:

10
Limits:

1,500/3,000
Ante:

0