How to Go from Ontario to WSOP Paradise in the Bahamas with GGPoker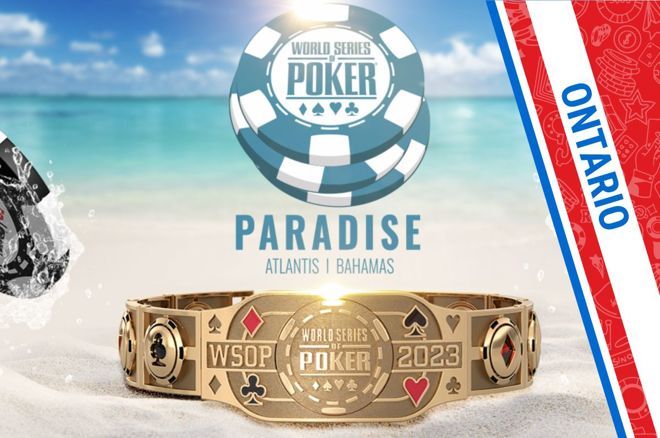 The World Series of Poker (WSOP) is flying south for the winter. From December 3-15, 2023 the Atlantis Hotel in the Bahamas will be hosting the WSOP Paradise.
For two weeks players will be able to compete in 15 WSOP bracelet events on Paradise Island, right across the bay from Nassau.
These 15 events will include a $5,300* Main Event with $15,000,000 guaranteed, a hybrid "OnLive" $1,500 Millionaire Maker, and a $100,000 Ultra High Roller event.
*Dollar amounts in this article are in USD unless otherwise specified.
How To Enter The WSOP Paradise From Ontario
If you live in Ontario, then you can travel down to the Bahamas and buy-in to the events directly at the Atlantis.
If you'd rather not stay somewhere else, there are several other hotels within walking distance.
These hotels include budget accommodations like Comfort Suites Paradise Island for around $150-$250 per night and the luxurious Ocean Club—made famous by its appearance in Casino Royale—for around $800-$1,200 per night.
Alternatively, if you have an account with WSOP.ca, then you have the option to purchase a WSOP Paradise Main Event Package online for CA$13,500 (US$9,990).
This package includes:
one buy-in to the WSOP $5,300 Paradise Main Event,
ten or eleven nights at the Atlantis, and
a daily lunch buffet.
Check out the WSOP Paradise Hub on PokerNews here!
Nine Ontarians Fly Down For Millionaire Maker
One event in particular stands out on the schedule. That is because it is now too late to enter it.
The Millionaire in Paradise has already played out all its Day 1s across the globe during this Summer's WSOP Online events.
https://twitter.com/FelipeMojave/status/1698524097955643679
The final 100 players from across the myriad online events (including nine players from the Ontario WSOP Online) will join a combined field to play out the final day of the event live at the Atlantis.
At least one of the entrants will leave the table a millionaire.
How To Get A WSOP Paradise Package Online With WSOP.ca
There are no satellites to the WSOP Paradise currently running on WSOP.ca. The company may opt to run more satellite's nearer the time. However, in the meanwhile, you can still purchase one of WSOP.ca's WSOP Paradise Main Event Packages directly from the WSOP.ca.
If you're based in Ontario and want to join the action, and want to buy a package here's how to do it:
Open up the WSOP @ GGPoker poker client and click "Tourney" in the menu tabs at the top.
Use the search bar and keyword "Paradise" to bring up a "tourney" called "WSOP Main Event Package - Qualifiers & DBI."
Open the lobby for this tourney and read the relevant terms and conditions to see if this is the WSOP Paradise route for you. If it is the route for you, then...
...use the "Register" button to buy your package.
Highlights on WSOP Paradise Schedule
The WSOP Paradise isn't all about the Main Event. There are fifteen events in total that nicely balance the goals of attracting the biggest players in the world to the series and providing a bracelet opportunity for more casual players.
For anyone with a big name or big budget, there are six high-roller events.
Four of these events are no limit Texas hold'em tournaments with buy-ins that range from $10,000 to $100,000. The other two offer pot limit Omaha for $10,000 or $25,000 a pop.
https://twitter.com/RealKidPoker/status/1690056939336769536
However, if you would rather roll a little lower, there is also a $1,500 version of the Mystery Millions format, a $1,000 Mini Main Event, and the $800 Flip and Go event.
Bridging the gap, is the $5,300 Main Event along with a handful of other low-four-figure tourneys including an online-only event, the $2,000 Mystery Bounty Pot-Limit Omaha.
Full 2023 WSOP Paradise Schedule
| Date | Tournament | Buy-In | Guarantee |
| --- | --- | --- | --- |
| Dec. 3 | Mystery Millions | $1,500 | $5,000,000 |
| Dec. 4 | MILLIONAIRE MAKER in Paradise [Final 100 – Final Day]* | $1,500 | $5,000,000 |
| Dec. 5 | GGMillion$ High Rollers Championship | $25,000 | $10,000,000 |
| Dec. 6 | Mini Main Event No-Limit Hold'em | $1,000 | $1,000,000 |
| Dec. 7 | High Roller Pot-Limit Omaha | $25,000 | $2,000,000 |
| Dec. 7 | 6-Handed No-Limit Hold'em | $3,000 | $1,000,000 |
| Dec. 8 | Super High Roller No-Limit Hold'em | $50,000 | $2,000,000 |
| Dec. 8 | Mystery Bounty Pot-Limit Omaha [ONLINE] | $2,000 | $1,000,000 |
| Dec. 9 | Ultra High Roller No-Limit Hold'em | $100,000 | $5,000,000 |
| Dec. 9 | Main Event - NLHE Championship | $5,000 | $15,000,000 |
| Dec. 12 | Flip & Go $800 | $800 | |
| Dec. 13 | No-Limit Hold'em FREEZEOUT [ONLINE] | $1,000 | $1,000,000 |
| Dec. 13 | Pot-Limit Omaha Championship | $10,000 | $1,000,000 |
| Dec. 13 | The Closer [Turbo Bounty] | $2,000 | $1,000,000 |
| Dec. 15 | High Roller No-Limit Hold'em [6-Handed] | $10,000 | $1,000,000 |
Stick with PokerNews for Ontario news, views, and gossip, as well as all the info on the upcoming tournament series and poker festivals that are coming your way.
This is an advertisement.
Eligible iGames conducted and managed by iGO are only available to those physically present in the Province of Ontario. WSOP.CA operates pursuant to an agreement with iGaming Ontario.
For more information, visit the Ontario Players Homepage