Event #2: $25,000 High Roller (6-Handed)
Day: 3
Event #2: $25,000 High Roller (6-Handed)
Day 3 Completed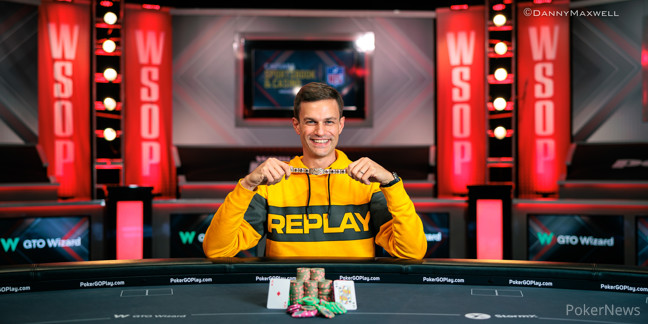 In a tournament filled with some of the biggest stars in poker, it was a player who is quickly establishing a reputation as one of them who came out on top.
Alexandre Vuilleumier of Switzerland, who dedicated himself to tournaments just over a year ago, conquered a field of 207 of the toughest opponents in the game to win Event #2: $25,000 High Roller 6-Handed No-Limit Hold'em, his first World Series of Poker bracelet, and $1,215,864 top prize.
"Obviously, the World Series is just fantastic," the newly-crowned champion said after defeating Chance Kornuth heads-up. "To win a bracelet is just the epitome of a poker career for sure."
Vuilleumier came into the WSOP on a bit of a hot streak. He was third at EPT London in November, which had been his best score before today. He won a $10,150 six-handed event in the Bahamas in February. And now he was the last man standing in one of the most talent-packed tournaments on the poker calendar. The last seven months have been a time when Vuilleumier established himself as one of the top players in the game.
"I wouldn't be as arrogant to say that, but for me, it is the year of my career for sure. I'm really happy with everything that's happened," he said. "I'm not one of the top players. Like in chess, you have to be here for years. I'm certainly growing and I'm excited to be part of these tournaments. I started playing tournaments in January 2022, so I certainly wouldn't make any bold assessments."
Chess is another game that Vuilleumier knows all too well. He's an International Master and has been rated as high as 2,400. His background in chess, with results dating back more than two decades, helped prepare him for the grueling nature of being a professional poker player.
"There are a lot of similarities. One of the best tricks that you learn in chess is to be able to concentrate for long periods. So after nine hours of concentration, I think I am still at 90 percent of my capabilities while everyone else is maybe at 60 percent, so that is certainly great," he said.
"And also backward analysis. We are able to think in the air, like abstractly in chess, and reconstruct the game. And in poker, it is important to jump from, okay, what did he do preflop and on the turn, and what does it mean? That mental gymnastics are certainly very akin to what is happening in chess."
Final Table results
| Place | Player | Country | Prize (USD) |
| --- | --- | --- | --- |
| 1 | Alexandre Vuilleumier | Switzerland | $1,215,864 |
| 2 | Chance Kornuth | United States | $751,463 |
| 3 | Sean Winter | United States | $518,106 |
| 4 | Axel Hallay | France | $363,326 |
| 5 | Ren Lin | China | $259,220 |
| 6 | Joey Weissman | United States | $188,219 |
Day 3 Action
Day 3 began at 1:30 p.m. local time with nine players chasing the prestigious WSOP gold bracelet. Jake Schindler and Elior Sion fell within the first few minutes of the day, bringing the field down to the unofficial final table of seven.
Vuilleumier was second in chips with 5,200,000, trailing only Frenchman Axel Hallay's 10,035,000. Sean Winter, one of the best players without a bracelet, put himself in a position to shed that distinction when he flopped quad nines to earn a massive double up off Chris Moore and knock Moore down to less than 1,000,000. A few hands later, Moore picked up jacks and was all in for 475,000 against Winter's ace-eight, but Winter spiked an ace on the river to set the official final table that gathered on the main feature table inside the Horseshoe and Paris Las Vegas.
Ren Lin doubled up set over set against Joey Weissman on the second hand of the final table. Vuilleumier then called Weissman's short-stack shove with jack-three and cracked kings after flopping trip threes, making the 2012 bracelet winner the first casualty of the final table.
Vuilleumier then began to take control of the tournament following a pivotal hand against Winter. Vuilleumier rivered two pair with king-queen and led out for 1,790,000. Winter then jammed his pair of queens and Vuilleumier called for 5,350,000 to take a massive chip lead with more than 16,000,000.
Winter was left with one big blind but doubled up repeatedly as the gregarious and joyful Lin finally succumbed in fifth place when Kornuth made quads with pocket kings. Hallay, who began the day as an overwhelming chip leader, was eliminated in fourth place after losing a race with sevens to Winter's king-ten, then calling off his last 855,000 with queen-three against Winter's dominating king-queen.
Now three-handed between the three-time bracelet winner Kornuth against Vuilleumier and Winter, two players still hoping to capture their first, Kornuth narrowed the gap a little when he avoided Vuilleumier's straight draw to double up to 9,630,000. Winter's hopes for a miraculous "chip and a chair" story were finally dashed when he and Vuilleumier both flopped top pair, Vuilleumier rivered two pair, and Winter called off his last 3,250,000.
Vuilleumier led 19,800,000 to Kornuth's 11,300,000 at the start of heads-up play, which was controlled by the Swiss pro. Kornuth was down to just 3,050,000 when he jammed king-three, Vuilleumier called with ace-queen, and the board gave Vuilleumier a straight on the turn to deny Kornuth his fourth bracelet and secure Vuilleumier the title.
Vuilleumier is proving himself to be a six-max savant, and it all goes back to his time grinding cash games. "I come from cash games, so we like to play post-flop and obviously in six-max there is more post-flop," he said.
He's now conquered one of the toughest six-max fields of the year. If he was overshadowed by some of the legendary names at the start of the tournament, he won't be overlooked anymore.
That concludes PokerNews' coverage of Event #2: $25,000 High Roller 6-Handed No-Limit Hold'em. Stay tuned for more action throughout the 2023 WSOP.

Level 23 : Blinds 125,000/250,000, 250,000 ante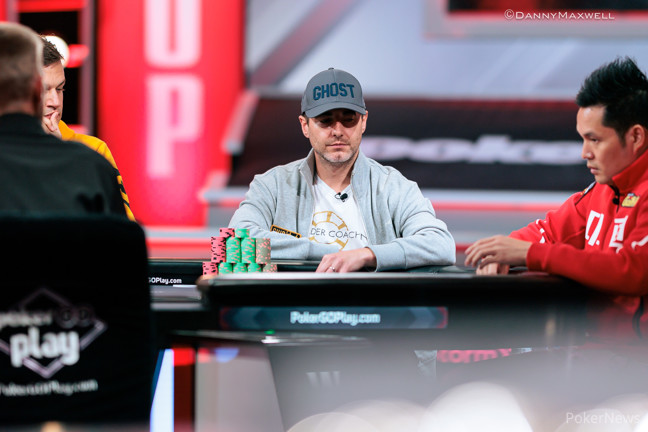 Alexandre Vuilleumier limped in on the button and snap-called when Chance Kornuth jammed for 3,050,000 from the big blind.
Chance Kornuth: K♠3♣
Alexandre Vuilleumier: A♦Q♠
The J♦10♣8♦ flop kept Vuilleumier ahead, and then he made a straight on the 9♥ turn. Kornuth had just three outs to improve to a superior straight, but the J♠ river confirmed the victory for Vuilleumier.
Kornuth picked up the $751,463 runners-up prize and was denied his fourth bracelet, while Vuilleumier scored the biggest cash of his career and his first piece of WSOP hardware.
Alexandre Vuilleumier limped in with Q♥9♠ as Chance Kornuth looked down at 6♦2♥ and decided to raise to 850,000.
Vuilleumier called as they saw a K♥9♥8♠ flop. Kornuth, left with six-high, slowed down and checked, then quickly folded to a bet of 650,000.
Kornuth has now dropped down to just over 10 big blinds as Vuilleumier now has a nearly 10-1 chip lead.

Level 23 : Blinds 125,000/250,000, 250,000 ante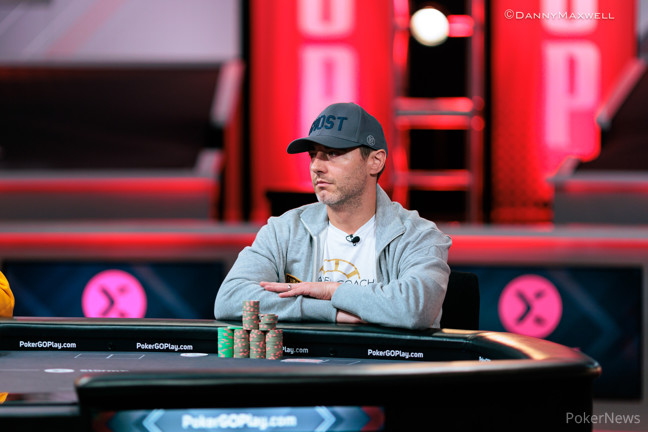 Alexandre Vuilleumier raised to 500,000 from the button with Q♦6♠, and Chance Kornuth defended the big blind with 10♠5♣.
On the Q♠7♣5♦ flop, Kornuth check-raised to 925,000 after Vuilleumier continued for 325,000. The latter called.
The 2♠ turn, Kornuth took his foot off the gas pedal and checked. Vuilleumier bet 1,000,000 and was called.
Vuilleumier improved to two pair on the 6♦ river to seal the checkmark. Kornuth checked and Vuilleumier bet 4,350,000, which sent Kornuth into the tank. After using some time bank cards, Kornuth called and saw the bad news.
Vuilleumier now has a commanding chip lead, with Kornuth down to his last 16 big blinds.

Level 23 : Blinds 125,000/250,000, 250,000 ante
Both players have been swapping chips, with neither making a dent in each other's stack. Alexandre Vuilleumier has just under a two-to-one chip lead, but play is still deep.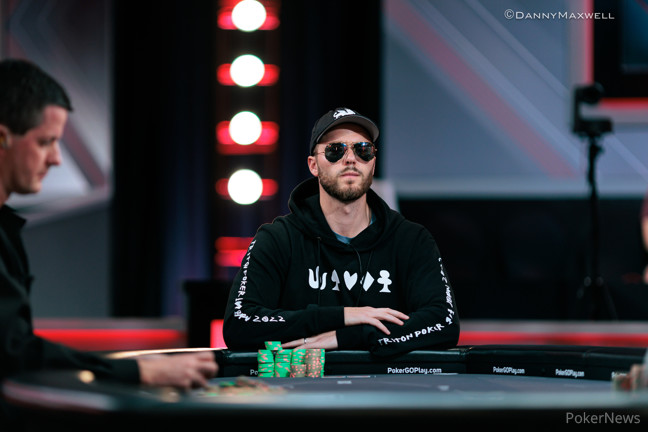 Sean Winter limped in with 9♦6♥ and Alexandre Vuilleumier checked his 10♣9♠.
Both players hit top pair on the 9♥2♠4♦ and Winter check-called a bet of 250,000. The turn came the 5♣ and Vuilleummier bet another 425,000.
Winter now came back with a raise to 1,100,000 and Vuilleumier called. The 10♦ on the river improved Vuilleumier to two pair as Winter put in 1,700,000.
Vuilleumier then raised enough to put Winter all in as Winter took off his sunglasses and grimaced before calling for his last 3,250,000.
Winter came up a few spots short of his first WSOP bracelet, while Vuilleumier and Chance Kornuth are now taking a short break before the start of heads-up play.

Level 23 : Blinds 125,000/250,000, 250,000 ante
Chance Kornuth opened to 850,000 from the small blind with K♣3♠ and Sean Winter defended his big blind with A♦10♠.
Kornuth bet 600,000 on the 8♣4♦2♦ flop, and Winter called. Kornuth then improved to top pair on the K♠ turn and fired a second barrel of 1,450,000 which folded out Winter.
Player
Chips
Progress

Alexandre Vuilleumier

13,825,000

-2,100,000

Chance Kornuth

12,175,000

3,145,000

Sean Winter

5,050,000

-1,055,000

Level 23 : Blinds 125,000/250,000, 250,000 ante
Level: 23
Blinds: 125,000/250,000
Ante: 250,000