Event #68: $1,000 Super Turbo Bounty
Day: 2
Event #68: $1,000 Super Turbo Bounty
Day 2 Completed

Level 38 : Blinds 500,000/1,000,000, 1,000,000 ante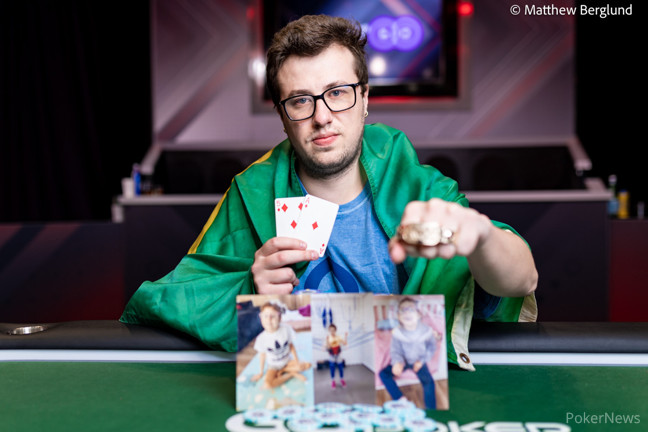 The 2023 World Series of Poker (WSOP) Event #68: $1,000 Super Turbo Bounty attracted 2,854 players ($2,513,360 prize pool) on Thursday and played all the way down to the final table. The next day, those nine remaining players returned to determine a winner. After just over two hours of play, Brazil's Gabriel Schroeder emerged victorious to capture the $228,632 top prize, plus 15 bounties valued at $300 apiece, to go along with his first gold bracelet.
After the win, 32-year-old Schroeder, who started the day as chip leader, immediately began to kiss pictures of his wife and young daughter, who are slated to join him in Las Vegas next week. Primarily an online player with a prior career-best score of $142K, Schroeder is fresh off finishing in fourth place in a Venetian $1,100 Ultimate Stack for $99,922.
Event #68: $1,000 Super Turbo Bounty Final Table Results
| Place | Player | Country | Prize |
| --- | --- | --- | --- |
| 1 | Gabriel Schroeder | Brazil | $228,632 |
| 2 | Joel Wertheimer | United States | $141,298 |
| 3 | Andy Black | Ireland | $105,337 |
| 4 | Elson Lima | United States | $79,142 |
| 5 | Jordan Jayne | United States | $59,929 |
| 6 | Daniel Lowery | United States | $45,741 |
| 7 | Jose Brito | Portugal | $35,191 |
| 8 | Jonathan Akiba | United States | $27,293 |
| 9 | Ryan Goindoo | Trinidad & Tobago | $21,340 |
Final Table Action
On Friday, action resumed at Level 33 (150,000/300,000/300,000) with all players having secured at least $21,340 in prize money. One level in, it was Ryan Goindoo falling first after three-bet jamming ace-ten only to have Schroeder, the initial raiser, snap-call with pocket aces, which held.
South Florida's Jonathan Akiba was the next to go after failing to get there with ace-queen suited against Jordan Jayne's two black kings, and Portugal's Jose Brito followed him out the door in seventh place after losing with ace-six suited to Andy Black's king-queen when a king appeared on the turn.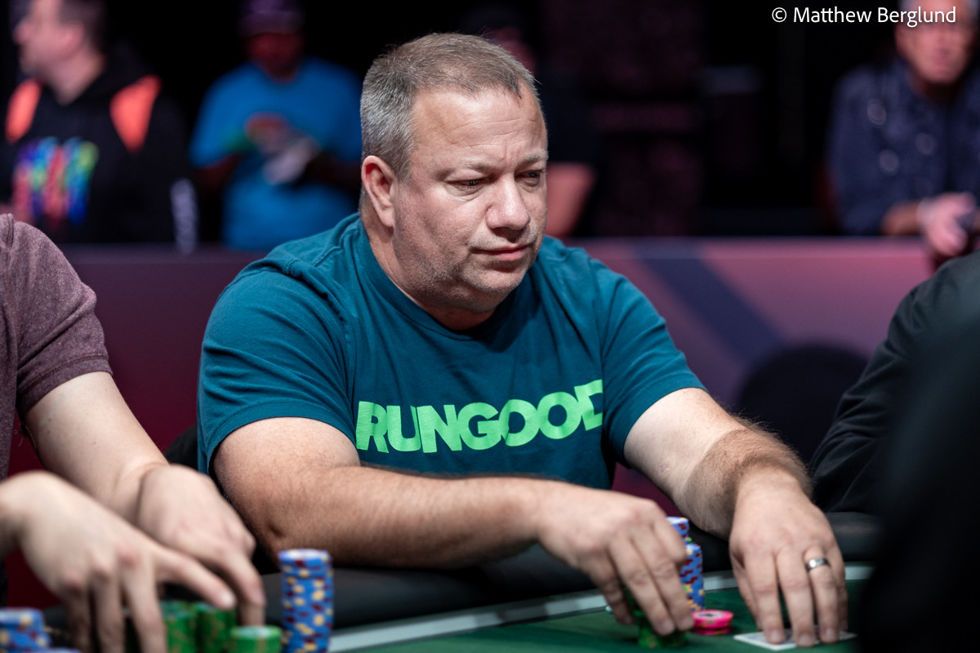 WSOP Circuit and RunGood Poker Series (RGPS) star Daniel Lowery exited in sixth place after his jack-ten failed to overcome the king-jack of Black, and then Jayne took his leave in fifth after losing a flip with pocket eights against Schroeder's ace-ten suited courtesy of an ace on the flop.
Elson Lima exited in fourth place after getting it all in preflop with jack-nine against Black's two black sixes. A nine on the flop gave Lima the lead but it was only temporary as a six spiked on the turn.
Black took the chip lead and was eying up his first gold bracelet, but lady luck was seemingly against him after he had Schroeder dominated ace-king against king-jack. Unfortunately for Black, a jack appeared on the flop and Schroeder doubled through. Left with crumbs, Black busted in third not long after.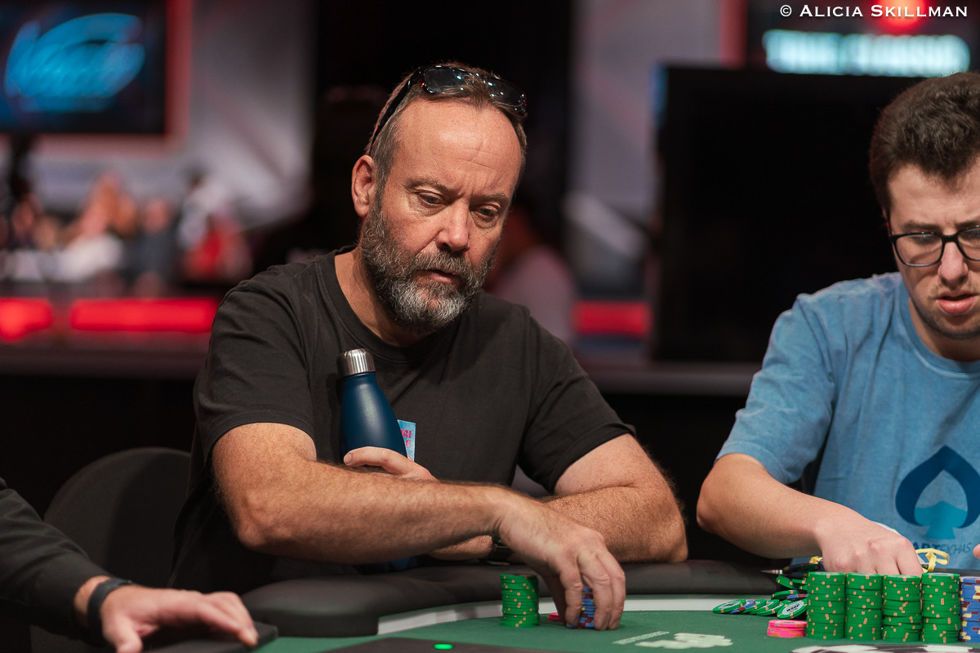 Schroeder took a 3:1 chip lead into heads-up play against Joel Wertheimer, who was being supported on the rail by Vanessa Selbst. Schroeder opened up an even bigger lead before the chips went in with him holding ace-five suited against Wertheimer's king-seven. The ace-high held and Schroeder claimed victory.
That does it for updates from Event #68: $1,000 Super Turbo Bounty, but there are still plenty of tournaments still to come from the 2023 WSOP. Click here to see what other live updates are happening now.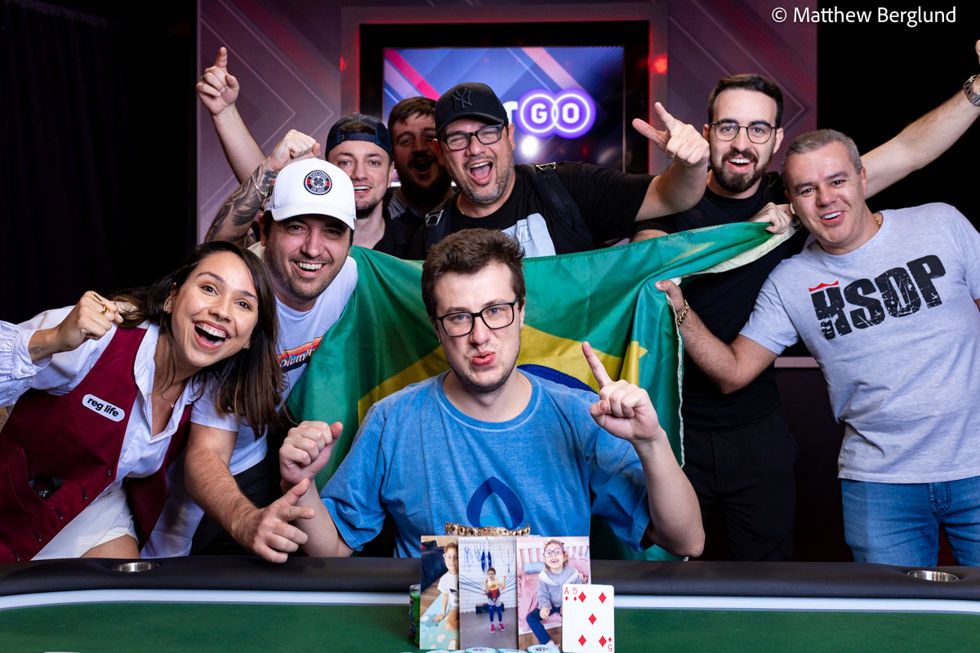 Level 38 : Blinds 500,000/1,000,000, 1,000,000 ante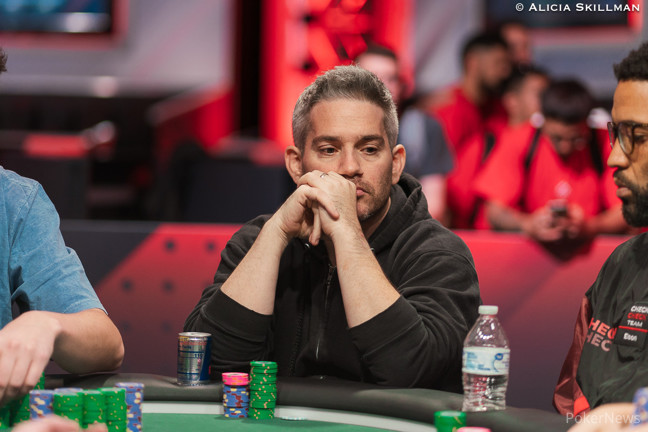 Joel Wertheimer shoved for 7,425,000 from the button and Gabriel Schroeder snap-called.
Joel Wertheimer: K♥7♥
Gabriel Schroeder: A♦5♦
The flop came Q♣2♦8♥ to keep Schroeder ahead with ace high.
The 10♣ on the turn didn't change things, and neither did the 6♥ on the river. Wertheimer busted as the runner-up for a payday of $141,298. Schroeder won his first bracelet and $228,632 plus several bounties.
Schroeder ran to his rail and started tearing up while holding several papers which looked like a letter and some photos.
A recap of today's action is to follow.

Level 38 : Blinds 500,000/1,000,000, 1,000,000 ante
Gabriel Schroeder raised to 2,000,000 on the button and Joel Wertheimer called to see a flop of 3♣2♥4♠.
Wertheimer check-called a bet of 1,500,000 and then check-called one of 2,600,000 on the 6♦ turn.
When the 7♣ completed the board on the river, Wertheimer led out for 2,500,000 and Schroeder called.
"Six," Wertheimer declared while tabling his 6♣8♥. It was no good though as Schroeder had rivered a bigger pair with his 7♦9♠.
Player
Chips
Progress

Gabriel Schroeder

49,000,000

6,650,000

Level 38 : Blinds 500,000/1,000,000, 1,000,000 ante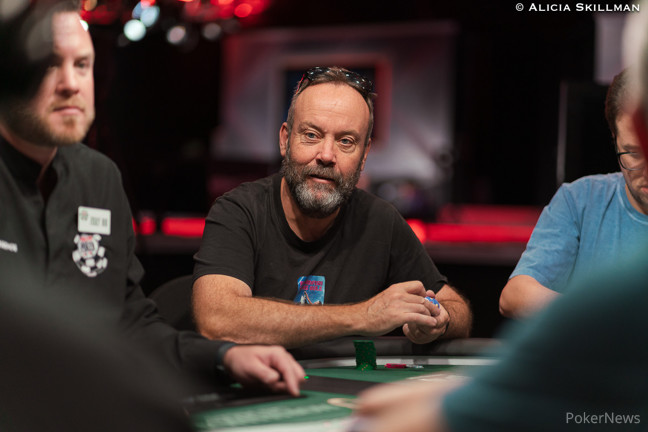 Joel Wertheimer looked at his cards in the small blind and then over to Andy Black in the big blind before opting to shove. Black called for his last 2,775,000.
Andy Black: 10♦5♠
Joel Wertheimer: A♣9♦
The board ran out Q♥Q♦A♦5♦J♠ for Wertheimer to flop two pair and hold throughout the rest of the board to eliminate Black in third place for $105,337.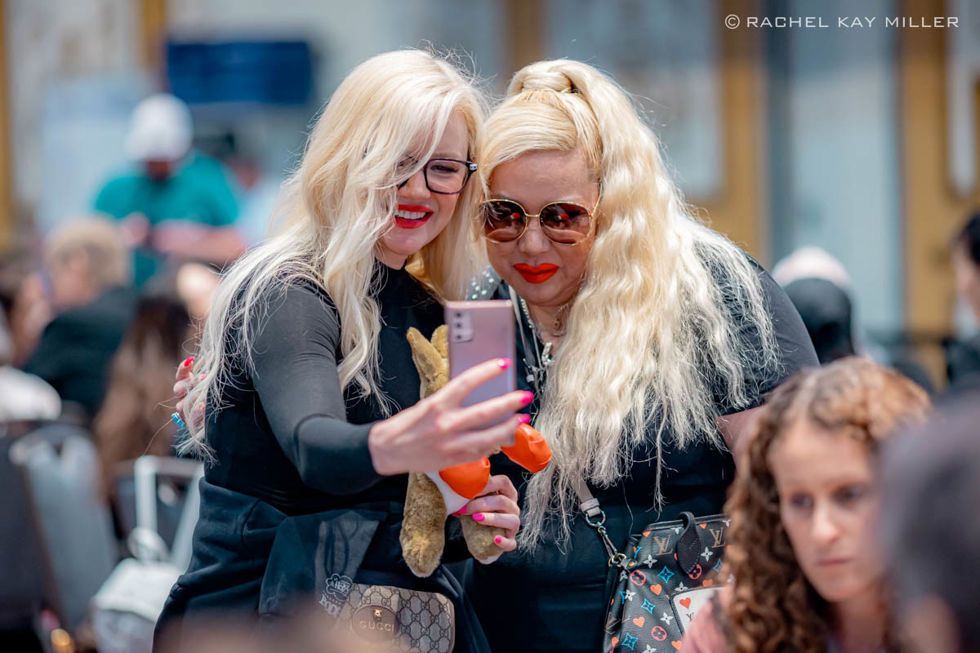 The eventual winner of the currently underway Event #67: $1,000 Ladies Event Championship at the 2023 World Series of Poker (WSOP) will not only take home a bracelet and $192,167 but will also earn a special place in poker history. That's because with its 1,295 entries on Day 1, the event is the largest Ladies Event to ever take place in poker.
The previous biggest WSOP Ladies Event took place in 2007 with 1,286 entries and saw Sally Boyer defeating Anne Heft to win $262,077. Last year's WSOP Ladies Championship drew 1,074, making for a 20% increase this time around.
https://twitter.com/WriterJen/status/1674806125332664321

Level 38 : Blinds 500,000/1,000,000, 1,000,000 ante
Andy Black, who had assumed the chip lead, raised to 2.5 million on the button and quickly called after Gabriel Schroeder three-bet jammed for 21,750,000.
Gabriel Schroeder: K♣J♠
Andy Black: A♥K♠
Black was a big favorite but lady luck was not on his side when the flop fell 5♦7♠J♥ to pair Schroeder. Black was looking for some help, primarily an ace, but it wasn't in the cards as the 8♥ appeared on the turn followed by the K♥ on the river.
Level: 38
Blinds: 500,000/1,000,000
Ante: 1,000,000

Level 37 : Blinds 400,000/800,000, 800,000 ante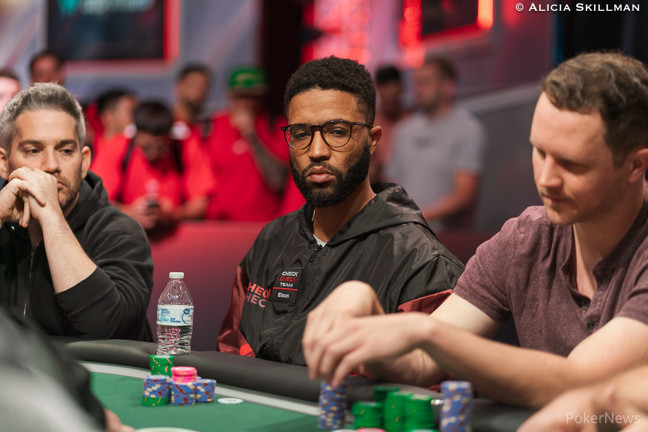 Elson Lima shoved from the small blind for 4,200,000 for Andy Black to make the call in the big blind.
Elson Lima: J♠9♣
Andy Black: 6♠6♣
The flop came 4♠8♥9♦ for Black to shake his head as Lima hit a pair of nines but the 6♦ had Black jumping up from his seat and fist-pumping as he hit a set.
The river completed the board with the 2♣ to seal the deal as Lima was eliminated in fourth place for $79,142.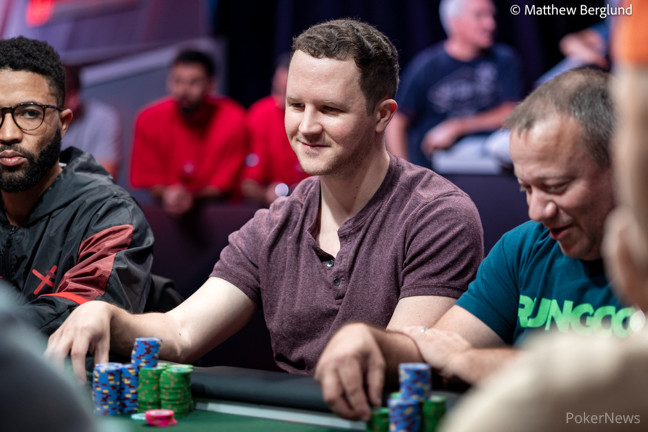 Gabriel Schroeder raised to 1.6 million under the gun and Jordan Jayne responded with a three-bet jam for 5,775,000 from the small blind. Schroeder asked for an exact count, gave it a little thought, and then called.
Jordan Jayne: 8♣8♥
Gabriel Schroeder: A♦10♦
It was a flip and Jayne was looking to hold to stay alive. That proved easier said than done however as the 6♦A♣4♠ flop paired Schroeder.
Neither the 2♦ turn nor 9♦ river helped Jayne and the second-biggest stack at the start of the final table bowed out in fifth place.