Event #5: THE COLOSSUS III - $565 No-Limit Hold'em
Day: 1b
Event #5: THE COLOSSUS III - $565 No-Limit Hold'em
Day 1b Completed

Level 18 : 3,000/6,000, 500 ante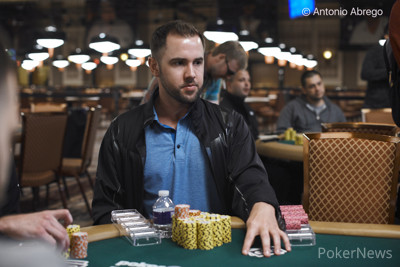 The opening day of Colossus III is in the books and Hunter Frey bagged 400,000 to lead the Day 1b field. Frey leads 64 players into Day 2 Monday.
Frey just beat out Ryan Buckholtz (386,000) and Scott Bohlman (346,000), both of whom came on late to overtake some of the bigger stacks throughout the day. Jesse Vilchez (331,000) and Yang Zhang (283,000) round out the unofficial top five stacks from Day 1b.
Frey also came on late in the evening, with Mike Dentale (217,000) hitting some bumps in the final level. Dentale was cruising through the middle parts of the tournament working his stack up to 400,000 with relative ease. He told us during the final level he lost at least two hands where his opponent hit a two-outer to win the pot. Dentale still managed to bag over 200,000 and is sitting comfortably for the Day 2 restart.
Mike Sexton (225,000) and Michael Rocco (133,000) have also made it through to Day 2. Meanwhile, Barry Greenstein, Dan O'Brien, Jesse Sylvia, and both former Colossus Champions Cord Garcia and Ben Keeline failed to find a bag in Day 1b.
There are still four more starting flights for Colossus III and four more chances for Ben Keeline, last year's winner, to defend his title. Follow all the updates right here on PokerNews, as the 2017 World Series of Poker continues through July.
Player
Chips
Progress

Hunter Frey

400,000

400,000

Ryan Buckholtz

386,000

-14,000

Scott Bohlman

346,000

346,000

Jesse Vilchez

331,000

-9,000

Yang Zhang

283,000

-37,000

Level 18 : 3,000/6,000, 500 ante
Mike Dentale has cooled off a bit, but still has a big stack with over 300,000. Vlad Darie has overtaken Dentale, but Ryan Buckholtz has broken 400,000 and is currently in the chip lead.
Jesse Vilchez is sitting at 360,000 after busting Derek Gomez with pocket queens versus Gomez's pocket jacks. Vilchez flopped a set to pull even further ahead.
Yang Zhang is also now over 300,000 and over the next 20 minutes these players will likely be jockeying for the Day 1b chip lead.
Level: 18
Blinds: 3,000/6,000
Ante: 500

Level 17 : 2,500/5,000, 500 ante
Mike Del Vecchio had pocket eights,
, and was all in against Jameson Painter. Painter had
and flopped a set of queens.
"That's not good for me," said Del Vecchio.
Painter would hold on to win the hand and leave Del Vecchio somewhat short.
Del Vecchio would three-bet shove the next hand and took down the hand.

Level 17 : 2,500/5,000, 500 ante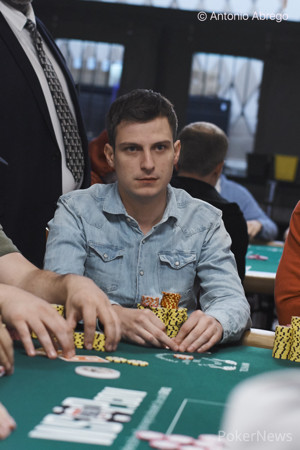 Mike Dentale was way out in front for a few levels, but Vlad Darie has made a move to get within 30,000 chips of the leader.
Level: 17
Blinds: 2,500/5,000
Ante: 500

Level 16 : 2,000/4,000, 500 ante
Bas de Laat bet 25,000 on the turn with the board reading
and his opponent raised to 100,000. de Laat called for slightly less and showed a set of threes,
. His opponent had
. The river was a brick and de Laat doubled up.
Then de Laat was in the small blind and shoved all in into Daniel O'Connell's big blind. O'Connell took a moment. He stacked his chips neatly then grabbed them with both hands, preparing to go all in for the call. He hesitated, keeping both hands on his chips and eventually put them all in. He showed
and was against the
of de Laat.
Both players hit the flop, but O'Connell hit top and bottom pair. He would stay ahead to get the double up.
Player
Chips
Progress

Bas De Laat

225,000

120,000

Daniel O'Connell

104,000

Level 16 : 2,000/4,000, 500 ante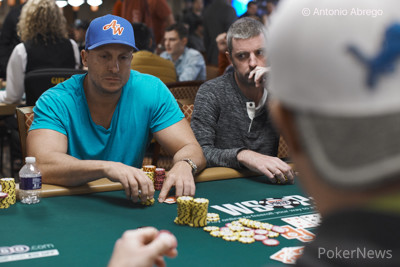 With just over three levels of play left in Day 1b of Colossus III, Mike Dentale just broke 400,000.
On his latest hand, he called a 20,000 bet on a
flop. The turn was the
and his opponent checked. Dentale went all in, putting his opponent at risk. His opponent called and Dentale showed
for trip sixes.
His opponent appeared deflated as he turned over
. The river was the
and Dentale won yet another hand.
Level: 16
Blinds: 2,000/4,000
Ante: 500