Event #5: THE COLOSSUS III - $565 No-Limit Hold'em
Day: 1c
Event #5: THE COLOSSUS III - $565 No-Limit Hold'em
Day 1c Completed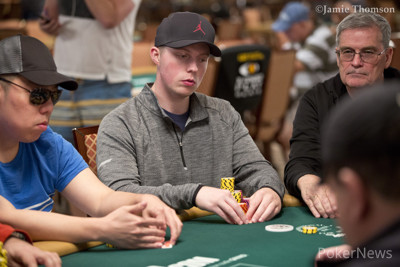 Event 5C: $565 Colossus III No-Limit Hold'Em has come to an end with 109 players bagging chips to return on Day 2. Everyone who bagged chips is guaranteed a minimum of $1,480.
Mark Johnson Jr had an impressive day, running up a stack to $368,000. Johnson has cashed in seven previous WSOP events dating back to 2014, for a total of $309,000 in live tournament earnings. The Michigan native will be looking for a big score in this event when it resumes on June 5th for Day 2. Alexander Borteh (365,000) is nipping on his heels, and Matt Holtzman (356,000) won a big hand at the end of the day to close in on the chip lead.
Late registration closed after six levels, and there was a total of 3,102 entries — the largest flight thus far. Like yesterday, the action was fast, and players were eliminated quickly. The bubble burst just after level 12 began, and 466 players were guaranteed at least $832.
Some notables that entered Day 1C but were eliminated prior to the money include Mike Leah, Kathy Liebert, Joey Weissman, Joseph Chuong, Kenny Hallaert, Kristen Bicknell, and Scott Montgomery. A couple notable players still remaining in the field are five-time WSOP bracelet winner Chris Ferguson (284,000) and Frederico Butterino (121,000) who will be returning on Day 2.
Here is a look at some of the top chip stacks at the conclusion of play, with a full list being posted at the end of all of the Day 1 flights. There is still action happening in Day 1D of the Colossus III and you can follow it all here http://bit.ly/17wsop_e5.
Player
Chips
Progress

Tonio Roder

409,000

Alexander Borteh

409,000

409,000

Matthew Holtzman

382,000

Mark Johnson Jr

368,000

-25,000

Christopher Haydt

313,000

Chris Ferguson

309,000

221,000

Gavin O'Rourke

298,000

-76,000

Christopher Delgrande

291,000

Kevin Grabel

277,000

Seth Foster

276,000

52,000

Thomas Hall

264,000

Joe Berry

251,000

Daniel Trush

248,000

-59,000

Franklin Connell

244,000

Dawn Mougel

228,000

Mark Jones

224,000

-26,000

Elliot Bloch

217,000

Robert Moreno

211,000

Nachman Berlin

210,000

Tyler Thompson

207,000

-26,000

Matthew Krier

201,000

Pfizer Jordan

187,000

-70,000

Terry Fleischer

187,000

-13,000

Matt Lushim

184,000

Jason Li

181,000
This is the final level of the evening, with only 130 players remaining. Everyone will soon be playing their final hand, after which they can decide to bag their chips and return on Day 2 or surrender their chips, take the cash prize of $1,480, and try to run up a stack in another flight.
Level: 18
Blinds: 3,000/6,000
Ante: 500
Here is a look at the top chip counts heading into the last level of the day.
The board was
, and one player was all-in. The main pot had around 45,000 in it, and there was already a side pot of around 60,000. Tom Hall bet 71,000, and his opponent instantly called. Hall tabled
, and his opponent showed
. Hall scooped both pots while continuing his trek through the $333 WSOP Online Event as well.
Player
Chips
Progress

Tom Hall

350,000

224,000
Level: 17
Blinds: 2,500/5,000
Ante: 500
With one player already all-in, Haixia Zhang was heads-up with another opponent for a side pot. The board was
, and Zhang bet 55,000. Her opponent called, Zhang tabled
for a straight, and her opponent mucked his cards. The all-in player also threw his cards away sending both pots to Zhang who now was over 300,000 chips.
In back-to-back hands, Pfizer Jordan tangled with one of his counterparts on the table. First, Jordan called an all-in from his opponent with the board reading
. Jordan was ahead with
vs his opponent's
, but a seven on the turn gave his opponent a straight doubling him up to 128,000.
In the next hand, the same opponent opened to 9,000 from early position and Jordan raised to 23,000. His opponent put out a four-bet to 45,000 and Jordan called. The flop came
and his opponent bet 41,000. Jordan raised all-in for 126,000 putting his opponent to the test. The clock was eventually called and the player was given 30 seconds to act. He eventually folded and Jordan showed a
but kept the other card hidden.
Level: 16
Blinds: 2,000/4,000
Ante: 500