€50,000 Majestic High Roller
Day: 1
€50,000 Majestic High Roller
Day 1 Completed

Level 8 : 1,000/2,000, 300 ante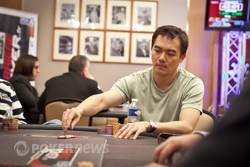 Day 1 of the €50,000 Majestic High Roller at the 2012 World Series of Poker Europe has come and gone. With 43 entries throughout the day and just a few eliminations, tomorrow will be the real test of everyone's poker skill. At the end of the night, John Juanda led the way with 538,500 in chips.
Juanda is no stranger to big buy-in events, and he's come out in a fury here in this one, but things didn't start off well for him. Juanda was eliminated not once, but twice and is working with his third bullet in the event. Thanks to a huge clash with Marvin Rettenmaier, though, two rockets catapulted Juanda into the lead during the last level of the night.
Along with Juanda — who is one of the most household names in poker — plenty of notable players were in action and have advanced to Day 2. Daniel Negreanu, Sam Trickett, Tom Dwan, Tony G and Erik Seidel will all be back tomorrow.
On the other side of the coin, Eugene Katchalov and current Octo-Niner Gregory Merson were two players who were eliminated on the day. Both opted not to rebuy. Wang Qiang was also eliminated and opted not to fire off another €50,000.
After a late start for Day 1, tomorrow will be much of the same as play begins at 4:00 PM local time. Registration will remain open through the first level of tomorrow, and that's also how long the rebuy period will remain open. Be sure to return right back here to these pages for all the PokerNews coverage. We'll see you then.

Player
Chips
Progress

John Juanda

538,000

-40,000

Richard Yong

408,200

16,200

David Benefield

375,100

95,100

Mike Watson

370,900

30,900

Jean-Noel Thorel

355,000

95,000

Tony G

350,000

215,000

Tobias Reinkemeier

348,800

36,800

Daniel Negreanu

320,200

5,200

Erik Seidel

293,800

53,800

Paul Newey

291,500

61,500

Alex Mostafavi

269,900

39,900

Lifeng Chen

239,900

-20,100

Justin Bonomo

238,600

92,600

Kristijonas Andrulis

235,400

50,400

Philipp Gruissem

232,400

108,400

Thomas Wahlroos

224,200

146,200

Roger Hairabedian

218,600

66,600

Talal Shakerchi

204,700

-25,300

Tony Gregg

196,200

200

Jani Sointula

170,800

-24,200

Igor Kurganov

169,200

6,200

Andrew Lichtenberger

168,400

6,400

Steve O'Dwyer

166,600

10,600

Juha Helppi

150,000

20,000

Sam Trickett

143,300

1,300

Level 8 : 1,000/2,000, 300 ante
Just three more hands at each table before the night is over.

From middle position, John Juanda opened the pot with a raise to 4,800. Marvin Rettenmaier put in a reraise to 13,600 from the cutoff seat, then Igor Kurganov reraised to 30,100 from the button. Action folded through the blinds and back to Juanda. He didn;t take long before putting in a five-bet to 60,200. This sent Rettenmaier into the tank.
Rettenmaier was tanking while Kurganov was waiting for him to act. When this happened, Philipp Gruissem walked over to talk to Kurganov, but saw he was in a hand... again.
"F***, you're always in a f***ing hand!" said Gruissem before walking back over to his table. Kurganov cracked a smile while Rettenmaier kept tanking.
Eventually, Rettenmaier reraised all in for approximately 160,000. Kurganov folded, and Juanda simply turned over the
to signify his call. Rettenmaier didn't like what he saw and disgustedly turned up the
, knowing he made a stumble.
The flop, turn and river ran out
, and Juanda's aces were the winning hand. He had Rettenmaier covered, which eliminated Rettenmaier. Rettenmaier was a bit upset that he had to make a decision to rebuy righ then and there. He wanted to wait until tomorrow, but couldn't. Therefore, he said he would rebuy and went to get the finances sorted. Meanwhile, Juanda climbed to nearly 600,000 in chips.
Player
Chips
Progress

John Juanda

578,000

433,000

Igor Kurganov

163,000

-77,000

Marvin Rettenmaier

Busted

Y Chang raised under the gun to 5,000 after which Richard Yong, who was directly to his left, three-bet to 12,000. Sheng Sun decided to four-bet to 37,000 and the action was quickly folded back around to Yong.
Yong went into the tank for a while, played with his chips, and eventually put his opponent all in. Sun called off his remaining 120,000 chips creating a very big pot.
Showdown:
Richard Yong:

Sheng Sun:
The board ran out
, and Yong high-fived Chang while Sun left the tournament. He chose not to re-buy, and with that we lost a player.

Level 8 : 1,000/2,000, 300 ante
The players are now in the last level of the night. Another 60 minutes of play before bagging up until tomorrow.
Level: 8
Blinds: 1,000/2,000
Ante: 300

Level 7 : 800/1,600, 200 ante
Philipp Gruissem raised to 5,000 from middle position, and Tony Gregg called from the hijack seat. Zheng Tang called on the button, and the flop came down
. Everyone checked, and the turn was the
. Gruissem bet 12,500, and both his opponents folded.