Syndicate Slot Machine Review: Play Online with 1,000 Free Coins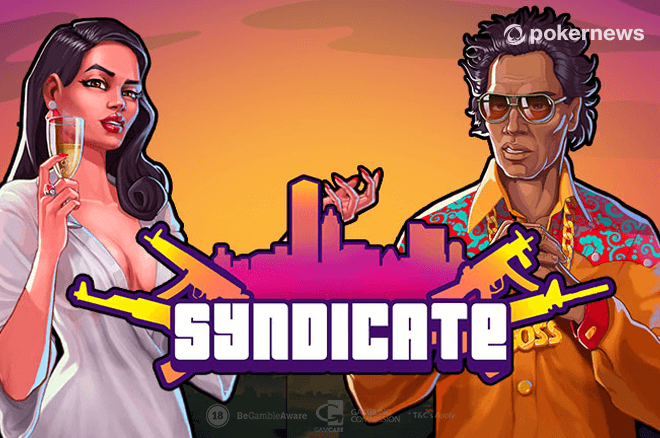 Who says video games and gambling don't mix?
Today, I present to you Syndicate, a Slot that sports the same art style (and attitude) as the Grand Theft Auto series.
Created by Evoplay Entertainment in 2018, this video Slot will mesmerize you with its rich visuals and a cool gangster theme.
Read this Syndicate Slot review to find out the best way to play some of the best slots online.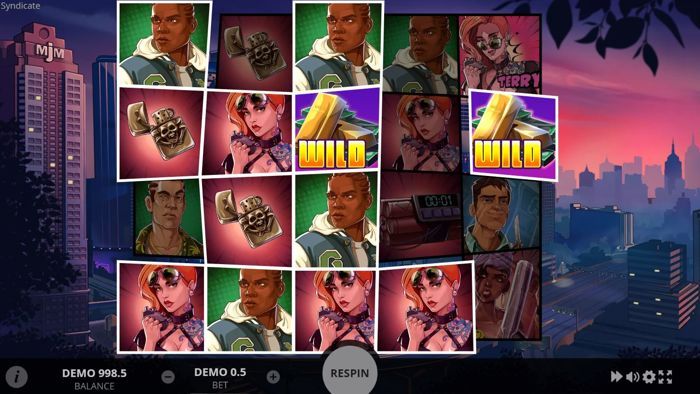 Play for free Real money version
Syndicate Slot Machine: My First Impression
I'll say this from the very start: Syndicate is one of the most well-made Slot games I've seen.
Here's why:
It has 1,024 ways to win
A winning combination triggers a respin
Every win is beautifully animated
Also, the variety of symbols is huge.
We have 15 regular symbols, three Scatters, and one Wild. This makes for 19 different symbols in total.
By the way, the developers did their best when it comes to designs. There are no boring old card symbols - every drawing is original and full of life. As it should be.
However, this may come as a shortcoming to some players.
The intricate animation requires a good device to keep up with it, which means that the Slot might lag a bit.
That's why you should play the free version first - make sure that your computer or phone is able to load the game properly.
How to Play the Syndicate Video Slot
Even though the Syndicate Slot machine doesn't resemble a classic Slot in the slightest, its gameplay is almost identical to the one of a one-armed bandit.
However, if you're completely new to Slots, you'll need some instructions.
Here they are:
Choose you bet (from €0.1 to €50)
Click the Spin button
Wait for the result
Basically, that's it. You don't even need to select the coin size (due to the lack of paylines).
And in case clicking Spin over and over again bores you to death, feel free to activate the autoplay function, which you'll do by holding the Spin button.
You can set five to 500 automated spins and you can stop them anytime. Just keep a close eye on the reels - you don't want to accidentally gamble away a big win, do you?
The Payouts of the Syndicate Slot
The most important thing when talking about the possible wins of an online Slot is the Return to Player (RTP) index.
And the RTP of Syndicate is a nice one. 96 percent, to be exact.
Of course, there are Slots that offer 97 percent of even more - but there's also a good bunch of games with the RTP as poor as 92 percent, so we have quite a good deal with Syndicate here.
And now, we can take a look at the winning symbols of the Syndicate Slot online.
There are 15 regular symbols in total, which are divided into three parts:
Gangsters
Bad girls
Mad boys
As you might have guessed, the gangsters give you the biggest payouts in the game, followed by bad girls and then - mad boys.

The Bonus Features of the Syndicate Slot Machine
Like most Slot machines online, the Syndicate game offers a few bonuses that will make the gameplay much more interesting.
The bonus that you'll encounter over and over again is the Respin feature. It is triggered after every win.
So, if you're lucky enough, you can have a long series of consecutive spins.
A Respin can also be triggered by six or more Scatters.
Another bonus of the Syndicate Slot machine is the free spins feature.
To activate it, you have to collect eight or more identical Scatters. Do this and you'll get one free spin for every Scatter symbol collected.
In other words - you'll get at least eight free spins at the time.
Now, there's one thing you should know about the Scatters of the Syndicate Slot. The game features three different Scatters with these gang bosses: Cesare, Bonita, and Frank.
You won't trigger free spins if you get, say, six Bonitas and two Franks. The symbols have to be the same.
Luckily, the Scatter can appear as a stacked symbol that takes twice as much space as a regular-sized symbol.
However, the type of free spins doesn't vary depending on the boss you get - which, in my opinion, is a missed opportunity.
Summary
I'll be honest here - the Syndicate Slot will appeal to those who prefer an edgier take on their online Casino games.
Even though the art of the Slot is outstanding, it's not for everyone - especially the players who prefer Slots like Pixies of the Forest.
However, those who like the rough side of gambling will be amazed by the animation, bonuses, and music of Syndicate.
Myself included.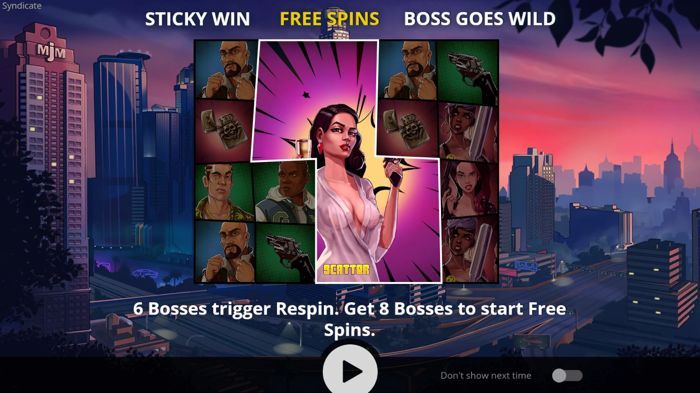 Play for free Real money version
Similar Slot machines to discover:
The promotion presented on this page was available at the time of writing. With some Casino promotions changing on daily basis, we suggest you to check on the site if it still available. Also, please do not forget to read the terms and conditions in full before you accept a bonus.