Five Thoughts: Hellmuth Wins PokerNews Fan Bracket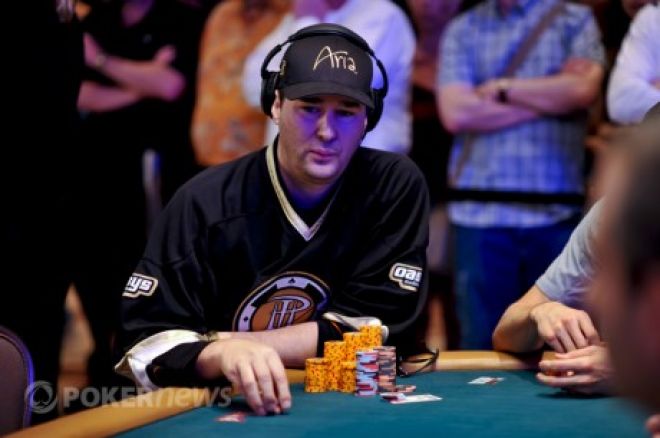 Phil Hellmuth, who was ranked 64th in the Global Poker Index when we created the PokerNews Fan Bracket, was the last player to make it into the field. Now, after defeating Daniel Negreanu in the championship matchup, he is also the last player standing. There was a little controversy in the Round of 4 and the Championship, however, and we'd like to address some issues for next year's bracket.
1. Bracket Recap
The 2012 NCAA Division I Men's Basketball Tournament is over, and after last night's shenanigans in Lexington, Kentucky, so is the madness. The echoes of "One Shining Moment" can still be heard — though there weren't many shining moments this year — and we will soon forget about what John Calipari and the University of Kentucky Wildcats accomplished — until next year's brackets are released.
The same can be said about the PokerNews Fan Bracket, which was won handily by Hellmuth. More than 7,000 "people" voted in the championship matchup, and at tip off last night, Hellmuth had received over 70 percent of the votes. If you watched the pool as actively as I did, though, you would've noticed that on Sunday, thousands of consecutive votes poured in for Hellmuth over a short time. The same thing happened in the Round of 4 when Hellmuth squared off against Jason Mercier. Mercier was really sweating the vote — just read his tweets — but with just over two hours to go, Hellmuth started receiving votes at an unnatural, rapid rate. By midnight, Hellmuth had gone from down 2 percent, to winning by 20 percent.
Strange.
The polls on our site aren't too technical because they're there for fun. This, too, was supposed to be a fun experience for the fans, and, unfortunately, one or more individuals took advantage of it. Congratulations to them. They wasted a few hours clicking buttons to sabotage a contest with no prize. Cool story, bro.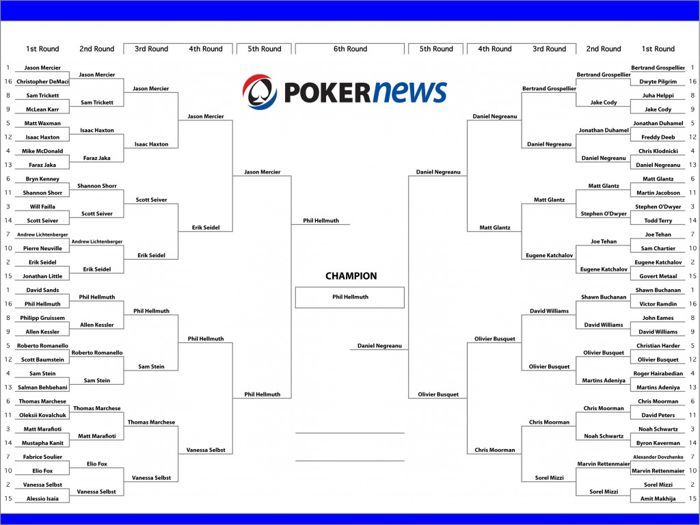 Hellmuth does deserve some credit, though, because he legitimately reached the Round of 4, despite being a No. 16 seed. I thought he could go somewhat deep, but I didn't think that he could beat Vanessa Selbst in the Round of 8, which he did, and before the skullduggery kicked in, he was neck-and-neck with Mercier. All in all, it was really fun to run the bracket, but some changes will be made next year.
First, there needs to be a selection committee. The GPI was a great because everybody was easily seeded, but it should be used as a barometer like the Ratings Percentage Index (RPI) in college. Some very popular players like Phil Galfond, Viktor "Isildur1" Blom, Tom Dwan and Phil Ivey didn't have great tournament success over the last few years, so they were excluded. This needs to be addressed. Second, we need to ensure that the voting is more fair. We could make you have an account to vote (you should already have one!), but then when players post the link on their Facebook or Twitter accounts, their friends and family members who don't play poker will be less likely to vote.
For now, I'd like to thank everyone who voted, and all the players who participated in the bracket. Again, this was done purely for entertainment purposes, so I hope you enjoyed it.
---ReadMore---
2. Viktory!
A few weeks ago, after Viktor Blom defeated Alex "Kanu7" Millar in the PokerStars SuperStar Showdown, I noted that the only player the Swede had failed to defeat in a single match was Isaac "philivey2694" Haxton. Well, after this week's special SuperStar Showdown, that's no longer the case.
Blom and Haxton decided to up the ante this weekend, and instead of setting a certain stop-loss amount and playing 2,500 hands, they decided to play a $1 million match. Starting on Saturday, the two played a four-hour session every day until someone won $500,000. In just three days, Blom succeeded, taking half a million from Haxton and winning the match.
Blom finished the first day with a $200,000 lead, despite Haxton's taking a big lead early on in the match. Haxton won a massive, $96,000 pot with two red jacks against Blom's two black queens when the flop, turn, and river procured four diamonds collectively, but Blom quickly surged and snatched the lead away. Despite winning a six-figure coin flip with pocket fives against Blom's ace-queen, Haxton headed into the second day looking for a comeback.
Haxton successfully cut into Blom's lead on day two, reducing it to five figures at one point, but Blom was not to be denied. He extended his lead to nearly $300,000 and never looked back. The third and final day was more of the same — Blom won $40,000 on the very first hand — and just minutes before the session was scheduled to end, the Swede put the final nail in the coffin, flopping trip aces and extracting three streets of value (and the win) from Haxton.
After 5,030 hands, Blom walked away victorious, but Haxton is still 2-1 against Blom in the standings. The rivalry between these two players has piqued the interest of many poker fans — especially the Blom lovers on TwoPlusTwo — and I'd like to see more from the two in the future, especially in the live arena. Both Haxton and Blom are clearly online players, but sweating a match between the two would be much more entertaining if they were face-to-face, and it would also be more accessible to those of us in the United States.
EPT Grand Final? One time?
3. Terrence Chan kicks ass
Canadian Terrence Chan proudly wore his Vancouver Canucks jersey as he walked down the aisle before his fight against Alex Lee in the Legend Fighting Championship in Hong Kong last Friday. Before the fight, Chan admitted that Lee was "bigger, stronger, and taller," but that didn't stop him from winning the match just two minutes into the second round. Chan put Lee in an armbar at that point of the match, and rather than let Chan break his arm, Lee tapped out.
Chan received tons of love from the poker community — which is already obsessed with MMA — and he's really enjoying his time training in Hong Kong. When asked by a fan on his blog if he would ever take on Lex Veldhuis (who recently defeated fellow Team PokerStars Pro Bertrand "ElkY" Grospellier), Chan responded, "I'd be happy to do a kickboxing match with Lex for charity. It'd have to be soon though because man, I'm giving up a lot of size so it wouldn't be long before he could kick my ass."
Chan understands that there is life outside of poker, and that's great. There are too many grinders who spend too much time in grungy poker rooms or inside their room playing online. It's paramount that, every so often, you run around a little bit and get the juices flowing. You'll feel much better afterward, and you'll thank yourself in the future.
4. Mega disappointment
If you're not a big tweeter, or you were removed from your computer or mobile device on Friday, then perhaps you're unaware that Josh Arieh, Ben Lamb, Christian Harder, Jason Mercier, and others pooled together and bought 30,000 Mega Millions tickets. The jackpot had soared to over $640 million, and the entire United States was going crazy, but nothing was as insane as this picture that Arieh tweeted out just hours before the drawing. The Arieh Corporation's investment even caught CNBC sports business reporter Darren Rovell's eyes, as he tweeted the information out his nearly 200,000 followers.
Unsurprisingly, the Arieh Corporation didn't win the giant jackpot, but three random people from Maryland, Kansas, and Illinois did. It just goes to show how much these guys love a sweat, though, because some of the investors were really convinced that they had an edge. The #whynotus hashtag was also very amusing, because these are guys who make their money playing cards, not doing physical grunt work. You guys have already won a lottery of sorts because you've chosen exactly what path you want to be on, and are living happily and comfortably.
In fact, the next time you want to light three stacks of high society on fire, why don't you put three players into the Main Event? It's a much better investment, and if it's three random people who otherwise wouldn't be able to afford it, you could help their poker dreams come true.
5. Grospellier vs. Antonius
Our own Sarah Grant had a little fun with these two at EPT Campione. You decide who's the winner.
Stay up to date on all the latest news by following us on Twitter and liking us on Facebook.