New Poker Film "Gutshot Straight" to Star Steven Seagal, Tia Carrere, and George Eads
Last year, 20th Century Fox released Runner Runner, a poker-themed movie starring Ben Affleck and Justin Timberlake. The film earned $19.3 million at the U.S. box office, well below the estimated $30 million budget. Now, a new poker indie film is slated to be released on September 1.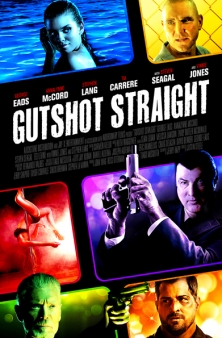 Gutshot Straight by Jay-X Entertainment stars George Eads, who played Nick Stokes on CSI: Crime Scene Investigation, as well as Steven Seagal (Under Siege, Marked for Death), Vinnie Jones (Snatch, X-Men: The Last Stand), and Tia Carrere (Wayne's World, True Lies). The film was written by Jerry Rapp and directed by Justin Steele.
Here's the synopsis according to theactionelite.com:
A professional poker player, Jack Daniel, gets in with the underworld when takes a wager proposed by Duffy, a mysterious gambler. In order to protect his family and himself, Jack must outwit Duffy's cunning brother Lewis and scheming wife May as each attempts to force him into murdering the other. Jack seeks the help of Paulie Trunks, a loan shark looking to collect on Jack's poker debts, who might want to protect his investment.
"This movie is almost a day-in-the-life type thing," Eads said in an interview with maximotv. "It's probably a span over a couple of days, and it's just about a degenerate gambler that is in love with danger. It's kind of his albatross, he was born that way. It gets his adrenaline going."
"It was a great experience," Steele said of directing the film. "It was very tough. We had a big cast and we were in Vegas during the hottest time of the summer, and it was challenging but it was exciting. It was a fun ride, it was a great experience."
Check out the trailer for Gutshot Straight, which is rated R for sexuality/nudity, language and some violence:
Get all the latest PokerNews updates on your social media outlets. Follow us on Twitter and find us on both Facebook and Google+!