Poker Movie Magic: Maverick's Charitable Endeavor, Cameo Appearances & More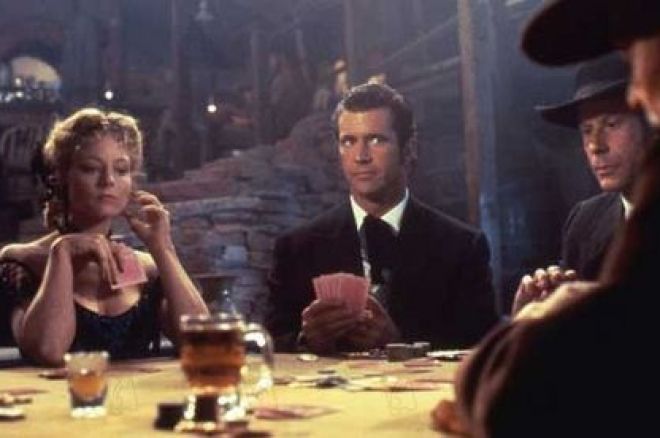 Way back in the 1950s, James Garner popularized the character Maverick in a popular TV show by the same name. Known as a gambler who'd rather con than fight, Maverick became the early personification of a poker player. In 1994, that character was revisited in the Richard Donner motion picture Maverick, which starred Garner alongside Mel Gibson and Jodie Foster.
I've always enjoyed Maverick, and that's why I was compelled to pick up a copy of its soundtrack for $2.50 at a thrift store a few weeks back. Paging through the CD's pamphlet, I actually learned a couple of interesting facts that inspired me to write this piece for PokerNews' The Muck. First, did you know that the film was filled to the brim with cameo appearances? Likewise, were you aware that dozens of movie stars and country musicians, aptly called The Maverick Choir, joined forces to record an "Amazing Grace" track that was used to raise money for charity? If you're as interested as I was, then keep on reading.
Maverick's Cameos Galore & Other Facts of Interest
The Maverick Soundtrack features 12 tracks from some country greats, and it only makes sense that many of them would be offered the chance to appear onscreen. For instance, Carlene Carter, who sang "Something Already Gone" in the film, appeared as a waitress on the riverboat, and Hal Ketchum, who sang "Solitary Travelers", was a bank robber. Here are some other country music cameos to keep a lookout for the next time you watch the film:
Vince Gill, who sings "Ophelia", was a spectator at the poker game.
Clint Black, who sang "A Good Run of Bad Luck" and also appeared on Season 2 of Celebrity Apprentice alongside Annie Duke, played the sweet-faced gambler who gets tossed off the boat for cheating.
Waylon Jennings and Kathy Mattea were the couple caught with guns on the riverboat.
Reba McEntire was an extra in the opening poker scene.
Restless Heart, who sang "Maverick", is the band playing on the riverboat.
Alice Cooper had a cameo as the town drunk, but unfortunately his scene was cut.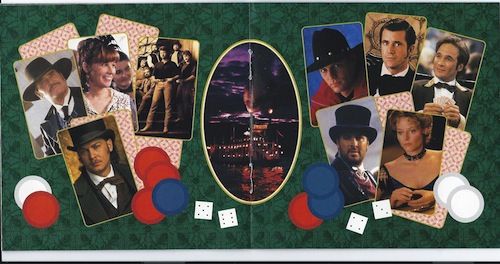 Musicians were not the only ones to have cameo appearances in Maverick. A number of classic television western stars appeared as players in the tournament including Denver Pyle from The Life and Legend of Wyatt Earp, Henry Darrow from The High Chaparral, William Smith from Laredo and Robert Fuller from Wagon Train.
In addition, some "friends" from Gibson's past had bit parts in Maverick. One was his Lethal Weapon (also directed by Richard Donner) costar Danny Glover, who played a bank robber. There was also another appearance by a Lethal Weapon alum. Here's how IMDb describes it:
"Steve Kahan (dealer during the poker tournament) also plays Mel Gibson's (Martin Riggs') captain in the "Lethal Weapon" franchise. In that series, Gibson is a constant irritation for Kahan throughout. As an inside joke, near the end of the tournament you see Kahan give Gibson a terse handshake (barely acknowledging his presence) before quickly exiting the table. This happens right after Gibson's character knocks out the last player before reaching the final table. In actuality, Kahan gets stuck in his chair, and as he stands up his chair comes with him. His handshake with Gibson is cut short because he wants to remove the chair. Notice Gibson's expression as he chokes back a laugh just before the scene changes.
Here are some other interesting facts from the 1994 film:
The $25,000 buy-in for the film's tournament, which took place in 19th century America, would equate to more than $600,000 today.
Meg Ryan was originally cast as Annabelle instead of Jodie Foster.
The role of Zane Cooper, played by James Garner, was originally offered to Paul Newman. He turned it down.
The character The Commodore, played by James Coburn, repeatedly slow rolls his opponents.
On the final hand of the movie, Maverick is drawing to the and dramatically pulls the to make a royal flush. What often gets overlooked is that he could have also won with the .
The Maverick Choir Raises Money for the Pediatric AIDS Foundation
In this day and age, using poker as a vehicle to raise money for charities is common (check out our piece on Phil Hellmuth and the upcoming Derby Poker Championship for evidence of that), but it's hard to dig up such charitable endeavors from twenty years ago. While it wasn't poker per se, the Maverick Choir, which consisted of many of the aforementioned country music artists, got together to record an ensemble rendition of "Amazing Grace".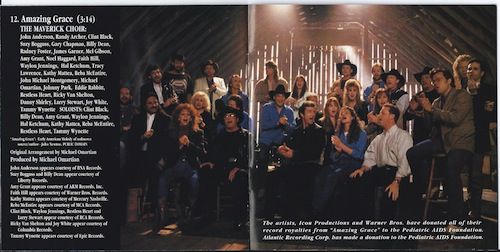 The song was recorded at Amy Grant's farm, and all 27 of the artists involved (many on different record labels), as well as Icon Productions and Warner Bros., donated all of their record royalties from "Amazing Grace" to the Pediatric AIDS Foundation.
Here's a look at the "Amazing Grace" video by the Maverick Choir:
*Lead photo courtesy of swotti.starmedia.com.
Get all the latest PokerNews updates on your social media outlets. Follow us on Twitter and find us both Facebook and Google+!