PokerNews Jet Set: Viña del Mar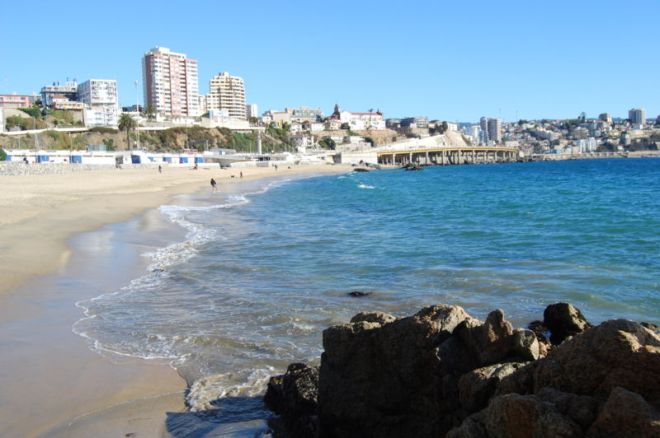 The fourth season of the PokerStars.net Latin American Poker Tour finished up last month during Carnival in Sao Paulo, Brazil, and now the tour is already set for a return! Next week, an influx of poker players will arrive in Chile's fashionable beach-resort town, Viña del Mar, for the first stop on LAPT Season 5.
Viña del Mar, which is Spanish for "vineyard by the sea," is referred to by the locals as simply "Viña." It's located approximately 90 minutes west of Santiago and is one of the biggest resort beach towns on the South American Pacific coast, making it a popular stop for American and Canadian cruisers.
Some call Viña del Mar the Chilean version of California's Laguna Beach thanks to its popularity amongst surfers, or Florida's Miami thanks to the beachside nightlife. It's also known as the "Garden City" with its spring-like climate all year round, along with 13 sandy beaches offering crystal clear Pacific Ocean waters.

Language: Spanish
Weather: average high of 71°F (22°C)
Currency: Peso (CLP). USD $1 = CLP 493 (approx)
Voltage: 220 volts
Getting There and Around
All international flights arrive at Santiago Airport. Viña del Mar is a 90-minute drive from there, costing approximately $200 USD each way for a taxi. If you aren't arriving with people to share the taxi with, a cheaper option is to catch the TurBus from Santiago Central Station for approximately 3,000 pesos (less than $10 USD). The cheapest option from Viña del Mar from the airport appears to be taking the CentroPuerto bus for 1,400 pesos to Santiago Central Station and then take the aforementioned route to Viña del Mar.
Once you're in Viña del Mar, many places are within walking distance of the casino. There are also small cars available, known as "Colectivo," that you can take throughout the city for around 500 pesos (just $1 USD) per ride.
The LAPT
The PokerStars.net LAPT Chile National Poker Championship will be held from March 21 through 25 at the Enjoy Casino & Resort, which is ranked the No. 1 hotel in all of Viña del Mar on Trip Advisor.
Enjoy Casino & Resort 

Av. San Martín 199,
Viña del Mar
Región de Valparaíso

Tel: + 56 (32) 284 6100

If you're lucky enough to have secured a room at the Enjoy Hotel, thanks to qualifying on PokerStars, then you will do exactly that — enjoy! The décor has a 1920s feel with spacious and well-appointed rooms that all offer fantastic views from your private balcony. If you did not qualify on PokerStars and are seeking accommodation then check out LAPT Travel for nearby hotels with excellent group prices.
---ReadMore---
Things to Do
Playing poker and chilling out on the beach are the obvious tasks to check off your to-do list when in Viña del Mar, but several attractions worth visiting if you're left with a little extra time.
Casablanca Wineries
Chile's harvest season is in March, which is the best time to visit the Casablanca Valley. If you love a good Sauvignon Blanc or Chardonnay, the 45-minute trip to this world-renowned wine region is well worth the time.
Nightlife
The casino is said to be the center of Viña del Mar's social life. As you would expect from a resort town, Viña offers plenty of nightlife options, no matter what day of the week it is. If you want to venture outside of the casino, then according to a NY Times article, there's a rock bar called Bar Spartako on Avenida Valparaíso 90, which is a great place to enjoy a few beers. Just a few blocks away from there is Café Journal on Variante Agua Santa, a quiet café by day, and a '70s, '80s and '90s disco by night.
Reñaca
This is Chile's most famous beach, thanks to its luxury shopping, dining, entertainment, and nightlife. This is known as the place "to be seen." Reñaca is located just five kilometers from Viña del Mar, and after doing a quick search on YouTube, to me it almost looks like the Cancun of Chile. The video below may not show off the views of the town, but it certainly shows some other "views of Chile" that you may appreciate.
The PokerNews Live Reporting team will be on hand in Chile to bring all of the LAPT Grand Final action. Follow @PokerNews_Live on Twitter so we can keep you posted!