Vanessa Rousso: Balancing Poker with Music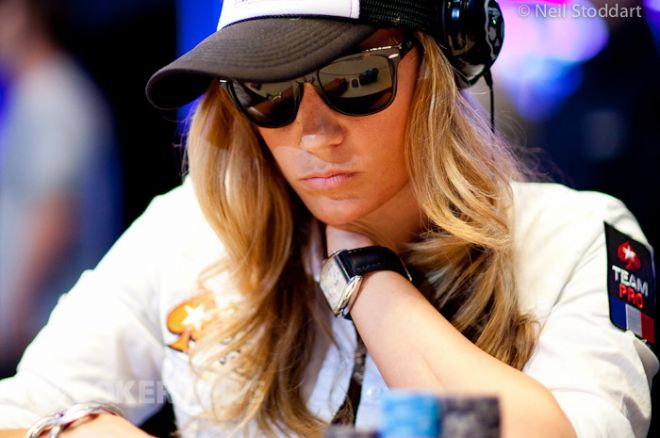 In January, Team PokerStars Pro Vanessa Rousso posted a blog on PokerStars talking about her venture into the world of music as DJ Lady Maverick.
Rousso had been studying sound design, music theory and composition, digital production and lyrics and songwriting over the last five years. Just last year, she received a master certificate in Electronic Music Production from BerkleeMusic.com.
"Balancing poker and school was definitely challenging," Rousso told PokerNews on Tuesday. "In the beginning I was only taking one class at a time but I loved it so much that I started taking four and five classes each semester. It took up all my free time so for a while I didn't have much of a social life. But I loved the music so much that I didn't mind. Doing schoolwork ended up being social time and I was OK with that."
Rousso went on to explain how having a full time schedule with school actually helped keep her balanced with poker. "With poker you need to have some kind of outlet, so school and music became the creative outlet I needed," said Rousso. "When I did play poker, I was never stressed or felt bored because I had music to keep be balanced."
In her blog she explained how she paired up with Lisa Pittman, resident DJ at Marquee nightclub in Las Vegas. The female duo is conveniently called Deuces.
"Lisa Pittman is amazing. She's one of the best female DJ's in the country and been doing this for over ten years so collaborating with her has been awesome. There's only so much you can learn in school and so she's been there to teach me a lot."
Rousso told PokerNews that the pair initially had a few gigs set up for the first half of 2013, but plans fell through after Rousso steered into a business venture in Montreal. "I took a little break from DJing so I can focus my attention on a potential business opportunity. I actually haven't done anything with music until this week once I got back to Las Vegas for the series."
Electric Daisy Carnival, Las Vegas' largest electronic musical festival is set for Friday, June 21 through Sunday, June 23. As summer's premiere event of Sin City, we asked Rousso if she would be in attendance.
"Absolutely. I love electronic music and EDC is basically a gathering of all my favorite role models in the DJ world. Last year I went with Liv Boeree, Vanessa Selbst, and Scott Seiver so maybe I'll go with a similar crowd but who knows. I don't really plan ahead of time. I'm more of a spontaneous personality but I will definitely be there. I wouldn't miss it for anything."
You can check out Rousso's music on Soundcloud or follow her on Twitter to keep tabs of any upcoming gigs for the summer. Rousso ended by saying,"People should definitely follow me because I will be posting more music and definitely book some gigs for the summer."
Rousso was back on the felt Tuesday for Event No.11, the $2,500 No-Limit Hold'em Six-Handed tournament.
Follow PokerNews on Twitter for up-to-the-minute news.