Joe Reitman and Annie Duke: Poker's Winning Pair
Murphy James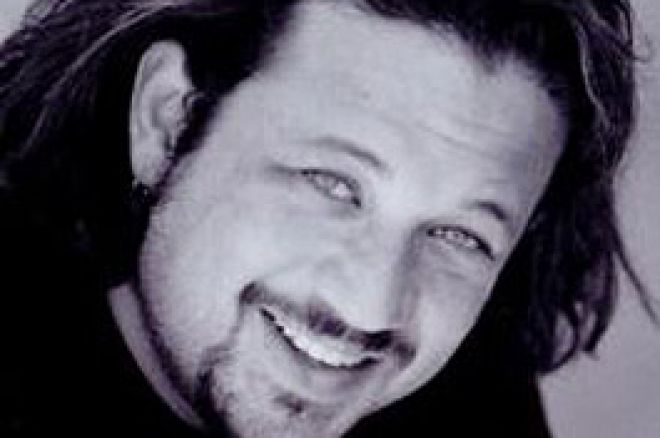 Up until last week the story line was, actor Joe Reitman dates poker pro, Annie Duke. As a result of Joe's UltimateBet.com's $1 Million Guaranteed Tournament win, good for a $266,000 top prize, the new spin is, Annie Duke dates tournament winner, Joe Reitman.
2006 is off to a roaring start for Joe. In addition to his poker victory over 2,773 others, he has a couple movies coming to your local neighborhood theatre: Bandidas (shot in Mexico) and Lady in the Water. Then, along with Annie and Andrew Golder, he serves as co-producer of Annie's new Game Show Network (GSN) program, "Annie Duke Takes on the World." The first episode airs May 1. And, his tournament win includes a seat in the 2006 championship event of the World Series of Poker.
Joe is a native of Brookline, Massachusetts. He went to London with a high school play and was hooked. He majored in theatre at the Claremont College in the Los Angeles area.
Then the usual route of an aspiring actor: auditions and praying for a break while being a waiter/bartender at The Sidewalk Café in Venice Beach ("known the world over as the best place to people watch in Los Angeles"). He says he practiced New York and southern accents on his customers.
Then Joe began to get TV and movie gigs. A couple of notable film credits: The Perfect Storm and Jay and Silent Bob Strike Back.
Annie and Joe were introduced to each other by a mutual friend about a year ago in a club in Los Angeles. How much poker did he play before he met Annie? Just a couple of celebrity charity events.
What is their take on each other personally? Joe: "She's the world's best Mom and the smartest woman I ever met. She makes me laugh, and she's beautiful to boot." Annie, more succinctly: "He's funny, smart, and sweet."
How do Annie and Joe complement each other professionally? Joe says he got her to think more deeply and more creatively about the media opportunities available to her as a hot poker star. Joe came up with the idea for the GSN show. Annie helps him read lines. And, of course, she worked on Joe's poker skills.
His UltimateBet.com win was one for the books. Consider: he dates (lives with) Annie Duke, one of the pro endorsers of the site. Annie is then calling the action on the final table in a studio in Los Angeles while Joe, playing as "HHumbert," (a character in Annie's favorite book, Lolita) punches the computer keys at their pad in the Hollywood Hills.
Joe has been working on a script called "Leo" (about a lion) for several years. Coincidentally, Annie's son is also Leo. He and Annie are going to take their winnings (the pot was chopped when down to three players) and finance the film, to be shot around Los Angeles.
Dr. Richard Lederer, Annie's Dad, says this about Joe: "Simone and I love Joe in large part because Annie is obviously so deeply in love with him." Richard adds, " Maybe he'll end up at a final table facing Annie one day." Joe says, "I'm ready. I'll take my beating like a man."
Ed note: Play with Annie, Joe, and many others at Ultimate Bet