From the Poker Vaults: Jimmy Chagra, Second Biggest Fish of All Time, Part 2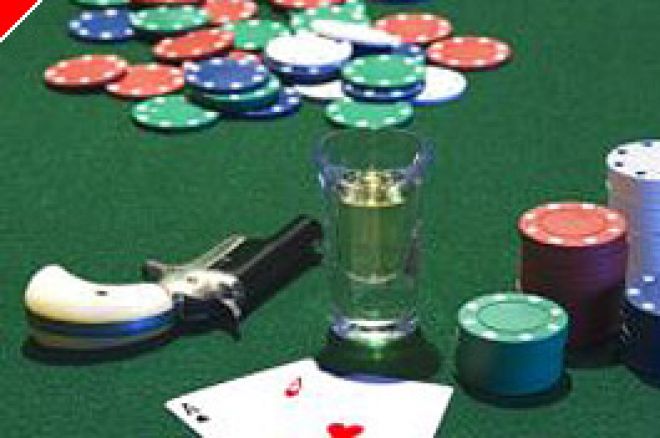 Most players who experience frequent and massive losses at the poker table are not joyful creatures. Jimmy Chagra was a glaring exception to this rule. He lived life to the fullest, especially in the 1970s when Las Vegas was his personal Shangri-La. Whenever he arrived in town, a mob of showgirls would descend upon his suite at Caesars. Celebrities such as Joe Namath and Liza Minelli would stop by to have a drink. When he did go out on the town, he got comped everywhere he went. "Las Vegas was crazy back then," he said, "but, man, was it fun. When you had a trunk full of cash, there was no better place on Earth to be. They treated us like gods."
On Christmas Eve, 1978, Chagra's reverie came to an abrupt end upon hearing the news that his older brother Lee had been shot to death in his law office. Upon reflection, Lee Chagra's murder seemed more inevitable than shocking, for he was every bit as scandalous as the drug dealers he'd made a career out of defending. He owned a limousine outfitted with a bar, a television, and a special nook for his gun. He carried thousands of dollars of cash tucked inside his cowboy boots. And he had an extreme fondness for cocaine. In what surely wasn't a coincidence, his murderers made off with $450,000, the same amount of money that his brother Jimmy owed mob boss Joe Bonnano Sr. for a drug deal that had gone awry.
Before he'd fully recovered from his brother's death, Jimmy Chagra was facing difficulties of his own, getting arrested on charges of trafficking marijuana. Scheduled to appear before Judge John H. Wood, Jr., known as "Maximum John" for the long sentences he frequently gave to drug dealers, Chagra allegedly attempted to give Judge Wood $10 million as a bribe. When Judge Wood refused to accept the money, Chagra headed out to Las Vegas for one last fling before the start of his trial. It was there that he met with Charles Harrelson, a professional hitman as well as the estranged father of actor Woody Harrelson, and paid him $250,000 to kill Judge Wood. On May 29, 1979, the day Chagra's trial was originally set to begin, Harrelson shot and killed the judge just outside Wood's home in San Antonio. Wood was the first federal judge to be assassinated in the twentieth century, and his murder triggered the largest FBI investigation since the assassination of President Kennedy in 1963.
Somehow the authorities failed to put two and two together and never charged Chagra with Wood's murder. He was, however, sentenced to 30 years in prison after his drug case went to trial. While serving his time at the United States Penitentiary in Leavenworth, Kansas, Chagra was caught on tape talking to his brother Joe about the murder of Judge Wood. To defend himself against the new charges brought against him, Jimmy hired Oscar Goodman, a flamboyant Las Vegas attorney who was more than happy to take on what he called "the case of the century."
Now the mayor of Las Vegas, Goodman chuckles when he remembers the first time he met Chagra. During their meeting, Chagra mentioned to Goodman that he was looking for a house to buy for his maid, and he started describing one he'd been eyeing. As it turned out, the home belonged to Goodman. Instead of being offended that Chagra wanted to turn his home into a maid's quarters, Goodman got a good laugh out of it.
"I would have to characterize him as a slice of lore of Las Vegas in the 1970s," Goodman said. "He was a legendary gambler and probably the world's biggest tipper. The guy was bigger than life."
With Goodman's help, Chagra was acquitted of the murder of Judge Wood but was found guilty of obstruction of justice and sentenced to 10 years in prison. As part of a deal with the federal government, Chagra also pleaded guilty to the failed 1978 assassination attempt on Assistant U.S. Attorney James Kerr of San Antonio. For that offense he was sentenced to life in prison. Chagra had hoped that his confession would help his wife Elizabeth get released from prison—she'd gotten arrested for delivering the payout money to Charles Harrelson—but she was never released and died in custody at the age of 41 from ovarian cancer.
On December 9, 2003, Jimmy Chagra was released from prison with little or no fanfare. Enrolled in the Federal Witness Protection Program, he began living under the name James Madrid. He would return to Las Vegas one more time in his life, and it was one of the few occasions he left town a winner. On November 22, 2005, he married his third wife Lynda Ray in a quiet ceremony in Las Vegas.
Three years later, Chagra died from cancer in a hospice in Mesa, Arizona. He was mourned not just by those who knew him well but also by those who he'd butted heads with him at the poker table, for he was that rare breed of fish, a player with an unlimited bankroll and no fear of throwing it all away. Having lost millions of dollars at the poker table during his lifetime, he well deserves the reputation that has outlasted his death: he was one of the greatest losers the game has ever known.