The PokerNews Top 10: Ten Tips for Surviving the World Series of Poker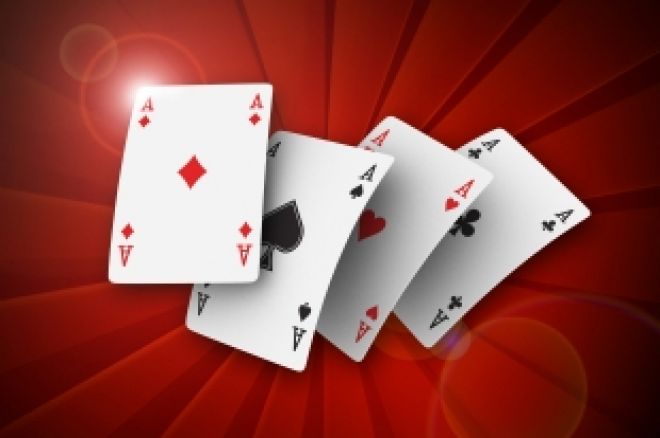 "Good morning, WSOP nation! 14 days to go!" wrote WSOP Commissioner Jeffrey Pollack on his Twitter feed Tuesday morning. With less than two weeks to go before digging in for the nearly two-month grind of the World Series of Poker, I thought I'd share some of my own survival tips for the WSOP, culled over the last four summers. Rest up, get some sun, take your vitamins, pad your bankrolls, win your seats, and check out these top ten tips for surviving the World Series of Poker. You can thank me later; I'll be there all summer.
10. Find Time to Get Some Exercise
Let's just get this one out of the way first because if you're like many of the poker players I know, most of you reading this are going ignore this part. Hell, I ignore it myself a lot of the time but I always feel better when I don't. The days are long, the grind is exhausting and its 110 degrees outside but still, try and find time to get in a little exercise. There is simply no better way to raise your energy level. All the All-in Energy Drink in the world can't do for your body what a few hours on the treadmill can and luckily, Las Vegas is bursting with brand-new, air-conditioned gyms. Staying in a hotel? There's probably a gym you can use. Living in a high-rise? Betcha got a gym downstairs. Subletting in a subdivision? The last two I spent the summer in had at least three fitness rooms apiece. If you don't have access to a gym, there's one right at the Rio where you'll often find the likes of Chad Brown sweating it out on his dinner break. Get moving, even if just for a half-hour a day and you'll thank yourself at the end of the summer.
9. Don't Leave Anything in Your Car You Wouldn't Leave in an Oven
I've seen it all — melted iPods, blue ink from a ballpoint pen exploded over tan upholstery, styrofoam cups melted into center consoles. The temperature inside a locked car in the Rio Convention Center parking lot on a June afternoon can easily reach 140-150 degrees, so be conscious of what you decide to leave inside of it. Never leave things like MP3 players, high-end headphones, batteries, medications, perishable food, chocolate, or energy bars inside your car. Also consider investing in one of those tacky shiny things that cover the front windshield. It still won't be cool in there when you open the door at the end of the day, but it's a marked improvement.
8. When It Comes to Big-field Events, Pre-register Whenever Possible
Why chance having to wait in a huge line or being shut out of an event you want to play? If you already have the dough for your buy-in on hand, pre-register for the tournament online. Especially consider doing this if you plan on playing the $1,000 No-Limit Hold'em "Stimulus Special," which will feature two Day Ones on May 30 and 31. According to their 2009 WSOP Staff Resource Guide, Harrah's is expecting over 5,300 players for this event—do you really want to stand around for hours with a bunch of donkeys waiting to plunk down a dime? Pre-registration is already open on the WSOP website and live registration opens at the Rio on May 27th.
7. Get In on the Satellite Action
"The satellite room — now that's the lost city of gold," one noted poker author confided to me last year.
His statement couldn't be truer. Single-table satellite action at the WSOP is both plentiful and profitable and an excellent way to get a little action in when you're short on time or energy. The lowest buy-in for single-table satellites is officially $65 (800 chips to start, 15-minute levels, pays one $500 tournament chip + $80 cash to the winner), but the cheapest ones that regularly run are the $125 and $175 varieties (1,000 chips to start, 15-minute levels, pays either two or three $500 tournament chips + $120 cash). If you're looking to play a particular satellite, your best bet at finding it without a lengthy wait is in the 24 hours before the tournament for which it awards seats. For example, if you want to play a $125 satellite, you're going to have more trouble getting a table going at that level if it's the night before a large-field $2,000 No-Limit Hold'em event and most of the satellites running in the room are the $225 buy-in ones that pay out an entry to that particular event. Though they officially pay out only one spot, the vast majority of these ten-handed satellites are chopped two or even three ways. This year the satellite section will be expanded even further, moving to the Brasilia Room and featuring 48 tables, up from the 23 that ran in 2008.
6. Make a Budget and Stick to It
Las Vegas has the innate ability to suck money out of your wallet. Whether it's a blackjack table on the way to dinner, the video poker machine at the bar, or the bank of slot machines next to the restrooms, there is a way to lose money around every corner. Sound bankroll management is crucial when it comes to spending seven straight weeks in Las Vegas. Be mindful of these temptations and plan your personal expenses the same way you'd budget out your tournament buy-ins. If you want to gamble, go ahead and gamble — just keep it separate from your poker bankroll. Nothing's worse than grinding out a nice profit in an event only to lose it an hour later in the craps pit… just ask T.J. Cloutier.
5. Take Extra Precautions When Carrying Large Sums of Money
Security both inside the Rio and outside in the parking lots has markedly improved over the last few years at the WSOP but this still bears repeating—be extremely careful when carrying around large amounts of cash or casino chips. Thieves know the WSOP is in town and even though the eye in the sky is watching, be extra-vigilant about your surroundings. Travel in groups whenever possible and ladies, especially those of you who enjoy wearing nice jewelry, never walk to your car alone after dark.
4. Spend (a Little) Time Outdoors
Let's face it. Spending the majority of every day inside a casino can suck the life out of you. However, being outdoors in the oppressive desert heat isn't exactly a treat either. The best solution I've found is to get outside during the early morning or late night hours. Take some time to unwind and sit in your backyard or on your balcony after coming home from a long night of poker. If you're an early riser, spend some of those precious A.M. hours by the hotel pool or on the veranda. If golf is your game, like Daniel Negreanu, Erick Lindgren, or Allen Cunningham, get out on the course in the morning and squeeze in a round. You'll thank yourself at 3 p.m. when you're sucking down yet another lungful of air-conditioned casino oxygen. If the mercury dips below 100 or you find yourself with a rare day off, consider escaping into a natural setting like Red Rock Canyon, located only 20 miles off the Strip. The serenity and extraordinary beauty of your surroundings will almost make you forget you're in Las Vegas.
3. When it Comes to Food, Plan Ahead
A little planning can go a long way when it comes to getting meals in during the WSOP. The vast majority of the time you'll be eating on the run and if you don't consider your options ahead of time you're far more likely to grab that greasy burger or slice of pizza that will leave you crashing midway through the afternoon. Every player, staff member, dealer, and media rep will find themselves eating in the "Poker Kitchen" behind the Amazon Room from time to time and the good news is that there are some pretty healthy meals available there including salads, sushi, fruit, and grilled chicken. However, for your own sanity, get out of the Amazon Room on dinner break whenever you can. If it's a 60-minute dinner break you'll be confined to the area around the Rio, but if it's a 90-minute break you have plenty of time for restaurant dining "off-campus." Another great option is to bring in your own food. Why do you think Daniel Negreanu and Cyndy Violette look so happy all the time? It could have something to do with the healthy vegan cuisine they tote with them to the tables every day.
2. Get Enough Sleep
Try to get at least 6-8 hours of sleep each night. It won't happen every night if you're playing a full schedule, but do what you can. It can be more difficult to fall asleep at night during the WSOP for a variety of reasons — you're on an adrenaline rush from a great session, you've just made it to Day 2 and hands are running nonstop through your head, or you're stuck so much money you don't know how you'll ever clear the make-up to your backer. If you do have trouble sleeping, cut back on your caffeine intake and try a little of tip #10 in the mornings — you'll surely sleep more soundly at night.
1. Pace Yourself
The WSOP is a long grind. It's a marathon, not a sprint. Spend those first few laps warming up and getting your bearings. Familiarize yourself with your surroundings. Try to get into a routine. Don't run out and party the first three nights in a row—you're setting yourself up for disaster. Once you understand your limitations, you can push them but if you go full throttle right out of the gate, you may never make it to the Main Event, or will be much worse for wear if you do. Players, if you don't feel like grinding yet another $1,500 donkament for the fifteenth day in a row, don't do it. Play some golf, go for a run or drive up to Red Rock Canyon instead. Creating more balance in your lifestyle will only pay positive dividends at the tables, especially at the WSOP.
Check out the [URL="https://www.pokernews.com/pacific-poker/">Pacific Poker First Deposit Bonuses[/URL] on PokerNews.com - The leading source of poker news and information.