Unreal WSOP Values Have Bidders Flocking to ChipMeUp!
Bidding action is heating up at ChipMeUp.Pokernews.com as valuable WSOP stakes are being sold at amazingly low prices. One smart bidder paid only $9.33 today for 3% of Phil Ivey* at WSOP event #8. When Ivey surged to victory, ChipMeUp bidder 1000cuts profited nearly $2000!
Players from across the globe head to ChipMeUp daily to buy and sell percentages of their play in live and online poker tournaments around the world. Bidders can also participate in frequent no-reserve bargain auctions for online poker cash, below cost tournament entries, as well as under priced poker themed travel packages and more! Subscription is free, you can fund your account directly from your online poker account and the bidding format creates exciting action packed bid wars.
The site has also begun offering dozens of smaller auctions such as the FullTiltPoker.net $25 Shooter listings that are currently selling for less than $1! ChipMeUp's WSOP poker staking offers clear value to bidders and the site's commitment to customer service and integrity (admins answer questions on the site's forum, blacklist rule breakers and resolve disputes quickly) has resulted in a steady growth in free ChipMeUp memberships.
Check out ChipMeUp.Pokernews.Com for more amazing auctions.
Update: 1% of Phil Ivey's WSOP Main Event winnings (up to a $40,000 value) just sold for (no joke) $1.92! Check out ChipMeUp.PokerNews.com for full details. Ivey has already made one ChipMeUp member a lot of money, who will be next?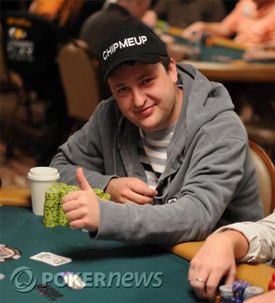 *Phil Ivey does not endorse, sponsor and is not associated or affiliated with PokerNews or ChipMeUp or it's products, services, promotions or auctions. Phil Ivey is not responsible for any prizes relating to this auction.