2009 WSOP, $1,000 NLHE Event #4: Steve Sung in Perfect Harmony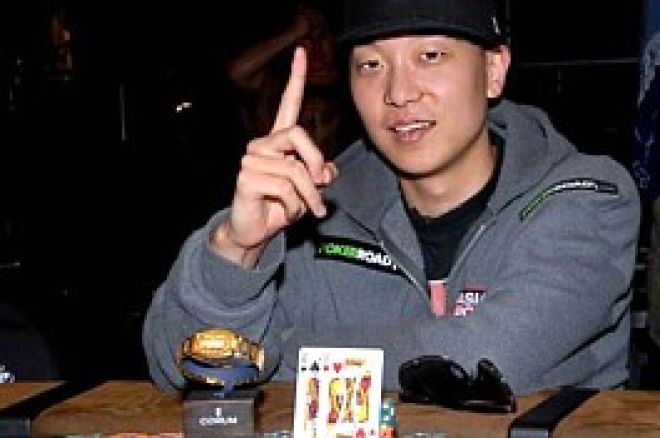 The final table of Event #4, $1,000 No-Limit Hold'em, an event which initially drew a non-Main Event record field of 6,012 entrants, had something for everyone. Two bracelet winners, some players with varying levels of tournament success, and an amateur playing his first live tournament. The final nine players of the "Stimulus Special" were all greatly stimulated, with each player guaranteed a six-figure payday. When the final table concluded, it was Steve Sung – a veteran of several WSOP and WPT final tables without a victory – who would get the largest payday, along with his first WSOP bracelet.
Danny Fuhs, who started the final table on the short stack, was looking to make an early move when he raised to 150,000 holding
, with Phong Huynh making the call. The flop came down
with Fuhs betting 180,000 and Huynh calling again. Fuhs again bet out to 440,000 when the
came on the turn. Huynh, who had been holding
, moved all in, leaving Fuhs drawing to four outs. The
wasn't one of them, and Fuhs would finish in ninth, taking home $114,168.
Unfortunately for Huynh, he would be the next to fall by the wayside in another cooler hand. Huynh limped for 60,000, while James Matz III raised to 200,000 with Larry Sidebotham and Huynh both calling. All three players checked when the flop came down
. The turn card was the
, with Sidebotham leading out for 370,000. Huynh made the call before Matz went all in for 1,2650,000. Sidebotham thought about it before folding, and Huynh would also have a think before making the call. When the cards were flipped over, Huynh was sick to see his flopped set of
was drawing to one out, as Matz had flopped the higher set with
. The
came on the river and when the stacks were counted down, Matz had Huynh covered, eliminating Huynh in eighth place for $117,414.
Dan Heimiller and Pete Vilandos, the two bracelet winners at the final table, would then get tangled up in a large pot of their own. After Heimiller limped, Vilandos made a raise to 205,000, which Heimiller called. Both players checked the
flop, and when the
hit the turn Vilandos made a bet of just 200,000. Heimiller looked to take advantage, raising to 500,000, which Vilandos called. What appeared to be a harmless
fell on the river. Vilandos checked, and Heimiller made what appeared to be a value bet of 600,000. Vilandos just called, turning over the mighty
for the rivered straight, while Heimiller turned over
for a flopped set, wondering what Vilandos had been thinking.
Meanwhile, Steve Sung who started the day second in chips, was rapidly losing those chips as Vilandos, Heimiller, and Nathan Mullen were pushing Sung off hand after hand with some aggressive raises and reraises. Sung was left with less than 1,000,000 in chips and was in danger of being the next player eliminated. When the blinds went up to 40,000/80,000 with a 10,000 ante, Sung began his comeback, eliminating Jeff Oakes in seventh place when Oakes pushed all in preflop with pocket fives and Sung called with
. An ace on the flop left Oakes down to two outs, which wouldn't come and he left the table to receive his $126,613 winnings, never able to get anything going. Sung kept up the forward progress over the next few hands, taking chips from the stacks of Pete Vilandos and James Matz with preflop raises, then relieving Dan Heimiller of some chips to move over the two-million chip mark.
Before the end of the level, Sung and Heimiller would be involved in yet another large pot. Heimiller raised to 210,000, with Sung calling from the small blind. Both players saw the
flop, with Sung leading out for 300,000 as Heimiller made the call. The
on the turn set off fireworks for both players, as Sung led out for 650,000, and Heimiller raised to 1,500,000. Sung, who had taken his time on several of his decisions throughout the final table, thought for a few minutes before deciding to go all in. Heimiller didn't take as long, eventually deciding to fold, leaving Sung to take the chip lead with over 6,300,000 in chips.
Heimiller was down to under 1,500,000 when the players returned from break with blinds at 50,000/100,000 with a 10,000 ante. He looked to get some chips back from Sung, eventually moving all in with the dominant hand of
against Sung's
. Sung would hit a queen on the turn however, and no help on the river for Heimiller led him to be the sixth-place finisher, taking home $145,009. Sung would continue his stranglehold on this final table, eventually possessing over 10,000,000 in chips five-handed.
Nathan Mullen and Larry Sidebotham weren't minding that much as they were moving up the pay scale as Sung accumulated chips. Mullen was in desperate shape when he shoved all in with his last 1,580,000, holding
against Sung's
. This time Sung was out-flopped when the flop came
, leaving Sung looking for one of the three remaining tens to make Broadway. The
had the Mullen supporters on the rail elated, but the
caused much anguish. The $175,851 Mullen collected should help salve those wounds however.
Meanwhile, Larry Sidebotham, a construction worker from Grand Rapids, Michigan, was just happy to be there, as he had nearly doubled what he would have received if he had been the first player eliminated. He was able to double up once with just ten-high against James Matz, but Matz would get those chips back later when Sidebotham put everything into the middle with
against Matz's
. The board brought no help to Sidebotham, but he was happy enough with the $227,254 for fourth place.
After the dinner break, Steve Sung was still chip leader, but both Peter Vilandos and James Matz had enough chips to take the lead for themselves with a timely double-up. Matz would make the effort first, limping in with
before Sung raised an additional 400,000 with
, as Matz made the call. The
flop gave both players something: bottom pair for Matz, and an open-ended straight draw and two overcards for Sung. Matz led out for 475,000, Sung raised to 1,100,000, and when Matz moved all in, Sung called. The
turn made no difference, but Sung would make a Broadway straight on the river again when the
sealed Matz's fate, as he would earn $313,826 for his third-place finish.
Down to heads-up play between Steve Sung and Pete Vilandos, Sung was holding over two-thirds of the chips in play when the action resumed. Vilandos gave it a good effort, making big overbets to reduce the deficit to just a two-million chip difference between the two. With the blinds now at 100,000/200,000 with a 30,000 ante, Sung made a raise to 500,000. Vilandos raised an additional 1,700,000, and when Sung moved all in, Vilandos called. Both players turned over a pocket pair, but Sung's
dominated Vilandos'
. Vilandos was not able to improve, and Sung is the latest player to win a coveted WSOP gold bracelet, which is also his first major tournament triumph. Pete Vilandos collected $473,283 for his second-place finish, while Steve Sung took down $771,106.
Join PokerNews throughout the World Series of Poker to see who else takes home a WSOP bracelet, with over 50 bracelets still up for grabs!