2009 WSOP: Bender in Front as Ladies #17 Final Table Set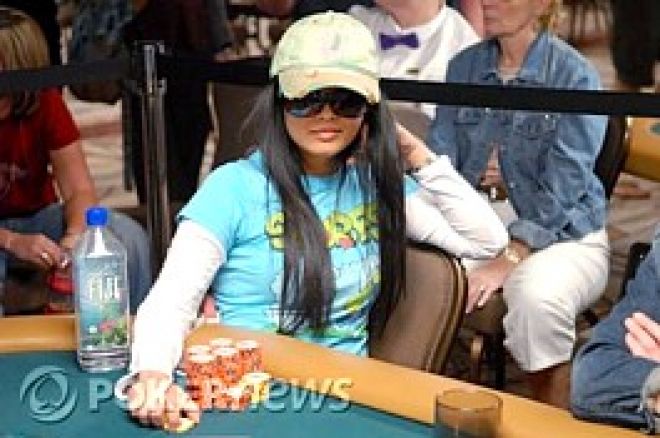 One hundred forty-six players returned for Day 2 of Event #17, the $1,000 Ladies World Championship. Tamara Tibbles started the day as chip leader with 129,700 in chips. Defending champion Svetlana Gromenkova was her nearest opponent on a stack of 62,200. By the end of Day 2, both Tibbles and Gromenkova fell by the wayside and Lori Bender stepped up as chip leader heading into the final table, followed by Lisa Hamilton (pictured) and Angel Pedroza.
Action was fast and furious early on. Short stacks were trying to either pick up chips to survive the bubble or go home. One of the short stacks that doubled up early belonged to Karina Jett. She moved all in from the button and received a call from one opponent. Jett held
and her opponent held
. A queen hit the flop and an ace fell on the river to double Jett up to 24,000. Maria Ho also chipped up early. Ho's opponent moved in against her with
, but Ho woke up with
. Ho flopped aces full to eliminate her opponent and move up to 34,000 in chips.
117 players made the money in this event. At one point during hand-for-hand play Katja Svendsen was down to 100 in chips. She vaulted up to 2,500 in chips after surviving a couple of all-in hands. Rather than being content to squeak into the money, Svendsen continued to fight for chips as she moved all in with pocket eights. She ran into the pocket tens of Adeline Bui and Svendsen was unable to catch an eight. Svendsen became the event's "bubble girl" and the money announcement was met with cheers from all.
Erica Schoenberg was eliminated shortly after the money bubble burst. She moved in with
and was called by Lisa Parsons, who was holding
. The
flop gave Parsons two pair and Schoenberg a gutshot straight draw. The river fell the
, and Schoenberg was drawing dead. Maria Stern exited soon afterward. She shoved all in from the small blind with
and was called by India Storrar in the big blind with
. The board missed both players, and Storrar took the pot with king high.
Mari Lou Morelli chipped up nicely after eliminating two opponents in one hand. Amanda Cook shoved from the cutoff and Morelli called from the button. Leah Albritton then also moved all in. Morelli tanked for a bit but ultimately made the call. Morelli held
but found herself slightly behind the pocket queens of Albritton. Cook appeared to be on a steal attempt as she turned over
. The flop and turn missed all three players, but the river fell the
to give Morelli a pair of aces and send her two opponents to the rail. Morelli moved up to 97,000 with that pot.
Svetlana Gromenkova was looking defend her title in this event, but had to settle for 57th place. She was on the short stack for a couple of levels and ultimately could not find a way to build up chips. Debbie Burkhead was another player who was unable to build her short stack. She moved her last 20,000 chips in with
and was called by another player holding
. The board failed to produce a jack, and Burkhead was eliminated.
Maria "Maridu" Mayrinck was on a roller-coaster ride all day. Earlier in the day, she was one of the small stacks and doubled up to 48,000. Afterward, she lost a big pot to drop back down to 12,000. Two double-ups later, she was up to 52,000. She then ran A-Q into pocket queens and was crippled yet again. Her final hand was indicative of her day. Mayrinck was all in with pocket sixes against the
of Angel Pedroza. The flop came down
to give Mayrinck a set of sixes. The turn fell the
and Pedroza now held a flush draw. The river fell the
to complete Pedroza's flush and end Mayrinck's volatile day.
Karina Jett had been relatively short-stacked all day and was moving into desperation mode. She pushed all in under the gun with
and was called by Melissa Masek who held pocket tens. Jett could not catch a king and headed home. Tamara Tibbles started the day as chip leader, but dwindled through the day. Nearing the final table, she held only 39,000 in chips and put them all at risk with
. J.J. Liu looked her up with
. Liu spiked a six on the flop and Tibbles was never able to catch up. The Day 1 chip leader fell short of the final table, finishing in 15th place.
J.J. Liu finished in 13th place. She moved in holding pocket eights and was called by Lisa Hamilton and Donna Houle. Houle held
and Hamilton held pocket nines. The flop came
to give Houle the nut-flush draw and a gutshot wheel draw. The turn fell the
and Houle's wheel was enough to send Liu to the rail. Lori Bender took over the chip lead after knocking out India Storrar. Bender sat with 643,000 in chips and took that lead to the final table.
Donna Houle became the final table bubble girl. She moved all in with A-4 and was called by Kim Rios, who held pocket kings. Rios flopped a wheel draw, but her draw failed to come in. Rios' kings were enough to send Houle packing and send the remaining ladies to the final table.
Seat 1: Mari Lou Morelli (320,000)
Seat 2: Lisa Parsons (427,000)
Seat 3: Dawn Thomas (212,000)
Seat 4: Lisa Hamilton (527,000)
Seat 5: Lisa Santy (196,000)
Seat 6: Angel Pedroza (522,000)
Seat 7: Lori Bender (643,000)
Seat 8: Kimberly Cunningham (140,000)
Seat 9: Kim Rios (197,000)
Lori Bender heads into the final table as the chip leader with 643,000, but Lisa Hamilton and Angel Pedroza are not far behind, on stacks of 527,000 and 522,000 respectively. Even the short stacks have enough chips to be competitive, so this should prove to be an exciting final table. Stay tuned to PokerNews.com as we bring you the conclusion of the 2009 WSOP Ladies World Championship.