2009 WSOP: $2,000 NLHE Event #11 – Anthony Harb Wins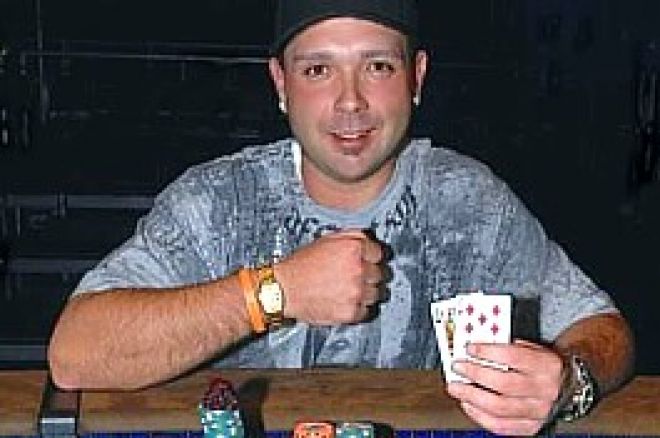 Day 3 of Event #11, $2,000 No-Limit Hold'em, kicked off at noon on Saturday. 25 players returned to take their shots at both the final table and the gold bracelet. Mike Carlson started the day as chip leader with 858,000; Scott Hall and Peter Rho were right on his heels and looking to make a move for the title. Ultimately, it was Anthony Harb, a 28-year-old professional poker player from Michigan, who would rise from the middle of the pack to become the top dog and take home his first-ever WSOP gold bracelet.
Robert Goodson and Jose Rosenkrantz were the first two eliminated from play. Goodson could not outdraw the A-K of Jim Geary, and Jose Rosenkrantz raced his
against the
of Anthony Harb and failed to catch. After Warren Woodall left the tournament in 23rd place, Michael Simpson ran his pocket nines into the pocket kings of Jim Geary. Simpson did not catch his two outer and fell short on his bracelet run.
Michael Dyer would double up through chip leader Mike Carlson. Dyer moved all in with pocket jacks and Carlson made the call with
. The board came nine-high, and Dyer moved up to 700,000 in chips. Pilar Tucker would be reminded why many people hate playing pocket jacks when she ran them into the pocket kings of David Mandt. The board blanked for both players and Tucker was eliminated. Jovan Sudar was one of the few early bustees who got his money in with the best of it. He moved in with
and was called by the
of Adam Adler. Adler spiked a king on the
flop and Sudar headed home in 19th place.
Olav von Sachsen would suffer a brutal beat at the hands of Anthony Harb to end his tournament run. Von Sachsen moved all in with black jacks and was called by Harb with
. Von Sachsen made a set on the
flop and seemed almost a lock to win the pot. However, the turn
and river
gave Harb a runner-runner Broadway straight and sent von Sachsen to the rail. Jason Koon was knocked out next, followed by Chris Taylor in a classic cooler. Taylor got involved in a raising war with Peter Rho preflop. Eventually, all of Taylor's chips were in the middle and he flipped over
. The only hand that Taylor had to worry about was then revealed by Rho when he tabled
. Taylor was unable to catch a king and his day was done.
Eric Ladny next moved all in for his tournament life holding
. He was called by Scott Hall with
. The flop came down
to give Ladny a flush draw to go with his overcards. The turn fell the
, giving Ladny the lead and leaving Hall with only one out to win the hand. Amazingly, that card arrived when the
fell on the river to make a set for Hall and send Ladny home in 14th place. Jeff Finucane headed out the door next in 13th, followed by John Hartery in 12th place. Hartery raced
against the
of Adrian Dresel-Velasquiez. Dresel-Velasquez would flop an ace and Hartery would take home a hearty payday of $41,640.
Play quickly reached the final table as David Mandt moved all in preflop and received a call from Anthony Harb. Mandt held
and had Harb's
dominated. But the flop would put Harb in the lead as it came
to give Harb top pair. Harb started to chant "hold" as the
fell on the turn. The river was the
and Mandt quietly exited from the tournament area. The final ten players were combined to one table but one more elimination was needed before they had an "official" final table. The seating chart and chip counts for the final ten players were as follows:
Seat 1: Mike Carlson — 721,000
Seat 2: Jim Geary — 794,000
Seat 3: Scott Hall — 496,000
Seat 4: Brent Sheirbon — 630,000
Seat 5: Adrian Dresel-Velasquez — 826,000
Seat 6: Jonathan McGowan — 509,000
Seat 7: Anthony Harb — 1,537,000
Seat 8: Peter Rho — 1,465,000
Seat 9: Adam Adler — 1,066,000
Seat 10: Michael Dyer — 1,839,000
Mike Carlson began the day as the chip leader but would finish as the final table bubble boy. On the flop of
, Peter Rho checked to Mike Carlson, who moved all in for 742,000. Peter Rho made the call, showing
for a flopped set. Carlson showed
for a flush draw. Nothing changed on the
turn, and the
river gave Rho a full house to send Carlson to the rail in tenth. With Carlson's elimination, the remaining players now had their final table.
Brent Sheirbon was the first player ousted from final-table play. He moved in preflop for 404,000 with
. Harb insta-called the shove with
. Harb would have to sweat a little on the turn as the board read
, giving Sheirbon a flush draw. But there was no heart on the river as it fell
and Sheirbon congratulated his opponents as he headed out in ninth place to receive his $59,315 payday.
Michael Dyer moved all in preflop and Scott Hall gave him protection when he re-shoved all in. When the cards were on their backs, Dyer had
to Hall's
. The two players seemed destined for a chopped pot as the board read
on the turn. Dyer needed a five to win and Hall needed a king to eliminate Dyer. The river fell the
and Dyer became the event's eighth-place finisher.
Peter Rho would move into the chip leader's spot after eliminating Scott Hall in seventh place. Rho raised to 105,000 from the cutoff and Hall countered with a reraise to 360,000 from the big blind. Rho came over the top for 1.5 million and Hall attempted to reraise all in but was actually already covered as he only held 1.43 million. The nearly three-million-chip pot depended on the ageless coinflip of
for Hall against the
of Rho. The flop fell
to give Rho a set of queens and leave Hall needing a miracle to stave off elimination. The turn fell the
, filling up Rho's hand as Hall was drawing dead. After the hand, Rho sat with 3.8 million in chips, nearly two million more than his closest competitor.
Adrian Dresel-Velasquez finished in sixth place after being eliminated by Adam Adler. Dresel-Velasquez moved all in preflop and was called by Adler from the big blind. Adler held pocket tens against the
of Dresel-Velasquez. The board helped neither player, and Dresel-Velasquez headed for his exit to receive his $92,867 payday. Jonathan McGowan and Anthony Harb got involved in a bit of a raising war before McGowan moved in for around 1.4 million. Harb made the call and flipped over
. McGowan held
and needed one of two remaining queens to survive. The board failed to produce a queen and McGowan finished in fifth place. He took home $116,833 for his strong finish.
After knocking out McGowan, Harb took over the chip leadership with around 3.6 million. His run as chip leader would be short-lived however, as he soon doubled up Jim Geary. Geary pushed all in for 570,000 with
and was called by Harb who was holding pocket nines. Harb looked in good shape to eliminate Geary but a king fell on the flop give Geary top pair. The pair of kings held and Geary moved up to 1.1 million in chips. Harb dropped back to around three million.
It took over two hours to knock out the next player. Preflop, Adam Adler was put all in for around two million by Anthony Harb. Adler made the call and found his
dominated by the
of Harb. The board missed both players and Adler was the fourth-place finisher. With Adler's elimination, Harb put himself firmly in the lead with five million. Rho would take back the chip lead awhile later after taking a big pot off Harb. With the board showing
, Harb bet out 400,000. Rho would tank for a bit before finally making the call and showing
for two pair. Harb showed
for top pair only. With that pot, Rho moved back into the chip lead.
Jim Geary fought tooth and nail to avoid elimination throughout this final table. He was short-stacked several times and each time found a way to double up. However, Geary's luck eventually ran out. Geary pushed all in from the button for 1.37 million and received an insta-call from Anthony Harb in the big blind. Geary held
against Harb's
. Geary needed to catch an eight, but the eight never showed as Geary finished in third place after putting up a tremendous fight. Geary took home $230,670 as compensation for the short-stack clinic he put on today.
Going into heads-up play, Anthony Harb had retaken the chip lead with 5.1 million but Peter Rho was right behind him with 4.75 million. Heads-up play came down to sizable pots. First, Rho raised preflop to 275,000 and was called by Harb. The flop fell
and Rho check-called a bet of 250,000 from Harb. The turn fell the
and Rho check-called a bet from Harb in the amount of 400,000. The river was the
and Rho check-called a final bet from Harb for 825,000. Harb flipped over
for trip eights and Rho mucked. In the final hand of the tournament, Rho moved in on the board of
and was snap-called by Harb. Rho showed
for bottom two pair and Harb showed
for the nut straight. Rho needed a nine or an eight to survive. The river fell the
and the heads-up match ended in less than 30 minutes.
Tournament poker is a test in both skill and stamina. This $2,000 No-Limit Hold'em Event was a true test of both. After surviving multiple 12-hour days and challenges from several strong opponents, Anthony Harb became the champion, receiving both the gold bracelet and the top prize money of $569,199.