Love Them Or Hate Them? The Entertainment Media Reacts to Tiffany Michelle & Maria Ho's Amazing Race Debut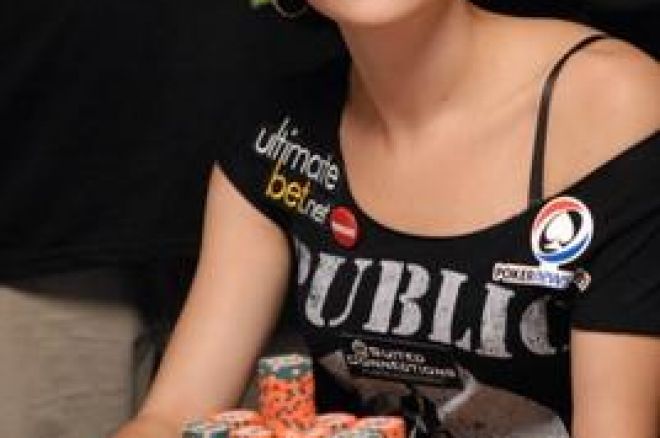 When it came to Tiffany Michelle and Maria Ho's debut as TV contestants on The Amazing Race, reactions across the entertainment blogosphere were polarized, to say the least. Hardly anyone found middle ground when it came to this pair of non-profit workers poker pros, who were caught bluffing on the first hand after lying about their profession. Whether they admired their moxie or were put off by their personalities, top television websites had something to say about this dynamic duo.
From E! Online:
"The first team to put a bitter taste in our mouths, however, are unendearing professional poker players Maria Ho and Tiffany Michelle, who incurred a two-hour penalty after losing two of their group. The shady duo rival Johnny Fairplay's dead-grandma fib by telling teammates they work as counselors for a nonprofit organization helping homeless youth...a great lie, if you can keep it up for more than an hour. They couldn't — when recognized at the airport by a poker fan, they basked in his adulation...within earshot of their amazed competitors. The duo also shared another "savvy" strategy: flirting with cute brothers Sam and Dan McMillen. Both of whom are gay — and playing their cards right by flirting right back with the femmes fatales."
From Entertainment Weekly:
"These women decided to use their bluffing skills by telling everyone that they worked for a homeless organization, so their competitors wouldn't know they were rich (cover broken when a chip groupie recognized them in an airport), and would think they were far nicer than they were (cover broken when they were big snobs). And all their vaunted poker skills weren't on display in Tokyo: During the wasabi game-show challenge, Maria had the opposite of a poker face when she failed to eat her first wasabi roll in time and had to do it again, nearly crying and quitting. And then, once she finished and she and Tiffany were given 20 audience members to shepherd through Tokyo, they lost two. Aren't counting skills kind of key in poker?"
From Zap2it.com:
"I was thrilled to see that while at the airport in Japan our poker players were spotted. Here's the thing about them - they were acting like completely horrible individuals, not the non-profit do-gooders they were pretending to be. Surely their ridiculous ruse wasn't going to last all that long anyway, and now that it's gone, I'm sure all the other teams hate them more than they otherwise would have. That's some smaht thinking ladies!"
From Reality Blurred:
"They checked in and got a two-hour penalty for not completing the challenge, but they weren't eliminated because the first pit stop was also the first non-elimination leg. Everyone's full of tricks this season! Maria said, "we had the experience of being really humbled," which they obviously learned from their extensive experience working with the homeless."
"Tiffany said she and Maria are always "picking up information" and "observing people," Tiffany and Maria used their razor-sharp powers of detection to hit on "insanely lovable" gay brothers Sam and Dan, and Tiffany said, "we're falling a little bit in love with Sam and Dan." The bluff was almost revealed, however, by Sam and Dan's orange, matching passport holders, which caught the poker players' attention because they'd apparently been bedazzled with 'The Gay Store.'"
Still, some Amazing Race fans took an early liking to Michelle and Ho, and expressed support for them in the Television Without Pity forums.
"I had an instant dislike for the poker players (chippies, heh) because of their lies, but by the end of the 2nd hour didn't mind them so much. At least they showed some personality compared to the many indistinguishable dating couples."
"I don't mind the poker players. I don't think their lie is any worse then all the reality show contestants who come on the show saying they are x, y and z when they are actually actors hoping to score some publicity and get better work."
"Despite the deception at the beginning (which was just dumb), I'm feeling love for Team Poker. As someone upthread noted, they didn't freak out and blame the other when things went badly, and they really hustled to catch up and pull ahead."
"I also kind of like the Poker Players. Their lie was dumb, but they were never malicious and took it well when things were looking down. To me they come across as real people, as opposed to some of the one-dimensional characters you sometimes get on this show."
Additionally,Television Without Pity released their Amazing Race odds today, and are not putting too much faith in "Team Poker."
"Odds of Winning: 80-1. Not good odds in poker, or TAR. Their bluff did them no good since they were recognized by a poker fan early on, they can't deal with stress at all and Maria is using rolling luggage instead of a backpack, which is not a smart choice in this game. They'll fold early."
The Amazing Race airs Sunday nights at 8 p.m. on CBS. Check your local listings. For even more up-to-the minute news updates, follow us on Twitter.