The Nightly Turbo: Lady Gaga's Poker Face, WPT App, and Gabe Kaplan's New Sidekick?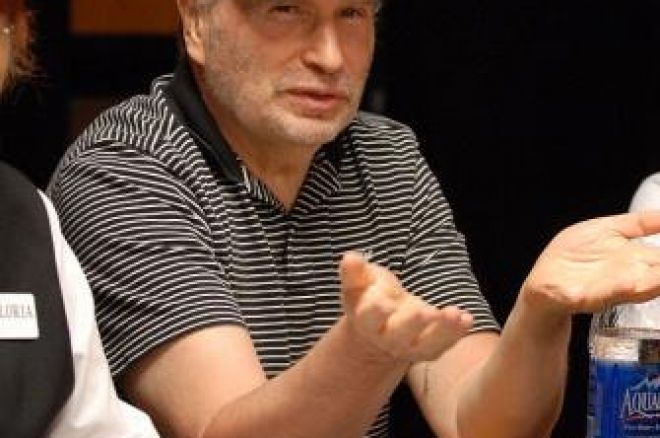 While this may not be the only place to get your poker news for the day, it is the best place. We're glad you're back for another edition of The Nightly Turbo and we hope with all the time we've saved you in the last couple of months, you've worked on your game and are crushing the tables.
In Case You Missed It
Did you set your DVR? Don't ask us why. We've been telling you every Tuesday now for long enough. It's poker night on ESPN. Coverage of the WSOP Main Event begins at 8 p.m. EST and then you can catch ESPN's Inside Deal. We have the scoop on who is featured so you can be in the know too.
Poker babes Tiffany Michelle and Maria Ho made their debut on The Amazing Race on Sunday. Even though their bluff got picked off early in the episode, and they got a two hour penalty, somehow they managed to survive elimination. Whether they love them or hate them, the entertainment media is abuzz about the poker duo.
Compliance with the Unlawful Internet Gambling Enforcement Act is about two months away for banks. The Poker Players Alliance is doing everything it can to delay the regulations until legislation to legalize online poker can be heard in Congress. A New Strategy for the Poker Players Alliance has more.
The Main Event at the World Series of Poker Europe is rolling along. One person in particular is on a sick heater and it's not just in this tournament. We're not naming any names, but this player has a WPT title, won the WCOOP Main Event and the Full Tilt $1k Monday in the same day. Any guesses? Follow his progress and everyone else's as they make it to the money bubble at the PokerNews Live Reporting page.
PokerNews Cup
The PokerNews Cup has begun at the Crown Casino in Melbourne. The first event is the $1,100 PokerNetwork.com Live vs Online Challenge. The Online Team was chosen from the top 40 online players in Australia, according to PocketFives, and the live team was based on the PokerNetwork.com Australasian rankings with a few wild cards thrown in. In the heads-up day-one match, the Online Team dominated the Live Team. Andrew "Adgee" Jeffreys was declared the individual winner, and Lynn Gilmartin was there to catch up with him after his win.
Be sure to follow the PokerNews Live Reporting for the PokerNews Cup play-by-play.
Poker Face
First she was invited to play in the APT Macau, now Lady Gaga has been invited to show her "Poker Face" (lame pun, we know) at the Irish Poker Festival hosted by Ladbrokes. The Irish Poker Festival runs from October 2 through 4 in Killarney, County Kerry, Ireland.
Gaga received a personal invitation for the Main Event that boasts a prize pool of €250,000. "The question everyone wants to know is if Lady Gaga can make sweet music on the green baize," said Ladbrokes spokesperson, Kate McLennan. Since Lady Gaga will be touring with Kanye West, an invitation has been extended to him as well, but he would probably tell the winner of the event that Lady Gaga had the best poker face of all time, so we're not sure if it's a good idea for him to show up.
Online qualifiers for the Irish Poker Festival may be over but its never too late to start building your bankroll. Sign up for a Ladbrokes account today.
World Poker Tour...There's An App For That
Hands-On Mobile has released World Poker Tour Texas Hold'Em for the iPhone and iPod Touch. The game has new features including one-touch betting and new graphics as well as audio messages from WPT announcer, Mike Sexton. These messages may or may not contain Sexton's famous "Bingo, Bango, Bongo Vince."
"As a professional poker player, promoter and spokesperson, I am a big believer in this game's ability to connect people. WPT for iPhone and iPod touch will continue to make new poker fans and give experienced players another outlet to practice and play," Sexton said
Players are able to play live against other users on public tables or they can create their own private tables to play against friends. The App is $3.99 and is available at the App Store.
ConsumerElectronicsNet.com has more on the game.
AJ Benza Being Replaced?
Will there be a new face on season six of High Stakes Poker when it begins filming on November 11? During a recent interview on the Miserable Men Show on Sirius/XM radio, AJ Benza said he "found out through the grapevine that they may replace him with a female co-host." The "Miserable Men" said they would boycott the show if Benza was replaced. (Right, like those guys wouldn't want to see a hot chick instead of Benza.)
Anyway, Benza offers a little compromise, probably hoping someone from GSN hears and doesn't give him the axe (if in fact the rumor is true), he says, "I'm all for me and Gabe doing the way we do it and then them going down to a chick at the table after a big pot and then kicking it back up to me and Gabe."
Pokerati has the full audio.
Are You Poker Smart?
The World Series of Poker Academy has released two versions of its free Poker IQ Test. The tests will gauge players' strengths and weaknesses, tell them where they need the most improvement, and which Academy is right for a player's skill level. The player will be tested on either a cash game or tournament format. They will receive 20 no-limit hold'em questions and they will be evaluated on the decisions they make.
"As a poker player, being aware of your strengths and weaknesses is a critical first step in developing a better poker game. The Free Poker IQ Tests have been developed to assist players during this process, more specifically to help players select the WSOP Academy that is most suitable to each player's skill level," said Brandon Rosen, President of the WSOP Academy.
We were going to test it ourselves but were worried the results would spit out "There's absolutely no hope for you." Test your smarts at WSOPAcademy.com.
How are you getting your up to the minute news if you aren't following us on Twitter?