The Nightly Turbo: AJ Benza Out, Another Poker TV Show, and Was FullFlush Able to Play?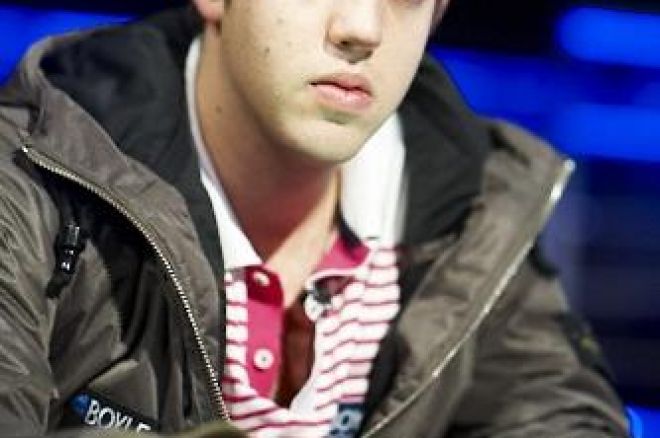 We're back at it. Scouring the web in search of worthy stories to entertain you. Today is no exception. Here is the day's top poker stories all in one place. Read it, impress your friends with your new-found knowledge and then tell them where you found it.
In Case You Missed It
Sundays on the virtual felt can be a long grind. We've recapped those fortunate enough to turn the grind into some cash in The Sunday Briefing.
December will be here before we know it. We hope Santa has a little something for poker players in his bag.The Poker Players Alliance is filing a petition to delay the UIGEA compliance and we have the scoop on what it all means.
Brandon Hall is the 2009 UltimateBet Aruba Poker Classic Champion. He took on Robert Mizrachi heads up. Find out how it all went down in the recap here.
The PokerStars Million Dollar Challenge aired Sunday after football on Fox. If you want to know how the poker playing priest did and whether the show has staying power, you'll have to read the recap.
It's In The Bag
We want to know what you think, so PokerNews is beginning a weekly "mailbag" column where we will answer questions and take suggestions. We're taking your questions about rules, any tips or suggestions, or questions about players. Even though we're not TMZ, we also like a bit of gossip, too, so if you've got the goods let us know.
You can email editor@pokernews.com to and we'll try to answer your questions.
Busted in Aruba
We know the UltimateBet Aruba Poker Classic is over, but just in case you were planning your trip next year and you're wondering what to do if you bust, Melissa Castello brings you the antics of this year's unfortunate — or fortunate, depending on how you look at it.
If you want The Nightly Turbo in your inbox, sign up for the newsletter below. Also, follow us on Twitter for up-to-the-minute news.
Babysitting Schwartz
There was some skepticism about whether or not Luke "_FullFlush1_" Schwartz would be able to participate in the PartyPoker World Open V after a sandwich incident left him banned from London casinos. He held up the start of the tournament yesterday after he took one step into the building and was refused entry. Tournament organizers had to provide him with an escort at all times. He won heat one and has secured a seat at the final table on Thursday. It is still unsure whether he will be allowed back in on Thursday.
"We hope that Luke will be able to take his seat at the final table, but we have no guarantees as yet. In retrospect, perhaps Luke should have paid for the egg sandwich at the EPT –- imagine if the casino ban costs him the chance of winning the $250,000 first prize? He could end up with serious egg on his face," said a PartyPoker spokesperson.
That could be the most expensive sandwich ever. Sign up for a PartyPoker account and make your own sandwich money.
Negreanu vs 2eazy
No, this isn't as big as the durrrr Challenge, but it's a prop bet nonetheless, and it has garnered a few threads on TwoPlusTwo. It all started when Daniel Negreanu went on the Mediocre Poker Radio Show for an interview. Well, TwoPlusTwo-er "2eazy" had some things to say about Negreanu and his tone in the interview. He also proposed a challenge to Negreanu.
According to Negreanu's post in the newest thread started about this prop bet, the two have about 1,500 hands left to play. He even offered to play "2eazy" higher once they are done with the initial 5,000 hands. The thread is buzzing with speculation over who will win or not and it seems that after a hiatus they will resume play some time this week. Unlike the "durrrr" challenge, we could actually see a winner in this before week's end.
Check out the TwoPlusTwo thread here.
Full Tilt's Legal Woes
Two weeks ago, we told you about Lary Kennedy and Greg Omotov, two Full Tilt players who are suing the online poker site to recover $80,000 that the site voided after finding out they had used poker bots to accumulate their winnings. The two players are accusing Full Tilt of using bots of their own.
Full Tilt Poker has released the following statement:
"Full Tilt Poker has been made aware of the recent filing of a baseless lawsuit by former Full Tilt Poker customers — Ms. Lary Kennedy and Mr. Greg Omotoy.  Both of these player accounts were appropriately terminated for multiple violations of the express terms and conditions governing fair and lawful play in the Full Tilt Poker online virtual cardroom, including their own admissions of using multiple accounts. The usage of multiple accounts not only violates the clear terms and agreements governing fair and lawful play, it creates an unequal and unfair advantage that Full Tilt Poker does not and will not permit.  We aim to protect our players at all cost, thus we terminated these two claimants' accounts.
The claims of these former customers have no merit, their complaint is frivolous, especially given the lack of candor during extensive investigation and the unequivocal and unambiguous admissions of using multiple accounts. With respect to alleged use of prohibited automated systems, the claimants' false assertions will be revealed as such in due course.  Full Tilt Poker has never knowingly allowed "bots" to play on its site.  To the extent either of these claimants indeed used such prohibited "bots" in violation of all applicable rules, such impermissible use by the claimants was without the knowledge of Full Tilt Poker.  When fraud, collusion, and cheating of any kind is uncovered, Full Tilt Poker investigates extensively, and then acts accordingly and appropriately, as was the case involving these claimants.
As always, Full Tilt Poker remains committed to protecting their players from anything that might compromise the integrity of its games.  Full Tilt Poker expects that this erroneous lawsuit and its spurious claims will be dealt with accordingly by proper courts of law and other appropriate tribunals.  Full Tilt Poker expects that these claimants will be obliged to compensate the aggrieved defendants for any harm that may arise out of their false allegations, and for the wrongful institution of these bad faith legal proceedings."
Here We Go Again
Doesn't it feel like everywhere you look production companies are casting the "next great poker game show." Well, here's another one for you. Shuffle Up and Deal is a new "family friendly" game show in the works.
This one is a little different from the shows on the tube now though, like "Face the Ace" and the "PokerStars Million Dollar Challenge". The main objective is to finish with the largest amount of cash and advance to the bonus round. The way contestants do this is by picking cards from an electronic board and that card either helps or doesn't help their chances of winning. It's so simple we actually don't understand.
"It's our goal to demystify the game of poker," says Dewey Oates of Oates Media Group. "In years past, shooting pool was seen as evil by some." "Poker is just another game with cards and should be fun for anyone to watch and everyone to play."
The show is planning on going into production in November and Randy West will be the show's host. West is best known as the announcer on The Price is Right.
If you're looking for TV stardom or want to know more about the game, c'mon down to ShuffleUpTV.com is the place for you.
On the Outs
We told you about AJ Benza's fears of being replaced on High Stakes Poker a few weeks ago. After a meeting with some suits at GSN, Benza took to his blog to confirm his fears. He has been replaced by an unnamed female co-host.
Benza tired to appeal to the suits by taking the family/father approach.
"I said...."Let's talk man-to-man and father-to-father." They said,"Absolutely." I unashamedly told those two guys that if I don't get my gig back....."your basically putting a man and his family on the street. Is that what you want on your conscience?" I offered a pay cut for Chrissakes. Shit, the economy is in the tank, so I'm willing to take less to do the same job."
Benza also says that if she doesn't work out, he could be back for HSP Season 7 in a strange situation that we will call "sloppy thirds." Filming for HSP Season 6 begins in November and is slated to premiere in 2010.
AJ's blog has the whole story.