The Nightly Turbo: New Member of the Brunson 10, Another Poker Player on TV, and More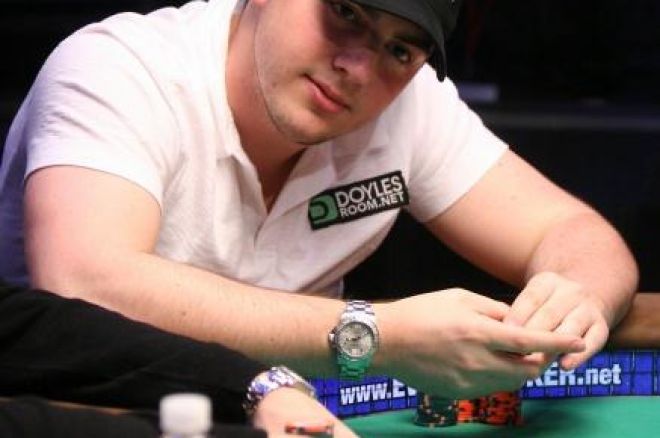 While this may not be the only place to get your poker news for the day, it is the best place. We're glad you're back for another edition of The Nightly Turbo and we hope with all the time we've been saving you, you've worked on your game and are crushing the tables.
In Case You Missed It
We're going to try our best not to spoil the World Series of Poker Main Event results in case you've been avoiding news outlets and are just getting this in your inbox. Luck paved the way for the final two. Find out how.
Tom "durrrr" Dwan recently signed on as Full Tilt Poker's newest Team Pro. PokerNews has exclusive coverage of the press conference held last night.
The PokerNews freerolls on Everest Poker continue to draw large crowds. Find out the schedule here and sign up for an Everest Poker account to play. Why wouldn't you? It's free money.
Someone won the 2009 World Series of Poker last night. We hope you appreciate the fact that we're trying not to ruin the surprise for you. You can thank us later. In case you know or want to know, check out [insert winner's name here] Wins the World Series of Poker to find out how it all went down.
Speaking of Signings
While we're talking about online sites signing poker players, Absolute Poker has signed Trishelle Cannatella as its newest celebrity endorser. We're sure you remember her from MTV's "The Real World: Las Vegas." The actress - err - reality TV show personality, has appeared on numerous other shows including Celebrity Poker Showdown, and even at one point dated professional poker player and rapper Jeff Madsen.
"I'm very excited to be Absolute Poker's new celebrity endorser," Cannatella said. "Poker has always been a passion of mine and I can't think of a better team to be a part of."
Read more on Gambling911.com.
Poker for Charity
We've said it before and we'll say it again, poker players are very generous. We have two charity events to tell you about today.
The Bad Beat on Cancer: PokerNews has partnered with Bad Beat on Cancer and the Prevent Cancer Foundation to bring you the Bad Beat on Cancer Challenge. The tournament, held in honor of Nicole Rowe, the second-place finisher (to a man) in the Borgata Ladies Event earlier this year, will be held on Nov. 12 on PokerStars at 9:00 p.m. EST.
The $10 buy-in, $10 rebuy event will award prizes to the top 50 finishers. There are some great prizes up for grabs including training sessions with top pro poker players and even a tour of the ESPN studios.
7 Days for Rwanda: PowerPoker will be hosting a series of tournaments this week with 50% of the rake going to charity. The two tournaments will run at 1:30 p.m. and 3:00 p.m. EST and are titled Support Africa. Buy-ins vary from $20 to $200 for these events and 50% of the rake will go to Educat.
On top of that, PowerPoker will donate 10% of all the rake generated by contributing players, including cash games. To do this, you will need to send an email to PowerPoker requesting activation.
"PowerPoker is of course supporting this cause, which unites poker players and development in Africa. So we therefore established the daily tournaments and the possibilities of donating through the rake and we hope the players will see the same possibilities in this as we do," said PowerPoker poker manager, Erik Smith.
Read more at Coinflip.com.
Final Table Tease
After tonight, we won't have to remind when the World Series of Poker coverage airs on ESPN, afterall, we got our winner last night. So, check out the video below for a preview of the coverage. It airs tonight, on ESPN at 9 p.m. EST.
Remember to follow us on Twitter and become our friend on Facebook. And if you haven't signed up for The Nightly Turbo newsletter yet, what are you waiting for?
Newest Member of Brunson 10
The fifth member of the Brunson 10 was announced recently. Half the group is complete. Dani "Ansky" Stern joins Alec Torelli, Amit Makhija, Zachary Clark, and Chris Moorman as part of the Brunson 10.
Twenty-two-year-old Stern has close to $1 million in tournament winnings alone. He was most recently on the G4 show, 2 Months. 2 Million. "I've seen Ansky play on TV, I've seen him play online, and I've seen him talk poker like someone who's been playing for decades. Dani "Anksy" Stern is the future of this game and I'm proud to have him on my team," said Doyle Brunson of the newest signee.
Sign up for an online poker account and start building your bankroll.
Entourage's Newest Star
According to his Twitter, Daniel Negreanu (@realkidpoker) has purchased a walk-on role on the next season of Entourage. The role was purchased at a charity event Negreanu attended. He may or may not be taking a page out of Erik Seidel's book, as the poker pro was just spotted on Curb Your Enthusiasm.