The Nightly Turbo: Harrah's Moves Closer to Landing Planet Hollywood; Online Site Bans Good Players, and More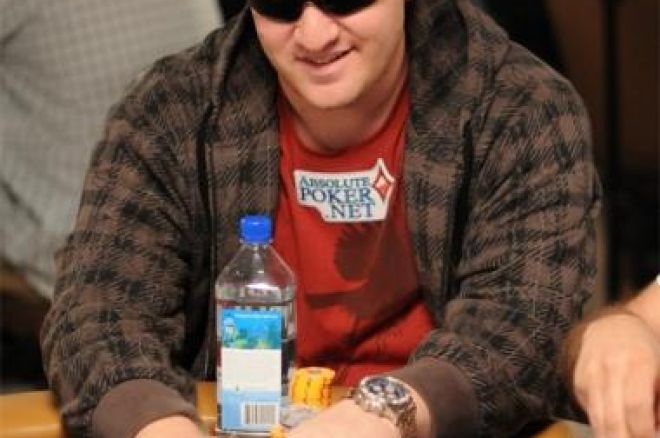 In tonight's Nightly Turbo we're bringing you the news on the Harrah's and Planet Hollywood deal, an online poker site that is banning good players, and more.
In Case You Missed It
Have you been following the Aussie Millions? If you haven't, then we have you covered with this recap. They're playing down to a winner today so you should probably be following the Live Reporting Page anyway.
The Durrrrr Challenge started back up the other day. Now we know it has lost some of its appeal, but we're sure you're still just a little curious about who is in the lead. That's why we have this recap. Enjoy.
Not Just for Chips
Playerati, not to be confused with our pal Pokerati, offers a neat little invention: a poker table with a refrigerated snack bar that serves refreshments through the middle of the table.
If you don't want your tequila shots coming up through the middle of your table, Pokerati has suggested another use for the table: load it with weapons just in case you need them. We can't advocate any violence though, and we're pretty partial to tequila.
Want to see what this little gadget looks like? Head on over to Pokerati.com.
Harrah's Closing in on Planet Hollywood
Harrah's is on the prowl and is looking into buyingPlanet Hollywood, the casino, not the hotel. Harrah's already owns that.
Harrah's took over the Planet Hollywood hotel and some of its restaurants and bars in January. Planet Hollywood, as of now, is continuing to run its own casino. Harrah's, however, has made it pretty clear that it wants to take over the casino so that it will own the entire operation, including all its properties. If Harrah's does acquire Planet Hollywood, it would own 23,000 rooms on or near the Las Vegas Strip.
DallasNews.com has more.
UBOC Update
The Ultimate Bet Online Championship is chugging along and is currently in day eight of this ten-day affair.
Event 13, hosted by Matt Vengrin, offered a $30,000 guarantee. It was a $150 + $12 buy-in for which 286 players ponied up, creating a prize pool of $42,900. MOTA_L_ZORRO walked away with $11,754 for first place while TELOC39 finished in second.
Vengrin had a $150 bounty on his virtual head and was knocked out by CLOWNFISH411.
The Deepstack no-limit hold'em event, #14, was hosted by Adam "Roothlus" Levy. The guarantee was $300,000 and 511 players signed up for the $1k + $50 buy-in, creating a prize pool of $511,000. Plenty of pros lined up for the event, with some players playing alongside Annie Duke, Phil Hellmuth, Liv Boeree, Matt Graham, Billy Kopp, Joe Sebok, Matt Vengrin, and Eric Baldwin.
Vengrin finished the highest, 31st, out of all the pros and TAZED1SPURR took home the $125,195 first place prize. A2STEAKSAUCE came in second for $76,650.
ROOTHLUS was knocked out by SPIN31, who collected the bounty of $500.
There is still time to get in on the UBOC action. Sign up for a UB account today.
Seat's Taken
We're hoping you read the title of this one with a funny southern accent to get the gist of the Forrest Gump reference. It seems like VC Poker is saying "seat's taken" to some of its loyal players.
A number of players on the VC Poker site have received email informing them that they are no longer allowed to play at the cash tables that they regularly frequent.
Here's what the email says: "If you are not already aware iPoker will be implementing a new policy in the New Year which will categorize players depending upon certain criteria. The new policy will also impose penalties upon card rooms that in essence, have a high proportion of winning players in relation to losing players.
Regrettably therefore, we are being forced to restrict a number of accounts in order to comply with the new policy and to avoid penalization by iPoker and it grieves me to inform you that we have no option for the time being other than to restrict the cash game stakes at which you can play on Victor Chandler Poker.
We sincerely regret having to take this action and hope that the policy will change in the future so that you may once again enjoy playing cash games at Victor Chandler Poker. In the meantime, please accept our apologies for any inconvenience that this action will cause but know that you can still play in our tournaments and on any other of the Victor Chandler suite of products."
So basically, if you're a winning player on VC Poker, you're getting the boot from the cash tables, but hey, look on the bright side, you can still play tournaments
Read more at TightPoker.com.
Aussie Millions Update
Lynn Gilmartin is coming at you riverside with a Day 4 update of the2010 Aussie Millions Main Event.
Be sure you're following us on Twitter. You really have no reason not to. And become a fan on Facebook while you're at it.