The Nightly Turbo: A Look at the LAPC, Busted Poker Game, and More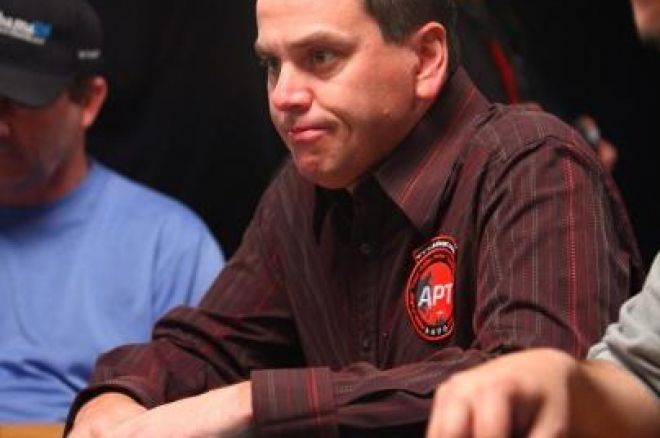 In tonight's Nightly Turbo you'll find a look at the LAPC, learn about a poker game that got busted, and more.
In Case You Missed It
The PokerNews Team is out in full force. One team is in France bringing you updates from the European Poker Tour Deauville; another is down under bringing you all the action from the Crown Poker Room at the 2010 Aussie Millions. Recaps for the EPT can be found here and a recap for the Aussie Millions is here.
A political battle is heating up in Alabama and someone might be selling a bracelet on eBay. We're sure there are many bracelets on eBay, but this one might be a tad unique. Find out all the info on both of those stories in Inside Gaming.
The Ultimate Bet Online Championship is kicking off this week. Over $4 million is guaranteed money is up for grabs and for those of you on a smaller bankroll, there's even a Mini-UBOC. Find out more here.
PartyPoker has recently signed on a new player representative: PokerNews' own Tony G. Congratulations Tony! Find out more about the deal here.
LA Poker Classic
February is going to be a busy month for the poker tournament circuit. If you're in Southern California and jonesing for some poker, you might want to head over to the Commerce Casino for the kickoff of the LA Poker Classic this week.
Examiner.com sat down with Tournament Director Matt Savage to discuss the tournament series. Savage did all he could to make the LAPC the best for the players. He sought out the opinions of players, media, and fans and took all their ideas into account when coming up with the series schedule.
There are 51 events on the line-up over 43 days. Buy-ins are as low as $335 and as high as $25,000. Some unique tournaments that might peak your interest are the 2-7 Triple Draw, 8 Game Mix, and Badugi, all of which boast a $1,065 buy-in. There is also a $335 buy-in no-limit hold'em event with a guaranteed prize pool of $1 million. Chinese Poker is on the docket and so is another Ironman event.
Find out more at CommerceCasino.com.
Aussie Millions High Rollers Event
If you're a fan of high stakes poker, you won't want to miss the Aussie Millions $100,000 AUD High Rollers event when it comes to a television near you. The event will be played on Saturday and filmed in front of a live studio audience for international distribution.
Phil Ivey, Gus Hansen, Tom "Durrrr" Dwan, Erick Lindgren, John Juanda, Howard Lederer, PokerNews' Tony G, and David Steicke are just a few of the confirmed players who will be hitting the felt.
Be sure to follow the PokerNews Live Reporting page for the play-by-play from the felt.
Bad Beat? We'll Take It
Just this week we told you about the largest bad-beat jackpot on record at Caesars Atlantic City. Well, Frank Pang may not be the largest ever bad-beat winner, but as of now he is the most recent. The bad-beat jackpot was $425,310 when Pang's quad deuces were bested by quad fives.
"I must have been in 100 hands over the years where I was one card away from hitting the bad beat," Pang said. "I just kept chasing it, hoping for that one perfect moment, and it finally happened."
Pang won $212,655 for the loss and his opponent collected $106,327. The remaining eight players at the table got a cut as well, taking 25 percent of the jackpot for $13,290 each. We'd take a beat like that any day.
OnlinePoker.net has more.
Be sure to follow us on Twitter for up-to-the-minute news and become a fan on Facebook while you're at it.
Busted: In More Ways Than One
If you're going to run a poker game with topless dealers, it's probably best that you don't advertise where the law might find out. The Grand Rapids Poker Club may not have been thinking when they posted an ad on Craigslist for a poker game at a Michigan Ramada hotel.
"That's how it came on our radar screen, they were so open about it," said Lt. Schram of the Michigan State Police.
Around 20 people were arrested in the bust — no pun intended. Not only were they so open about this event, but an undercover agent of the Bureau of State Lottery, Charitable Gaming Division had attended two previous poker tournaments in the same location.
Find out more at Gambling911.com.
ChipMeUp
With the 2010 Aussie Millions Main Event not far away, don't forget to check out the shares available for some big players at ChipMeUp. Reigning Aussie Millions champ Stewart Scott is selling pieces of himself as he goes for back-to-back wins and PokerNews head honcho Tony G has pieces of his action up for the $100,000 event for only $9 a share.
Folks that bought a stake in Luke Abolins and Grant Levy for Event #5 of the Aussie Millions made a couple of bucks, as both players made the final table of that event.
Don't forget, if your bankroll is running low, can also get staked in any live or online poker tournament.
Head on over to ChipMeUp.PokerNews.com for more.