The Nightly Turbo: Basebaldy Shows the Light, UBOC Update, and More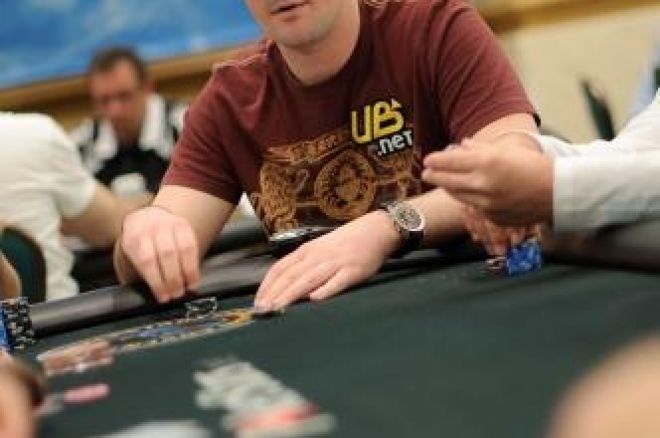 Tonight's Nightly Turbo is bringing you the story on Eric Baldwin's charitable contribution to his alma mater, an update on the UBOC, and if you're lucky, maybe a video from down under. Ok, you're lucky.
In Case You Missed It
We recently sat down with David Peters to discuss a little poker strategy. In thisElite Strategy piece, Peters gives us some insight on the out-of-position float. You can read all about it here.
Ever wonder what the Andy Garcia movie Things to do in Denver When You Are Dead has to do with poker? We're here to tell you. Check out From the Big Screen to the Final Table for more.
Two winners were crowned Thursday night at the 2010 Aussie Millions at the Crown Casino in Melbourne. We'd tell you who they were, but it's more fun if you click this.
Party With Celebrities
PartyPoker is giving away 15 packages for the WPT Celebrity Invitational in LA in February. Daily qualifiers will run from Jan. 25 through 30 and to enter all you have to do is use your PartyPoints. The qualifying final is set to take place on Jan. 31 and the top 15 finishers will win the packages.
Each package includes a WPT Celebrity Invitational seat, accomodation, and 2,250 in spending money. If you're not a PartyPoker player and you make your first real-money deposit between Jan. 25 and Feb. 6, you'll be able to take part in a special freeroll on Feb.7 that will be sending the winner to the WPT event as well.
"This tournament will be filled with Hollywood stars and poker gods. The event is invitation only, and PartyPoker.com can get you on the exclusive guest list. Last year, the event was won by poker professional Freddy Deeb. That said, with the stellar celebrity line-up, poor Freddie kept getting mistaken for Danny De Vito," said a PartyPoker spokesperson.
Sign up for a PartyPoker account and win your way to party with the celebrities in LA.
2010 Aussie Millions
Lynn Gilmartin caught up with 2010 Aussie Millions Event #5 winner Jonathan "xMonsterxDongx" Karamalikis during a break of Friday's rebuy tournament to discuss his win, support from his dad, and trying to bluff god - err - David Steicke.
Be sure you follow us on Twitter for up-to-the-minute news.
Last Man Standing
One TitanPoker player will be winning a seat to the 2010 World Series of Poker Main Event. Titan just unveiled the Last Man Standing promotion. It begins Feb. 1 and every player has the opportunity to win the $13,000 prize to represent Titan Poker at the Main Event this year.
To win, players must earn at least 7,500 Titan Poker Points a day by either cash games or tournaments. Every player who earns 7,500 points or more per day will stay in the running. The promo continues until one player is designated himself as the Last Man Standing. We assume that a woman can win too.
Think you have what it takes? Sign up for a Titan Poker account today.
UBOC Update
The Ultimate Bet Online Championship has kicked off. Results for Events 1 and 2 are in. A total of almost 1,500 players hit the felt for both events.
Just off his runner-up performance at the PokerStars Caribbean Adventure, Tyler Reiman (Keefking420), nabbed a win in Event 1, the $320 buy-in Sniper. There was a guaranteed prize pool of $250,000. Reiman took home $65,488 for the win.
Event #1 Results
1. KEEFKING420 - $65,488
2. PEENAR7 - $38,626
3. SCHUEY995 - $26,654
4. AUTOBOT7 - $19,209
5. SCOTTYTHEFISH - $15,933
6. DOUBLEDAVE22 - $12,955
7. ANTONFS - $9,977
8. COOKIELULU2 - $7,147
9. DEGORD2 - $5,063
In Event 2, the $162 buy-in eight-game mix, it was CyberCow who bested the 386-player field, walking away with $15,633.
Event #2 Results
1. CYBERCOW - $15,633
2. JUSTIN SCOTT - $9,814
3. CHETSTEADMAN - $6,369
4. WORTHLESNUTS - $4,632
5. JEFFGRESSARD - $3,474
6. CROLL103 - $2,461
7. TWOLIP69 - $1,882
8. ZESTFULYCLEAN - $1,303
There are still plenty of UBOC events to play and you know the only way to play is to sign up for a UB account. So, here's the link.
And Then There Was Light
We keep telling you that poker players are charitable and this story is no different. Eric "basebaldy" Baldwin has made a donation to his alma mater and old baseball team, UW-Whitewater.
His donation will provide Prucha Field with new lights, giving it the ability to host the Division III 2010 Midwest Regional competition of the national baseball championship. The last time the team hosted the Midwest Regional was in 2005, coincidentally, the same year the team won the Division III baseball national championship.
WRN.com has more.