The Nightly Turbo: Brunson Backs Out, UB Partners with Bellator, and More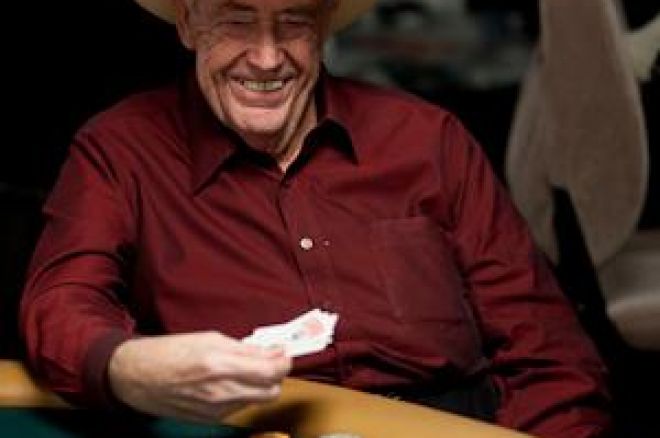 Are you wondering if Brunson's age finally catching up with him and what UB is doing in the Octagon? You'll find all that out and more in tonight's Nightly Turbo.
In Case You Missed It
You probably know the FTOPS is just around the corner. Are you wondering how your bankroll is going to survive the buy-ins? Don't worry, there's a satellite for that. We have it all outlined for you here.
There are certain qualities that are shared by all great poker players have. Do you have them? Find out what they are here.
They're down to a final table at the Borgata Winter Poker Open. How did they get there? Only one way to find out, this recap obv.
Things Are Bigger in Texas
We can't think of a better way to spend this Sunday than with poker and football. DallasCAN charity event also thought so.
This Sunday, over 1,000 players are expected to come out for what is being billed as the biggest "True Freeroll Texas Hold'em Poker Tournament" in history. The event will take place at Gilley's in Dallas, TX and benefits the DallasCAN Academies, an organization that provides "a second chance for at-risk youth and their families to achieve economic independence and hope for a better life through relationship-based education and training."
The event will be hosted by Jason Witten, Randy White, Drew Pearson, Stephen McGee, and Jay Novacek. The poker tournament is free, just like it says, but if you want to double your starting stack, you can upgrade for $50. So, if you're around Dallas, you better be there.
Pokerati.com has more.
Jason Ho No Longer Being Stocked
Jason Ho is no longer an instructor at poker training site StoxPoker. In his off time from the site, he has been offering private instructional services and claiming to have earned more that $1 million in 2008 for his services.
His students, though, are less that impressed with his instructional skills and have taken to the forums (TwoPlusTwo and StoxPoker) to let it be known. Ho's ex-students have alleged that he shouts at and berates them, doesn't provide appropriate coaching time for the fee paid, and even sold a $2,000 poker guide to one that resulted in the student losing $5,000 over 400,000 hands. A DuecesCracked coach later deemed the guide "dangerous, unplayable and full of wrong information."
Find out more at OnlinePoker.net.
Following us on Twitter is a really good idea. Another good idea? Facebook.
Brunson Says No
Doyle Brunson took to his blog recently to discuss the Super Bowl, his upcoming tournament schedule, and the impact of travel.
OK, football first. Brunson bet $50k on the Saints at +4 1/2. Last year, he made $100k for picking the Colts over the Patriots; this year, he stands to win $150k if the Saints cover on Sunday.
Brunson was also on tap to play in the PartyPoker Premier League that is being filmed in Las Vegas next week but has bowed out. He's having dental surgery a few days before and doesn't think he'll be recovered. He is also taking a leave of absence from the LAPC events in Los Angeles and a PokerStars TV tournament he was invited to.
"... there is no use playing unless you are at your best. The competition has gotten so good you need to feel good physically as well as mentally to have a chance to win. My gut feeling is just chill out until the WSOP and try to have a big series. Could it be my age is finally catching up to me?"
Check out his entire blog here.
UB's in the Cage
UB.net and Bellator Fighting Championships have formed a sponsorship alliance.
"We're super excited to tie the new UB logo to Bellator—the hottest MMA success story of 2009—and are proud to partner with them in their sophomore year. Last year, we watched from the sidelines as the new kid on the MMA block delivered some of the most explosive moments in televised fighting sports history; this year, we're elated to jump in the cage as an active player in the Bellator phenomenon, while exposing the UB brand to more than 250 million homes across the U.S," said Paul Leggett, chief operations officer of Tokwiro, the owner/operator of UB.net.
UB will have a presence on all of the Bellator broadcasts, as well as on their website and at events throughout the year. On the flip side, Bellator will be introduced to everyone who plays on UB.net in the way of Bellator sponsored poker tournaments.
Sign up for a UB account today and get a chance to win cage-side seats to a Bellator event.