The Nightly Turbo: Brazilian Series of Poker, the PartyPoker OCGC, and is Another Poker TV Show in the Works?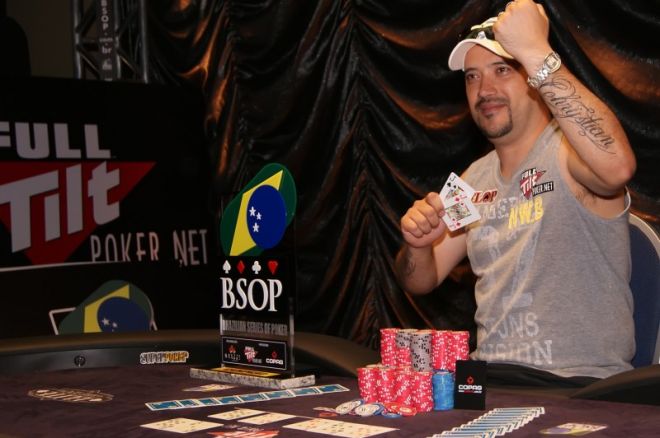 We've got news on the Brazilian Series of Poker, the PartyPoker OCGC and another poker TV show in the works in tonight's Nightly Turbo.
Did you miss episode 8 of the latest season of High Stakes Poker? A huge bluff was made and Gabe Kaplan made up a new word. Check out the recap here.
The PaddyPowerPoker Irish Open has crowned a winner. We could tell you who won, but if you read this, you can find out, too.
Just because it was a holiday weekend didn't mean the high-stakes action was going to stop. Phil Ivey, Tom Dwan and Patrik Antonius had winning sessions. Find out how much in the Online Railbird Report.
There's a lot going on in the legal world concerning online poker. We've got a comprehensive update here.
The Champions of Poker Commentary
There's another poker TV show in the works, and, as far as we know, it's not one site's answer to another site's new show. The Champions of Poker Commentary is hosted by Eric Ulis and Tom Schneider.
The show is being filmed at the Wild Horse Pass Casino in Phoenix, Ariz. We watched the preview on Pokerati and the setup seems a little uncomfortable to us. The topics of discussion are typical, ranging from TJ Cloutier selling his bracelet, to a poker game busted up at a retirement home, but the the guys hold nothing back when speaking of their fellow poker players.
Check it out for yourself at Pokerati.com.
PartyPoker OCGC and Big Game Confirmations
The first level of the PartyPoker Online Cash Game Championships runs from April 5 through 9. The OCGC is a competition divided into seven levels. At each level, players play 400 hands a day. The most profitable player advances toward the final table, which will be played on May 7. There is a total prize pool of $250,000 for this event.
Now, on to what the cash game that's on everyone's mind. We already know Tony G and Isildur1 will be at the PartyPoker Big Game IV that begins on April 11, but who else will be joining them? Issac Haxton,, Justin Bonomo, Phil Laak, and David "Viffer" Peat. Luke Schwartz will be there walking out to the tune of Tinie Tempah's "Pass Out." Jennifer Tilly has chosen "Maneater" by Hall and Oates. "Hungry Like the Wolf" by Duran Duran has Roland de Wolfe's name all over it. And Dusty "Leatherass" Schmidt has chosen "Flashing Lights" by Kanye West.
We're still waiting to hear what Isildur1's walk-out music will be, and, of course, whether he will reveal himself or wear a mask. Sign up for a PartyPoker account and get in on the OCGC action today, who knows you could take on The G for a chance at $250,000.
Achieving Baller Status
Last week, we told you about a video from David "The Maven" Chicotsky. Before you proceed, none of this will be as funny if you haven't watched that video. This being said, we'd like to thank the editor-in-chief of Bluff Magazine, Lance Bradley, for sending this little gem our way.
Jason "JaspudUF" Lee gives us a little insight on how to achieve baller status. We don't want to spoil any of this for you so we'll let you get to watching.
If you want The Nightly Turbo in your inbox, sign up for the newsletter below. Also, follow us on Twitter for up-to-the-minute news.
World Team Poker
The roster for World Team Poker's Team USA has been announced. Doyle Brunson will be heading up the team as captain and Phil Hellmuth will be taking the number two spot. Brother and sister duo Howard Lederer and Annie Duke are on the team as are Allen Cunningham, Chris Ferguson, Jennifer Harman, Mike Matusow, and Erik Seidel.
Eight countries will be represented at the World Team Poker event, which will be held on May 19 at the Golden Nugget in Las Vegas. The remaining teams and captains are as follows:
China, Co-captains Johnny Chan and David Chiu
Australia - Co-captains Jeff Lisandro and Tony G
Israel - Captain Eli Elezra
Vietnam - Captain Men "The Master" Nguyen
England - Captain Ben Roberts
Brazil - Captain Juliano Maesano
Greece - Co-captains George Kapalas and George Theofanopoulos
Check out WorldTeamPoker.com for more.
Brazilian Series of Poker
Now in its fifth season, the Brazilian Series of Poker has grown dramatically and is now making waves as averaging around 600 players or more at each stop every month.
The first stop of this season saw 788 players register for the Main Event, which was a record-breaking field in Latin America. "This record-breaking event is a great achievement and we will work even harder to make the news spread and have not only Brazil but the whole Latin America see that poker is a mind game and could never be considered gambling. There are still a lot of prejudices and misconceptions around here," tournament director Devanir "DC" Campos said.
There are 11 tournaments on the BSOP schedule to be held in Brazil's largest poker markets. The buy-in for the Main Events is R$1,200.00, which is generally small compared to the standards set by other tournaments around the world.
Check out the BSOP schedule on here (yes, we realize it's in Portuguese). If you want to win your way into one of these events, you can qualify on Full Tilt Poker.