The Online Railbird Report: Jared "harrington25" Bleznick Tops Light-Action Week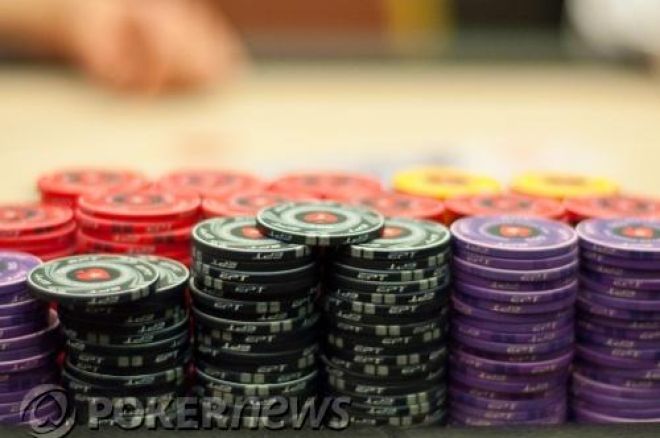 It was another light week at the virtual tables as many high-stakes heavy hitters took some time off from the grind to prepare for the World Series of Poker, which kicks off this Friday with the $50,000 Players' Championship. In their absence, players like Di "Urindanger" Dang and Jared "harrington25" Bleznick picked up the slack, Bleznick topping this week's leaderboard with $236,000 in earnings.
Jared "harrington25" Bleznick leads the week
Jared "harrington25" Bleznick has been a regular in the not-quite-nosebleed stakes games on Full Tilt Poker for quite a while and this week he enjoyed one of his most profitable days ever online, raking in $195,000 in the span of 1,500 hands. Most of his action that day came on the $200/$400 cap PLO tables, where he engaged in a 1,046-hand heads-up match with "thecranium." Bleznick came away from the session with a $174,000 win.
At the $200/$400 cap tables, each player is permitted to bet a maximum of $16,000 per hand; ergo a heads-up capped pot would total $32,000 and a three-way capped pot $48,000. To say Bleznick ran like God in the capped pots he played against thecranium would be a gross understatement. Of the 34 capped pots that materialized, Bleznick laid claim to all but eight of them.
Thecranium had aces snapped off three times in capped pots. Bleznick put in the maximum with
against thecranium's
, but spiked a king on the river to take down the pot. Later on, Bleznick flopped jacks full of sevens holding
while thecranium hit trips with
. Finally, Bleznick limp-called thecranium's $1,200 pre-flop raise and the rest of the money went in on a
flop. Thecranium turned up
for an overpair and a gutshot straight draw while Bleznick showed
for bottom pair and a straight draw. Thecranium made the nut straight on the turn when the
fell, but the
on the river made Bleznick sixes full of deuces to wrest the pot away from thecranium. Ouch.
Benyamine, Di Dang crush cap PLO
The $200/$400 cap PLO games ran again later in the week, Di "Urindanger" Dang emerging the big winner with $150,000 in earnings. His opponents included Gus Hansen, Josh Arieh, Niki Jedlicka, and Jared "harrington25" Bleznick. Although Dang hasn't been taking as many shots at the $500/$1,000 games as of late, he is still one of the year's top earners, with more than $1.8 million in winnings.
Dang found himself on the good end of this three-way capped pot against Jedlicka and Hansen. Hansen opened for $1,400 from the button, Jedlicka
called from the small blind and Dang called from the big blind. The flop came down
and Jedlicka checked to Dang, who bet $2,800. Hansen called and Jedlicka raised to $14,600. Both opponents called and with the pot capped, the cards went on their backs:
Jedlicka
(pair of jacks and a jack-high flush draw)
Dang
(top set and a nine-high flush draw)
Hansen
(pair of fives, open-ended straight draw)
The
on the turn paired the board and sealed up the hand for Dang with nines full of fives. The irrelevant river card fell the
and Dang collected the $47,998 pot.
David Benyamine also got in on the action on Thursday night, playing for a bit in the cap PLO game as well as on an uncapped $100/$200 PLO table. The Frenchman booked a $91,000 after 567 hands including this $44,000 pot.
Brian Townsend led off the action with a $600 raise from the button, David Oppenheim called from the small blind and Benyamine called from the big blind. Oppenheim checked the
flop over to Benyamine, who bet $1,800. Townsend folded and Oppenheim came in with a raise to $4,200. Benyamine called. The turn was the
. Oppenheim led out for $8,800, Benyamine raised to $36,600 and Oppenheim called all in for $16,971, turning up
for bottom set. Benyamine, however flopped the nut flush with
. Oppenheim needed to pair the board on the river but didn't get there, the
falling to give Benyamine the $44,142 pot.
KTPOKP beats Haxton for $128k
A new-ish face hopped on to the high-stakes no-limit hold'em tables over the weekend to challenge Isaac "luvtheWNBA" Haxton. German player "KTPOKP" is a regular in the $25/$50 heads-up NLHE games, but decided to kick it up to $100/$200 to take a shot at Haxton. KTPOKP's risk paid off this time, as he booked a $128,000 win.
In one of their largest confrontations, Haxton opened for a minimum raise to $400 from the button, KTPOKP three-bet to $1,200 and Haxton came back over the top for $2,800. KTPOKP called and they saw a
flop. KTPOKP check-raised Haxton's $2,400 bet to $5,800, only to be met with a three-bet shove for $21,000. KTPOKP called, turning over
for top pair. Haxton's pocket eights were in dire shape and he did not improve, the turn and river falling the
and the
to give KTPOKP the $47,598 pot.
Who's up? Who's down?
This week's biggest winners (5/18-5/24): Jared "harrington25" Bleznick (+$236,000), Cole South (+$186,000), "LokoisBack" (+$153,000)
In the red: "Triko" (-$308,000), "thecranium" (-$266,000), Gus Hansen (-$245,000)
Top earners, 2010 to date: Tom "durrrr" Dwan (+$3.23 milion), "jungleman12" (+$2.03 million), Phil Ivey (+$2.02 million)
OMG I'm so stuck: Brian Townsend (-$2.7 million), "Matatuk" (-$1.49 million), Justin "ZeeJustin" Bonomo (-$1.4 million)
The highest-stakes action on the internet all unfolds on Full Tilt Poker. Open up an account today and see for yourself.