PokerStars.net LAPT Florianopolis Day 3: Habernig Takes Massive Lead Into Final Table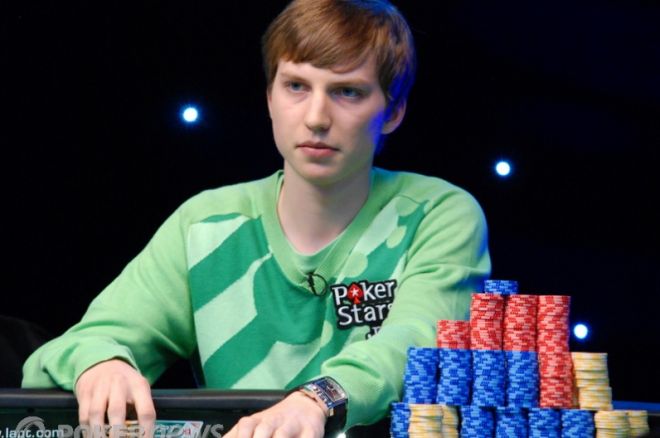 Saturday was the return day for only 36 of the players who entered the PokerStars.net LAPT Florianopolis Main Event. Canadian Rudy Blondeau entered the day as chip leader. Hot on his heels, Brazilian Andre De Oliveira Sa was only a couple of big blinds behind.
There was no shortage of action after "Shuffle Up and Deal" rang through the speakers in the tournament room. Within the first hour of play, more than ten players were eliminated before play started to slow down. The players weren't holding back waiting for hands, as you can see by Paulo Rink's bustout hand.
On a flop of
, Rink went with his read and raised Francisco Azocar's bet of 27,000 to 154,000 and was all-in. Unfortunately for Rink, Azocar held top pair, top kicker, and made the quick call. Rink had his money in with the
for king high. The turn brought a flush draw for rink when another club hit the board, but the river couldn't give him the miracle suckout he needed to stay alive. The former Brazilian and German footballer was eliminated in 29th place.
Out of all the members of Team PokerStars who entered the event in Brazil, only one was alive on Day 3: Team Online member Jorge Arias. He began the day with 113,000 chips. Although situated near the bottom of the leaderboard, Arias worked his way to a 24th-place finish.
A few other players hit the rail before play really started to tighten: Sander Aalders, Scott Davies, David Bortnik and the man who came into the day second in chips, De Oliveira Sa.
The big story of the day was Matthias Habernig. If you remember back to our Day 1 recap, Habernig finished the starting day as the chip leader. He was able to consistently build his stack throughout Day 2 and finished that day eighth in chips. Finishing up Day 4, Habernig bagged up 3,205,000 chips! That's quite the number considering there are only 7,129,000 chips in play at the final table. Habernig holds just a tad under 45 percent of the chips. No one else who made it to the final table has more than one million – heck, no one has over 814,000. Habernig's stack is nearly four times larger than that of Andre Luiz Scaff in second place.
In true chip leader fashion, Habernig sent the last player to the rail for the night to set the official final table. After he raised from the small blind, Pedro Velasco Adnet moved all-in from the big blind. Habernig made the call with the
to see that he was up against the two overcards in Adnet's
.
A flop of
came down, which was followed by a
on the turn and a
on the river. Adnet was left with nothing but green felt in front of him as he hit the rail in ninth place, bubbling the final table.
Here's a look at the final table seating assignments and chip stacks.
Seat 1: Alexandre Richard Martins – 435,000
Seat 2: Dayan Vardanega – 761,000
Seat 3: Rudy Blondeau – 597,000
Seat 4: Rodrigo Scartezini – 204,000
Seat 5: Robson Vinicious Kozan 598,000
Seat 6: Andre Luiz Scaff 814,000
Seat 7: Matthias Habernig – 3,205,000
Seat 9: Miguel Fernando Velasco Hoyos – 511,000
The final table will begin Sunday at 12:00 p.m. local time in Brazil. A top prize of $247,441 (R$435,000) is up for grabs, and you can bet that all eight remaining players will be doing everything it takes to win the title. The PokerNews live reporting team will be on hand for every all-in, bad beat and miracle river card!
Follow us on Twitter for up-to-the-minute news, and also become our fan on Facebook.